M A I N N E W S
BJP in a fix over role for Uma
Tribune News Service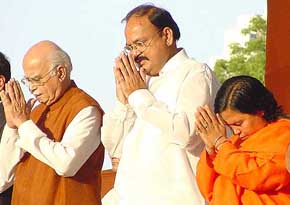 From left: BJP leader L.K. Advani, BJP National President Venkaiah Naidu and former Chief Minister of Madhya Pradesh Uma Bharti at a felicitation function for completion of the Tiranga Yatra in New Delhi on Monday. — Tribune photo by Mukesh Aggarwal
New Delhi, September 27
The Bharatiya Janata Party high command is engaged in a serious exercise to find a suitable assignment for former Madhya Pradesh Chief Minister Uma Bharti, who ended her Tiranga Yatra on Saturday.
Ms Bharti, who had a long meeting with BJP President M. Venkaiah Naidu today at his residence, had met former Deputy Prime Minister L.K. Advani yesterday.
The party is in a fix about her future role as a temperamental, highly ambitious and energetic Bharti, without any responsibility, can be "harmful" to the party's interests.
"She must be kept occupied", and with this objective the party is trying to find a suitable post for her in the organisation, a senior leader said.
However, a strong possibility is that Ms Bharti will be entrusted with leading a nation-wide yatra after the conclusion of the Assembly poll in Maharashtra and Bihar.
Speaking at the felicitation function organised by the BJP Delhi unit here, Ms Bharti in the presence of top leaders of the party, including Mr Advani and the party president, said during her tiranga yatra she had realised that there was a need for another "freedom movement" in the country and if permitted by the party, she would travel across the country after the Maharashtra and Bihar elections.
Later, responding to her statement, Mr Naidu in his address, expressed appreciation for her wish and said he would discuss it at the party forum.
With the BJP formally ruling out replacing Madhya Pradesh Chief Minister Babulal Gaur, the party could well find it prudent to engage her in a yatra, of course, linked to the political requirement of the party.
Answering questions on speculation about the possibility of replacing Mr Gaur, BJP spokesman Mukhtar Abbas Naqvi said "Mr Gaur is handling his job well. There is no question of changing him".
While Ms Bharti met Mr Naidu, Madhya Pradesh Chief Minister, Mr Babulal Gaur met the party President and senior BJP leaders, Mr Atal Bihari Vajpayee and Mr L.K. Advani.
Mr Gaur scotched speculation about a change of leadership in Madhya Pradesh. He told mediapersons after meeting BJP leaders that he had no rift with Ms Bharti.
Sources said there was a proposal in the party about replacing Mr Kailash Joshi as BJP chief in the state. However, there was a sizeable section which wanted his retention because the chief ministership was with a person of Backward Class and the party leadership had to be with someone from the high caste to maintain the power balance.