Public servants among 190 in CBI net
Nationwide raids yield jewellery, cash worth 9 cr
Tribune News Service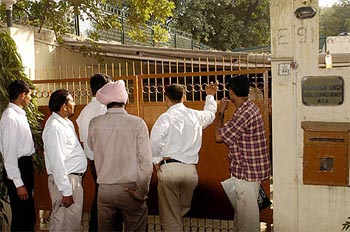 CBI personnel stand outside the official residence of Additional Commissioner of MCD Rajmohan Singh during a raid conducted in New Delhi on Wednesday. — PTI photo
New Delhi, September 29
In a major swoop the CBI today carried out nationwide raids against public servants and registered cases against several of them, including a former project Director of the National Highways Authority of India (NHAI), against whom Satyendra Dubey had levelled allegations of irregularities.
The CBI has filed 65 cases so far under various provisions of the Prevention of Corruption Act, Indian Penal Code, Passport Act, etc. against 190 persons, including 63 public servants and 127 private individuals, agency Director U.S. Mishra told newspersons here today.
The raids have been conducted at as many as 147 places all over India and most of these are expected to continue till late tonight. The searches were conducted at 20 places in Chennai, 13 each in Mumbai and Delhi, 11 in Kolkata, seven in Jodhpur, four in Vaizak, three in Thiruvananthapuram and two Bangalore, Mr Mishra said.
So far, the anti-corruption wing officials of the CBI have seized Rs 9 crore worth of cash/jewellery, etc., he said.
During the investigation of the Dubey murder case information was received for irregularities worth Rs 10 crore committed in the NHAI project, Mr Mishra said. He added that a case has, therefore, been registered against Mr S.K. Soni, ex-project Director, NHAI, and Brig Satish Kapoor (retd) and searches were conducted at their residences at Noida and Vasant Kunj, respectively.
"During searches at Mr Soni's residence, FDRs worth Rs 15 lakh were found. Three bank lockers were also traced out. A number of documents of the NHAI project were also found," he said.
Both were named by Dubey in his letter to the then Prime Minister Atal Bihari Vajpayee. He was killed in a roadside robbery.
Replying to a question, Mr Mishra said the CBI was closely investigating several officials allegedly involved in corruption in NHAI projects and named by Dubey in his letters.
A case has been registered against Abdul Karim Telgi for obtaining duplicate passports from the Regional Passport Office, Mumbai, on the basis of forged documents.
Searches were also being carried out on the premises of Additional Commissioner of Municipal Corporation of Delhi (MCD) R.M. Singh and the Medical Superintendent of the Rao Tula Ram Hospital.
Mr Mishra added that during this year's raids thrust had been on recovering cash and thus focus was on corrupt officials in the Revenue and Income Tax Departments, health sector and passport offices.