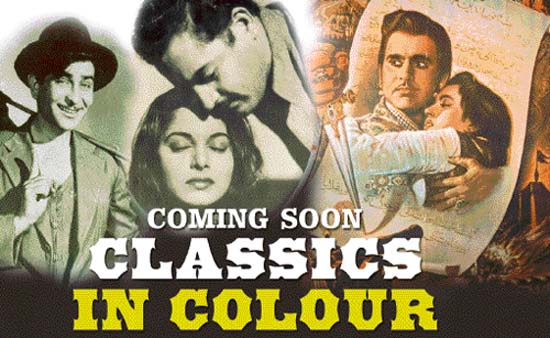 Hindi classics like Mughal-e-Azam and Naya Daur are all set to be reissued in colour. V. Gangadhar looks at the trend of lending colour to old black-and-white blockbusters in Bollywood and Hollywood
WAY back in the mid-1940s, the audience inside a thatched-roof theatre in the small village of Radhapuram in Tamil Nadu clapped and whistled as the Gemini studios box office hit, Mangama Sabatham (The Oath of Mangama), starring swashbuckling hero Ranjan and popular heroine Vasundhara Devi, came to an end. The ending was a routine one — the hero, the heroine and their child rowing a boat happily. But, to the thrill of the audience, the scene was in colour.
I do not know how the scene was processed but still remember the garish effects of the colour. The water was dark blue, the waves were a frothy blue and the costumes of the star pair and their child were quite gaudy. These did not matter to the audience which cheered the novelty that colour brought to the average black-and-white cinema.
Such garish colour scenes were occasionally introduced in some films, most of which were based on mythological themes. The gods and goddesses radiated a bright blue colour, their costumes and crowns were in multiple colours. Such colourful scenes were advertised as 'special attractions' and brought in larger audiences, which gasped in admiration.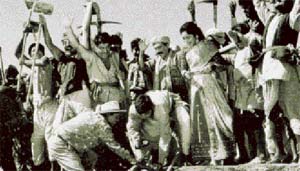 A still from Naya Daur, which is likely to be reissued in colour by year-end
Films are entertainment and entertainment has to be colourful. The average Indian cinema offered a lot of scope for colourful scenes — gods in paradise, romance, song and dance sequences, festivals and so on. These sequences looked quite ordinary in black and white but caught the eye in colour. During much of the 1940s, Indian cinema, Hindi and regional, did experiment with colour, employing specially trained technicians. Even though the effect was garish, the response was spectacular. There were, however, no takers for an entire film to be shot in colour. It was almost 20 years later that the concept gained acceptance. The Indian cinema scene changed fully to colour from the 1960s, though the occasional black-and-white film continued to be made.
Producer-director Mehboob Khan's entertainer, Aan, with Dilip Kumar, Nimmi and newcomer Nadira, was the first Indian movie in colour to be released in 1952. A 16-mm print of the film was blown up and converted to technicolour in London and the film became a big hit. Three years later, another leading producer-director V. Shantaram, came out with his magnum opus in colour: Jhanak Jhanak Payal Baje in Geva colour was rather harsh on the eye. K. Asif's much-awaited Mughal-e-Azam, released in 1959 and starring Dilip Kumar and Madhubala, was the most expensive film to be made till then. It had the famous sheesh mahal scene in colour, which evoked much curiosity and admiration among audiences. But the real switchover to colour began in 1961 with the release of Junglee, featuring Shammi Kapoor and Saira Banu. The film not only introduced the 'yahoo' tradition but also the wonders of Eastman colour, which Indian producers found best suited for their films. Since then, it has been colour all the way.
In the fast-changing world of entertainment, someone had to come out with the idea of converting many of the old black-and-white classics to colour. Today's movie audiences, accustomed as they are to colour, cannot appreciate the black-and-white movies of the past. Such people can be won over if the movies are brought out in colour. The process began in Hollywood. The immortal Casablanca, often declared as the greatest movie ever made, was reissued in colour. A cult movie, its highlights included the acting of Humphrey Bogart and the brooding pre-World War II atmosphere.
Another colour reissue was of that wonderful romantic film, Sabrina, where millionaire brothers Humphrey Bogart and William Holden fought for the hand of a chauffeur's daughter, Audrey Hepburn. The film was remade in colour in the 1990s with Harrison Ford in the lead but was nowhere as good as the black-and-white original. This brings us to the question whether black-and-white films took on additional appeal once they were converted to colour.
This is a debatable issue. Colour was fine with big, spectacular films, musicals and those which focused on adventure and entertainment. Having watched the old black-and-white version of Cecil B De Mille's Ben Hur on TV, there was no question in my mind that it came out poorly compared to the modern MGM version of the same film with its unforgettable chariot scenes. The magic of colour, the direction of William Wyler and better special effects helped Ben Hur win nine Oscars.
I find comparisons of such remakes with the original movies fascinating. The performances in the earlier version of The Prisoner of Zenda, with Ronald Coleman and dashing Douglas Fairbanks (Jr) who played the handsome but villainous Count Rupert, were way ahead of the 1952 colour version, which had Stewart Granger, Deborah Kerr and James Mason, who failed to impress in the role of Rupert. But `85Zenda was about more than performances; it was a swashbuckling adventure film which had gala coronation scenes, spectacular court scenes, thrilling fencing bouts, midnight attacks on castles, rescues from dungeons and so on, which looked so much better in colour.
One cannot visualise the epic Gone With The Wind in anything but colour, particularly the gory battle scenes of the Civil War and the burning of Atlanta. A further fillip to colour movie-making came from the never-to-be forgotten musicals produced in the 1960s and 70s — Gene Kelly's An American in Paris, his tap dancing movies with Frank Sinatra, Singin' in the Rain, Gigi, Sound of Music, Mary Poppins and, of course, My Fair Lady. From the 1970s, the growing trend in sci-fi movies and their special effects enhanced the importance of colour in movies.
At the same time, movie-makers and movie-goers understood that colour alone could not make a movie great. Black-and-white movies had several classics among them. During the early 1950s, I watched an MGM film festival at Bombay's Metro which screened mostly colour films, including great ones like Clark Gable's Mogambo. At the festival, however, it was a black-and-white film — Marlon Brando's Julius Caesar — which stood out, and fortunately there is no move to reissue such films in colour. Who needs colour for stark, realistic movies like Wuthering Heights and the Brando starrers, A Street Car Named Desire, On the Waterfront and Viva Zapata?
The master of suspense, Alfred Hitchcock, made subtle use of colour in classics like Rear Window, To Catch A Thief and The Man Who Knew Too Much, but stuck to black and white while shooting the gloomy, stark thriller, I Confess, where Montgomery Clift played a tortured priest unable to decide whether he should reveal the details of a confession from a murderer. Another nail-biting thriller Chase a Crooked Shadow, which was in black and white, did not need any colour effects to make it more effective.
Indian movie-makers are also keen to reissue some classic Hindi movies in colour. Shyam Shroff, leading film financier and owner, is a great admirer of classical movies. But, he warns, "We have to go easy on the process of reissuing black-and-white classics in colour. It is quite expensive, and there are quite a few movies which can retain their glory in digital form."
Shroff has bought a large number of old Hindi movies and converted them into the Dolby digital system but has no plans to reissue movies in colour. "Doing so will cost nearly Rs 3 crore and it does not appeal to me." Further, while films like Chalti ka Naam Gadi and Kohinoor will definitely look better in colour, the same cannot be said of serious, sombre films like Jogan, Deedar or Pyassa.
But Indian producers are working in the direction. One of the earliest films converted to colour and to hit the screen will be the spectacular Mughal-e-Azam. One of India's leading production units, the Chopras, has lined up some of its classical films to be reissued in colour.
Explained Ravi Chopra, son of legendary filmmaker B.R.Chopra, "We are now working on our hit film Naya Daur, which has mass appeal, and hope to release the colour version by the year-end." Ravi explained that B.R. Films was playing meticulous attention to the process, working frame-by-frame.
"Each completed frame of the film has to be checked carefully and returned for more work if found wanting," he explained.
This search for perfection will be costly, the total cost for conversion will be around Rs 3 crore. The work is being carried out by a company which has offices and labs in Mumbai and Florida. The process or reissuing Indian film classics in colour is bound to be slow. Many of the films have not been preserved properly and may be in a condition that would render such conversion impossible. Further, with the original owners long dead, there may be legal problems or difficulty getting the project okayed by surviving family members. The cost factor is another problem. But if Naya Daur is being reissued in colour, there is a possibility that other films might follow suit. This Dilip Kumar starrer has all the ingredients which can ensure its success in colour.

A thrilling race between a bullock cart and a bus, rhythmic music, taut direction by B.R. Chopra and memorable performances by the cast, which includes Vyjayantimala and Pran. If the experiment proves successful, 2005 may see more attempts at reissues of old classics in colour.