Tendulkar: The world is his stage
This month a festival in New York showcases the works of controversial playwright Vijay Tendulkar, writes Deepa Gahlot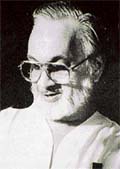 Vijay Tendulkar
IN October, the Indo-American Arts Council in New York will present a Vijay Tendulkar Festival, which will include performances of his plays, readings, seminars, discussions and screenings of the films he wrote. Ghashiram Kotwal, Sakharam Binder, Kamala and Mitrachi Goshta are the obvious selections to show and discuss, plus screenings of some films he wrote.
The event, spread over several venues across New York and attended by Tendulkar himself, will expose an international audience to the works of India's most prolific, influential, and often controversial, contemporary playwright.
Maharashtra always had a strong theatre tradition and Marathi audiences have been receptive to experiments on the stage. Tendulkar shocked and often titillated them, his plays with brutal themes and powerfully realistic dialogue raised protests, made conservative audiences cringe with embarrassment, but also won him a following among the new audiences that wanted a change from conventional theatre.
Tendulkar was born in a lower middle class family, and life in a Mumbai chawl was very different from middle and upper class life or a romanticised version of poverty that was usually portrayed in Marathi theatre. He was in his early 20s when he wrote his first play Grihast, which flopped. His second play Shrimant, established him as a playwright to watch out for. In this play, Tendulkar made fun of the hypocrisy of the rich through the story of a wealthy man who tries to buy a husband for his pregnant daughter.
Tendulkar's concerns were and are for the underprivileged, though he did not make the mistake of making them look noble or pitiable. He took on taboo themes of deviant sexuality, violence within the family and outside, and the treatment of women in traditional society.
The protests, ban and scandal that his historical play Ghashiram Kotwal generated (first directed by Jabbar Patel, with Mohan Agashe as the debauched nobleman), ironically built his international reputation as the enfant terrible of Indian theatre. (Along with Badal Sircar, Mohan Rakesh and Girish Karnad, Tendulkar is a cornerstone of modern Indian theatre.) The play was banned for many years, but is now considered a landmark play, having been translated into several languages and staged many times down the years.
Sakharam Binder, about a man who does not believe in marriage and conventional morality and the violent Gidhade (Vultures) about a family of cruel, venal people (at a time when families were portrayed as loving and sacrificing) also had trouble getting past the censors.
If a Gandhian leader's pious pronouncements were mocked at in Kanyadaan, so was a drunken Dalit poet who cashes in on his underdog status. Anji had a savage view on rape, while Kamala (based on a true incident of a journalist buying a tribal woman to prove that trafficking of women went on openly in India) made fun of crusading journalists. In Shantata Court Chalu Ahe (Silence! The Court is in Session), the mock trial on stage castigates men who attack a woman's character, when they are not all that blameless.
Plays like Pahiche Jaticha and Kutte turned the notion of peaceful, bucolic rural life on its head, while his last play Massage is a satire on the film industry.
Of the 32-odd full length and 23 one-act plays that he wrote, hardly any can be accused of being conventional. The film scripts that he wrote, like Aakosh, Ardh Satya, Saamana, Sinhasan, Umbartha, Nishant, Manthan and Aaghat, also centred around his preoccupations with violence at all levels, social and emotional. His works also include plays for children, short stories, a novel, essays and translations.
From being the favourite whipping boy of the establishment, Tendulkar went on to win every award and honour, from the Sageet Natak Akademi Award to the Padma Bhushan. Unlike other litterateurs, Tendulkar does not just write about issues, he is a vocal participant in protests against social issue like communalism or curbs against freedom of speech.
For the last decade or so, Tendulkar stopped writing plays – he said in an interview that plays had "stopped coming to me. Until then, everything came to me in the shape of a play. Now, I've stopped thinking theatre."
But news is that he has written a play in 'Hinglish' which is, undoubtedly, good news for theatre lovers. For a man in his 70s to commence a new phase in his life (after weathering personal storms like the untimely deaths of son Raju and daughter Priya), is admirable.