India-Pakistan hockey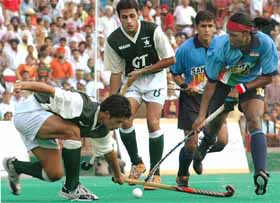 Good grounds for Dosti
Amardeep Bhattal
Traditional rivalry apart, Indo-Pakistan hockey is clothed in a delicate fabric of friendship which has stood the test of times. The two-nation hockey series, revived after more than a decade in 1998, sought to drive home the point that foes, too, could turn
sparring-partners.

India and Pakistan players battle it out at Chandigarh. Photo: Pankaj Sharma

New innings for Alam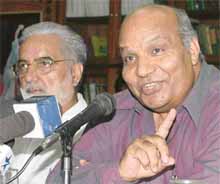 Gopal Sharma
The Punjab Cricket Association wanted to do it with a bang. The performance of the Punjab Ranji squad, not on the upswing, was not going downhill either. Hiring of a prominent or a foreign coach was on the agenda for the past one year. The PCA wanted to do something different. In fact, it was out to stage a coup of sorts. The recent series against Pakistan presented it with an opportunity. Not the one to let it go, the PCAtop brass rushed to Pakistan.

PCA President I.S. Bindra with Intikhab Alam (R)
Himachal's rising star
Chander Shekar Sharma
Rishu Thakur, adjudged the best athlete in the Himachal Pradesh Inter-district Middle Schools Athletics Tournament, could be a future star for the state. A student of class VIII at Government Middle school, Sarahkker, in Hamirpur district, 13-year-old Rishu was the best in the under-16 category.
Chandita on a roll
Nishikant Dwivedi
Chandita Kamboj started playing roller hockey four years ago when she was 11. Four years later she stole the limelight from her team-mates at the world championship.


IN THE NEWS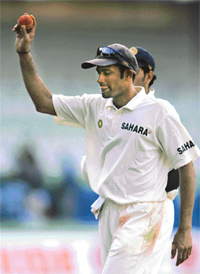 Kumble shows the ball with which he took his 400th wicket.
— Reuters
Jumbo feat
Rubinder Gill
Anil Kumble's perseverance has helped India win many matches. It has also helped become third man in Test history to take 400 wickets on the opening day of the day of first Test against Australia. Going into the Test, Kumble was three short of the 400-mark. He took the wickets of Damien Martyn, Darren Lehmann and Simon Katich to reach the landmark. Kumble reached the milestone in his 85th Test He achieved the feat on his home ground at Bangalore, where he had taken the 300th wicket too. Kumble is the second Indian after Kapil Dev to join the select club. Jumbo, as Kumble is known, is now ninth on the list. He is already eyeing Kapil's record and spoken of his intentions of knocking the great all-rounder off the top spot to become India's highest wicket-taker. In 1999 Kumble become the second bowler in history, after Australian Jim Laker, to claim all wickets in an innings. He returned figures of 10 for 74 against arch-rivals Pakistan at Ferozeshah Kotla.