"I hope I learn enough English to join The Tribune one day...."
As a young student, Mulk Raj Anand visited Kalinath Ray, Editor, The Tribune, in 1923. Reproduced here is the conversation. Anand wrote of his encounter for the centenary souvenir of The Tribune in 1981.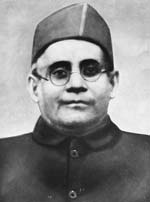 Kalinath Ray
IN the year 1923, with the euphoria of youthful enthusiasm, I visited a student of the D.A.V. College, Lahore, who was a self-avowed terrorist and believed in the overthrow of British rule by starting acts of violence. He was engaged, with some others, in making bombs in the basement of the Kali temple on the outskirts of Lahore not far from his college. I went to sleep on the cool marble floor, but suddenly heard a big blast, the shrine shaking as in an earthquake.
The CID men came and arrested five bomb makers and myself. After a few days in the Central Jail Dr Muhammad Iqbal (whom I had seen on the morning of the day on which the bomb burst) had come to secure bail for me. The Judge freed me.
As I felt guilty about having deserted my comrades in custody, I went to seek advice from the redoubtable Kalinath Ray, Editor of The Tribune, on how to communicate to my friends that I had not betrayed them but had been bailed out because of the efforts of my mentor who saw my name as one of the accused in the Kali temple conspiracy case. The little wiry giant received me in his shabby office and the following talk took place:
MRA: (With joined hands), Sir, Namaste.....
K.N.R.: I am not an Englishman. So do not call me Sir... .... You are....?
I am one of the accused in the Kali temple conspiracy case. I have been released because I was just visiting Lala Kedar Nath and was asleep in the verandah of the shrine. I don't know what the other five will think of me... They may suspect me as an informer...
Taking off his glasses, rubbing his eyes and looking at me sideways). Are you an informer?
(Eagerly) No, sir.
Again sir! You boys learn to be servile from your English teachers! ... Are you from Government College?
No. I am from Khalsa College, Amritsar.
The Principal there is Mr Wathen?
But he is quite nice. Speaks Punjabi.
So did Henry Lawrence, who helped to deprive Duleep Singh of his kingdom and delivered him into the hands of Lord Dalhousie, who took the Koh-i-Noor from him...
I have heard the story.... But Professor Harvey told me that Henry Lawrence was good to Duleep Singh and his mother, Rani Jindan.
Good! (with a smile) ... I suppose the watchman in a zoo is also good when he pats little lion cubs from outside the bars of the cage.
In Bengal I hear you have many terrorists.
If you are not an informer, as I don't think you are, I will tell you something. We Bengalis don't agree with Gandhi that India can win freedom with non-violence. We can embarrass the Government with non-co-operation. But they will not go with our dharnas. Some of our young students have turned terrorists ..... You know one of the men who threw the bomb at Lord Hardinge in 1911 was a Bengali called Rash Bihari..... He escaped to Japan afterwards... And one of our writers, Sarat Chandar, has written a novel lauding the gospel of tit for tat...
Rabindranath Tagore is not for violence.
He gave up his knighthood after the Jallianwalla Bagh shooting of innocents.
I hear he does not approve of Gandhiji's non-violence...
Yes. He says that the illiterate people in a non-violent dharna may not remain non-violent. The natural thing men do is to defend themselves. Only the Jains are supine. And Gandhi is from Gujarat, where Jainism is still practised.
(Bent head and confused) Then do you think Lala Kedar Nath and his friends were right?
(Looking at M.R.A. straight in the face) I wish I had the courage to do something more than write editorials.
I came to you because I have been reading your editorial every day.... I want to be like you... I hope I learn enough English to join The Tribune one day....
You must learn Punjabi. You will get nearer your people.
But English is spoken all over India. I read a review of Rabindranath Tagore's Gora in The Tribune. If there was no paper in English, I would never have known about this novel. I got my college library to get it. And I and two friends have read it — wonderful....
Sarat Babu goes further.
I wish I could read more of Tagore's novels. I hear he has written about love marriage against arranged marriage.
'Yes, Nauka Dubi ... Macmillan has published it. Also Ghare Bahire.
Meaning?
Nauka Dubi is called The Wreck in English. And Ghare Bahire is The Home and the World.
I would like to go to Santiniketan.
Yes, go during your next holidays. I will give you a letter to the poet.
May I come and see you on my next visit to Lahore for the letter to Rabindranathji.
(Getting up from his chair) Before you go to him read all his books..... I like his stories..... Come, let me give you Hungry Stones.
Thank you...
(Fetching a volume from his shelf) I hope you will write stories of Punjab like these.
Ray was the Editor of The Tribune from 1917-1943 and Chief Editor from 1944 to 1945.