The first woman Air Marshal Padmavathy Bandhopadyay has many firsts to her credit, writes Girja Shankar Kaura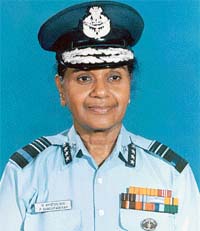 Air Marshal Padmavathy Bandhopadyay
SHE is at the pinnacle which most dream to reach but only a few human beings, especially women, are able to achieve. The first woman Air Marshal, the second-highest rank in the Indian Air Force (IAF), Air Marshal Padmavathy Bandhopadyay has achieved which no other woman in India has been able to do in its long and rich history of Armed Forces.
She says that had it not been for the unstinted support given by her husband, a former IAF officer, and her two children, she would not have achieved what she has. Although her husband Wing Commander (Dr) S.N. Bandhopadyay retired from service many years ago, he continued to support her. Similarly, her sons have been extremely cooperative. Even as children, they were never demanding and always excelled in their studies. Sometimes she felt rather guilty because of her constant postings. On their part, the children adjusted well to the nomadic life and developed self-confidence, which helped them build their futures. She wanted at least one of them to be in the Armed Forces but that was not to be. Her message to the women of India is "In India, a woman can aspire for any post, depending on her aptitude and capabilities. One should remember to go ahead despite the social pulls and pushes." After retirement, she wants to involve herself in `social organisations' in order to help the poor and destitute to give back something to the society which gave her honour and glory in abundance. Born at Tirupati on November 4, 1944, Bandhopadyay is the daughter of a Government servant who had the privilege of working under Pandit Jawaharlal Nehru, John Mathai and C.D. Deshmukh. She passed her Higher Secondary from Delhi in Arts but her thirst for scientific knowledge spurred her on to switch over to the science stream. She was selected for the prestigious Armed Forces Medical College where she bagged the Chief of Air Staff's Silver Medal for topping in Physiology, Chief of the Army Staff's Bronze Medal for academic excellence in Anatomy, Chief of the Naval Staff's Silver Medal for topping in Pathology and the Gold Medal for topping in Medicine.
After graduation, she was Commissioned as Flying Officer in the Indian Air Force on January 22, 1968. She married then Flying Officer S.N. Bandopadhyay on February 13, 1969, at Bangalore with the blessing of parents, relatives, the then Air Chief -designate, Air Marshal P.C. Lal. A Ph.D in management from IIT-Delhi, S.N. Bandopadhyaya, is now a renowned management consultant to a large number of companies and institutes at the national and international level. One of their sons — Amiya, (MBBS from AIIMS, Delhi and MD from NIMILANS, Bangalore) is a consultant psychiatrist in Delhi, and Ajit, (BE Computers from IIT, Kanpur and MS form (Pennsylvania State University) is a computer engineer settled in Seattle, USA.
Throughout her service career, she had upheld `service before self' as her motto. Perhaps unprecedented in the medical history of India in the early 70s was the untiring effort with which she undertook the responsibility of taking up the cases of three premature babies weighing 0.75 kg 1 kg and 1.20 kg respectively. She, using her practical knowledge ensured they live with the help of an incubator she improvised herself. During the 1971 operations, she voluntarily accepted the hazardous tasks of Admin Control Centre, Operational areas, in addition to the hospital duties, at the cost of personal safety. Her practical skill was a great help to the field surgical team for conducting various intricate surgical operations on war casualties.
She was awarded Vishisht Seva Medal by the President of India on Jan uary 26, 1972, along with her husband, the then Flt Lt S.N. Bandopathyay, in the same investiture parade for her devotion to duty. They are the only couple in Indian Armed Forces history to get decorated on the same day. Bandhopadyay was the first lady to become an Air Commodore and also the first lady to command AFCME. She completed the Postgraduate diploma in Aviation Medicine from Bangalore University in April, 1975. In April,1984, she passed `Doctor of Medicine in Physiology'. She has contributed significantly in the field of ameliorating the effects of noise in air bases, designing and development of flying clothing and in fields of hypoxia and space physiology. As a researcher in Aviation Medicine, she has had the privilege of flying aircrafts like the Gnat, Hunter, MIG-21 and MIH-25.
She undertook research in high altitude and contributed in the formulation of acclimatisation schedule for Armed Forces personnel posted at high altitude. She has worked on the patho-genesis of High Altitude Pulmonary Oedema (HAPO). She has travelled extensively and camped at high altitudes in the Western and Eastern Sectors to complete research. The first Indian woman to have been to the North Polar circle, is an experience Bandhopadyay cherishes. "It was extraordinary" she says of that 10-week trip which was conducted to evaluate the carious physiological and psychological problems associated with extreme cold. The normal temperature in the Arctic is -350 C but when the wind blows, it can drop to -550C. She is the first lady Aerospace Medicine Specialist in India since 1975, first lady officer to have successfully completed Defence Services Staff College at Wellington in 1978: and the first lady officer of the Indian Armed Forces to be awarded the prestigious Indira Gandhi Priyadarshani Award in 1995 for outstanding services.
She is the first lady fellow of the Aerospace Medical Society of India and the first woman officer to be awarded the Ati Vishisht Seva Medal (AVSM), on Republic Day in 2002.