Tuesday, October 12, 2004
Vistas for the young in foreign tongue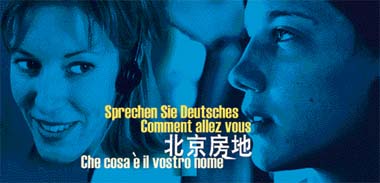 For those possessing good knowledge of a foreign language there are myriad lucrative openings as translators, interpreters, online content writers, tour operators, instructors or even decoders of technical jargon, writes Biswajiban Sharma
So what if you have not yet mastered your mother tongue, or are yet to grasp the nuances of English grammar. In a global village, it is more important that you should be able to reel out 'Buenos dias' and 'Bonjour' with the ease of a native Spaniard or a Frenchman. What matters is one's fluency in a foreign language, even if you have never set foot in Madrid or Casablanca.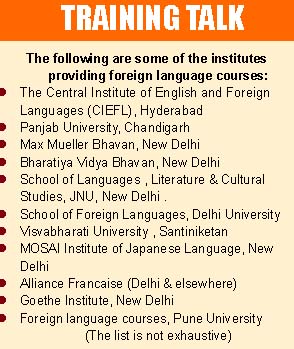 In this scenario, the knowledge of a foreign language gives one an indubitable edge, be it in tourism, the hospitality industry, online journalism, mass communication, publishing or diplomatic corps. Explains Rekha V. Rajan, Professor at the Centre for German Studies, Jawaharlal Nehru University: "A career in foreign languages is becoming an attractive proposition. More and more avenues are opening up in tourism and call centres. Whether it is the Ministry of External Affairs (MEA) or publishing houses, they are all making a beeline for foreign language experts.''
Just Japanese
Languages, too, have their good and bad times. Some languages like Russian are passé while others like Japanese and Spanish are currently the rage. Let us examine the changing language mosaic:
The opening up of the Indian economy has spurred interest in Japanese. The number of students who take up the Japanese language proficiency test (similar to TOFEL), which is conducted by the Mombusho Scholars Association, has spurted from a few hundred a couple of years ago to a few thousand today. Says Prof Sushma Jain of the School of Languages in JNU: "More students are making a beeline for Japanese than any language.''
Interpreters, who mostly work on a retainership, are in great demand; they accompany Japanese business groups and official delegations on overseas trips. Technical translation work is also a big draw. There is excellent scope in tourism, airlines and the hospitality industry as well. Incidentally, there is an acute shortage of Japanese teachers in universities and private institutions. Research organisations and high-end jobs in foreign companies require not only knowledge of Japanese but also of a core discipline in natural or social sciences. The dubbing and entertainment industry is a new growth area.
Groovy German
German is eliciting a great response. There is a perennial demand for translators and interpreters. Of late, BPOs, which are outsourcing work from German-speaking areas, are also knocking at the doors of language scholars. Likewise, there is a dearth of language instructors who can undertake commercial classes.
Says Prof Anil Bhatti of the Centre for German Studies, JNU: ''Inter-cultural competence is the in thing. German is an attractive proposition in tourism, airlines and hospitality industry where interaction with foreigners is required. English does not serve the purpose.''
''One untapped field is journalism. We still depend on the Englis h language press for information on events in Europe. This is because we have very few journalists who know German or understand its cultural roots," adds Prof Bhatti
Charming Chinese
Very few people are adept at oriental languages; incidentally, Chinese has more alphabets and characters than any other language. There are job avenues in overseas universities, in primary/secondary schools, in foreign trade institutes and in defence establishments. Legal and medical transcription work in Chinese language has also thrown up openings in BPOs. Top-notch companies like HP, Oracle and GE are always scouring the job market for Chinese language experts, points out Arpana Raj, a second year student of Chinese language in JNU. The expert is expected to be fluent, have the right accent and a good understanding of the Chinese ethos.
Simply Spanish
Perceived as a global language, Spanish courses are in great demand.
''The knowledge of Spanish is considered an important add-on in tourism, airlines, hospitality and even the publishing industry,'' says Dr Meenakshi Sundryal, Associate Professor, Centre of Spanish, Portuguese, Italian & Latin America Studies, JNU. The Spanish Government offers a good number of summer scholarships to Indian students. HP, Oracle and Thomson are the big companies which are scouting for Spanish-speaking Indians, points out Arushie Jain, an MA first-year student of Spanish in JNU. Another student, Debashish Bhattacharya, explains: ''Most students prefer Spanish over French and German in view of the exposure they get in private companies, especially BPOs. The relevant courses can be pursued at JNU, DU and in Hyderabad-based CIEFL.
Knowing Korean
Korean is the most sought-after language after Japanese. The JNU was the first institute in South Asia to offer a diploma in Korean in 1974. In 1995, degree courses were also launched. In 1998, MA and PhD courses were put on the menu.
Korean language is extremely demanding and a graduate gets a job in no time. ''In fact, the students get absorbed while they are pursuing their course,'' says Prof Ravikesh of Centre for Chinese & South-East Asian Studies, JNU. The job openings are not limited to that of a translator or interpreter. With foreign collaborations being tied up at the drop of a hat, Samsung, Hyundai, LG and many middle-level companies are hiring Korean language experts. If you are extremely articulate in the language and have a flair for translation, rest assured about a fat pay packet, say, around Rs 50,000 per month. Apart from JNU, several other universities and private institutes are offering diploma level courses in the language.

It pays to have a French connection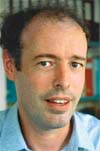 Bruno Plasse
The Alliance Française came into being in 1983. The first batch of classes were held in 1985. At present, it attracts more than 2500 students per year to study French.
Underscoring the job prospects for students of French, Bruno Plasse, Director, Alliance Française 'Le Corbusier', says, "In an increasingly global context being multilingual is a major asset. Job opportunities may present themselves as translators, French teachers, in multinational companies, the airline and tourism industry and in call centres outsourcing from Europe. A major chunk of opportunities in the corporate sector lie in the close to 180 Franco-Indian joint ventures and 200 collaborations that already employ about 25,000 employees."
The French companies seeking confirmed talent (technical/magerial plus French) include Alstom, Schneider, Total fina ElF, Biomerieux, Sanofi. L'Oreal, Alcatel, France Telecom, Group Accor, Mercure, Michelin, Credit Lyonnais, BNP Parisbas, Danone-Britannia, Aventis, Moulinex, Aquatechnique, Group Lafarge and Group Vivendi, he adds.
Says Plasse, "With new collaborations on the cards, the prospects will only get brighter. Then there is the added advantage of pursuing higher education in France if you know the language."
Outlining the growing significance of foreign languages, he says, "With the bilateral trade with the EU expanding, I see a spurt in the number of people wanting to learn European languages. French tops the list, followed by German, Spanish and Italian. French is perhaps the second most prevalent language around the globe and is spoken by 170 million people. "One of the major motivating factors for people opting to learn French in Punjab is the lure of migrating to Canada. The Alliance Française is the centre for conducting various French tests like the TEF ( required by the Canadian High Commission), the TCF, DELF /DALF tests and diplomas delivered by the French Ministry of Education etc," he points out.
On the placement prospects of Alliance Française students he says, " Although we do not have a placement cell, we are regularly approached for translation jobs, call center recruitments, and by companies looking for French-speaking people. Several times, we identify promising students and send them as English assistants to France for a year sponsored by the French Embassy. Most academies that teach French around town are manned by our ex-students. So, although we do not offer placements as such , we are very much on the radar of prospective recruiters."
Highlighting recent measures to popularise French in this region, he says, "We have added some new specific classes for the BPO/IT sector with SPIC. French classes have been started in certain schools of Chandigarh apart from professional classes at Quark and with an institute partner in Dehra Dun. We have introduced new international certification and are always striving to improve the quality of teaching."
Alliance Française proposes DELF / DALF exams, TEF / TCF tests regularly as it is the only official centre for the same in North India.
— Chetna Keer Banerjee

COURSE CHAT
"Scope for students of world languages in small towns too"




H. C. Pande
Knowledge of a language other than English is an asset for a wide range of jobs. Learning a foreign language can be a stepping-stone to language-specific jobs like those of interpreter, translator or teacher, says Prof H. C. Pande, Dean, School of Languages, Literature & Cultural Studies, Jawaharlal Nehru University, New Delhi.
Excerpts from an interview:
What are the job opportunities for foreign language graduates?
Well, graduates in foreign languages can handle various types of jobs from tourism to software; from business correspondence to technical translation. They can do interpretation too. In fields like management, tourism, hospitality industry, airlines and software better offers come one's way if one has command over a foreign language. Translators are employed by industries, publishing houses, government and research organisations. Job opportunities also occur in exhibitions and fairs, export agencies, radio stations and trade organisations. Teaching is also an option.
How broad is the canvas for foreign language students?
The canvas is very wide. Unlike before, openings are now available not only in metros but smaller towns too. Nowadays, a foreign language student can do a translation job sitting at home through the Internet.
Do linguistic skills open vistas in the international arena too?
Yes. Lots of jobs are available in translation bureaus, research organisations, international organisations like the UN, FAO, foreign companies, diplomatic and defence establishments, etc. Global organisations and embassies employ language specialists for secretarial, executive and public relation assignments as well as for translations and interpretations.
What does the job of a translator or interpreter entail?
The nature of job may vary. There are many freelance translators who do not have fixed timings. Interpreters and translators both need to have a good command over two or more languages. But an interpreter also needs to have superior verbal skills. The job of an interpreter can be of different types. Sometimes they are engaged in simultaneous interpretation, which is used for meetings, conferences, speeches etc. The other types of interpreting are consecutive interpreting and liaison interpreting.
Which foreign languages are in demand in India?
This depends on the requirements of the companies. In governmental work, apart from French, German, Spanish, Japanese etc, even smaller languages like Pashpio, Uzbek, Tajiks, Hebrew, Portuguese, have a huge demand. Sometimes it is difficult to find experts in the lesser known languages.
What are the future growth prospects?
Future growth prospects vary from language to language. In recent years, we have seen a tremendous demand for Spanish, Japanese and Korean language experts because of the globalisation of economy.
— Biswajiban Sharma