HVP merges with Cong
Tribune News Service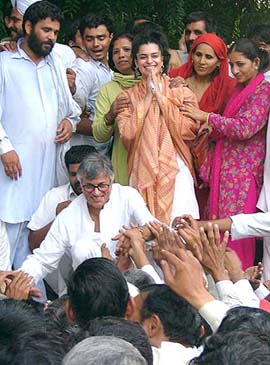 HVP secretary Surinder Singh and his daughter Shurti being greeted by their supporters at the AICC headquarters in New Delhi on Thursday. — Tribune photo by Rajeev Tyagi

New Delhi, October 14
The Congress today got a major boost, ahead of next year's Haryana Assembly elections, when the Haryana Vikas Party (HVP), headed by former Chief Minister Bansi Lal, merged with the Congress today.

Mr Bansi Lal himself was not present at the time of the formal announcement at the AICC office today but he authorised his son HVP secretary Surinder Singh to go ahead with the merger.

Mr Surinder Singh made a dramatic entry at the AICC headquarters this afternoon as he was accompanied by a huge crowd of slogan-shouting supporters, who virtually took over the party office.

Describing his return to the Congress fold as a "homecoming", Mr Surendra Singh assured the AICC leaders that his workers would work like loyal Congress soldiers and cooperate with the state unit.

On his part, he said, he would give no cause for complaint to the Congress and promised to work under the directions of the state Congress leaders.

At the same time, he gave a call to all HVP workers to "lay down arms", erase their identity and merge with the Congress. "Throw away the HVP party flags when you go out, I should see everybody carrying the Congress party flags," he told the huge crowd of supporters who had gathered on the AICC office lawns.

Earlier, Mr Surendra Singh along with AICC General Secretary Janardan Dwivedi and Haryana PCC chief Bhajan Lal addressed a joint press conference to announce the decision on the

merger, hours after the HVP Secretary General's meeting with Congress president Sonia Gandhi.

While Mr Bhajan Lal was seated on the same platform as Mr Surendra Singh and was quick to welcome him, the Haryana strongman's rivalry with Mr Bansi Lal is legendary.

In fact, Mr Bansi Lal deliberately stayed away from today's joint press conference as it would have been virtually impossible for the two to be seen on the same podium.

Today, however, there was goodwill and bonhomie all round. Welcoming Mr Surendra Singh to the party, Mr Bhajan Lal maintained this merger was bound to strengthen the party. "Ganga mein jo nahata hai, woh pavitra ho jata hai," he maintained, assuring the HVP workers that there would be no discrimination against them.

Today's development is significant as it is expected to brighten the Congress prospects in the assembly elections. Mr Bansi Lal's return, it is felt, will help garner the Jat vote which is crucial in Haryana.