King of the Game
He is the master of moves. On top board in the ongoing Chess Olympiad at Mallorca in Spain, India's first Grandmaster Viswanathan Anand seems all set to win more laurels. The country's first International Master Manuel Aaron looks at the winning ways of our finest chess champion.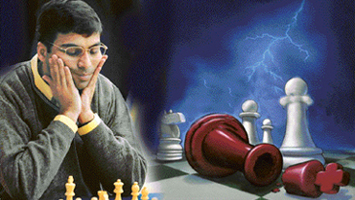 Reputed to be one of the richest sportsmen in the country, the thing about Viswanathan Anand which stands out is his modesty and total lack of airs. A thorough gentleman, he comes from an illustrious family. He has never been haughty. And nobody has seen him angry or heard him raise his voice. In his behaviour he lacks the ferocity of a Kasparov and the cunning of a Karpov. Yet, this 'nice guy' who was not expected to win the World Championship (nice guys don't win championships, predicted Korchnoy), did win the world championship in the year 2000 to become the 15th World Chess Champion in history.
Players can get excited by the shortcomings of the organisers and scream their heads off. Some react violently to poor tournament conditions. In this respect, Bobby Fischer and Miguel Najdorf readily come to mind. Kasparov is known to grimace and block his ears during a game if there is noise or any disturbance in the hall. But Anand is different. He puts up with difficulties and concentrates on what is to be done to the opponent over the board, rather than to the organisers off the board. Naturally, he is the darling of organisers and the public at large.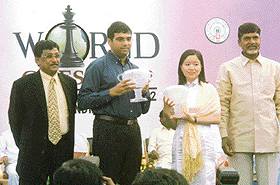 Anand won the World Cup for the second time at Hyderabad in 2002. — Photo by the writer
With his modesty and soft nature, Anand — who is tall, handsome and bespectacled — has tons of admirers all over the world. If there is a championship match between him and anybody else in Europe, most Europeans would root for Anand as everybody wants the nice guy to win.
For many of us, it would be interesting to know how Anand began his chess career. His first tournament was the Larsen & Toubro Open in 1977 at the age of eight. Just like any of us, he did not win any prize in this tournament. His second tournament was the Madras District Sub-junior Chess Championship a few months later. Here he won his first ever prize — a consolation prize. In 1978, when his father K.Viswanathan, who was the General Manager of the Southern Railway, was sent on an assignment to Manila, Philippines, Anand and his mother accompanied him. At that time there was a chess fever sweeping the Philippines and Anand was caught in it. In his very first tournament there, he won a gold medal in the inter-school competition, representing De la Salle University School, Manila. Many other prizes followed and Anand became stronger and stronger.
In 1980, the family returned to Madras and Anand revived his chess ties with the Tal Chess Club, which became the launch pad for many a chess player. He participated in many Open tournaments that were prevalent all over Tamil Nadu. He had played in places like Salem, Sivakasi, Pollachi, Coimbatore, Palani, etc. These tournaments provided Anand with good tournament experience as they attracted strong players from all over the country. Players like Arun Vaidya, Pravin Thipsay, Dibyendu Barua, D.V.Prasad and Raja Ravisekhar congregated in such tournaments.
Lightning kid
When Anand was still a child, he used to play with bewildering rapidity and unbelievable accuracy. He was nicknamed 'The Lightning Kid' by admirers in the Tal Chess Club. This speed play carried over into his later life too. When he played in the 1986 Chess Olympiad at Dubai, he played so fast against the American Champion Yasser Seirewan that he (Seirewan) incredibly came into time trouble twice in the first session of play itself. Veteran International Master Robert Wade who had come with the British team to Dubai told me in mock anger and genuine admiration, 'How do we stop this boy from playing so fast and winning!'
The year 1983 was very significant for Anand's career. That year, the National Team Championship was held at IIT, Bombay. At that time the Tamil Nadu teams were very strong and had won the National Team Championships in 1976, 1977 and 1982.
Promising opening
There were many talented teenagers like Anand in Tamil Nadu who could not be selected to the State Team as stronger seniors were selected as per selection criteria. Therefore the Madras District Chess Association fielded a special teenage team, calling it the Madras Colts. Anand played brilliantly in this team Championship to win the top board prize and was rewarded with a seeding for the National 'B' Championship that followed the next day at Ahmedabad. He was only 14.
Anand played in the Ahmedabad National 'B' and qualified for the 'A' in his very first attempt. He won two all-India tournaments, the Indian Bank Open at Chennai and the NPSS Rathina Nadar Memorial at Sivakasi. He won his first National title by winning the Sub-junior National at Panaji, Goa, with a score of 9/9. Importantly, he played in the Mariammal-Mahalingam Rating Tournament in Coimbatore in 1983, which got him his first FIDE Rating in January 1984.
From 1984, Anand went on a winning spree. He won the National Sub-junior twice, the National Junior twice, National 'A' three years in a row and the Asian Junior twice.
After it was clear that Anand was head and shoulders above the rest in India, the All India Chess Federation decided to exempt him from playing in the National Championships and gave him permanent seeding to represent India. This enabled Anand to concentrate on players like Karpov and Kasparov and his chess bloomed.
A big breakthrough for Anand came about in 1987 when he won the World Junior Championship in 1987 in the Philippines. He was the first Indian to win the World Junior. So far nobody has emulated him.
Indian attack
On the trot, Anand made three Grandmaster norms and became a Grandmaster, India's first. With so many successes coming in quick succession, chess fans were in ecstasy. Chess had become a welcome sport. Organisations like Indian Airlines, LIC, Railways, petroleum companies and many nationalised banks recruited chess players. At job interviews, bosses no longer asked 'what else can you do apart from chess?' Universities, colleges and even schools wanted chess players on their rolls. The respect that chess players got was amazing.
The tournament that marked him out as an outstanding contender for the World Championship was the traditional Reggio Emilia Tournament in Italy in 1991. In a Category 18 tournament he finished first, ahead of the cream of Soviet chess: Kasparov, Karpov, Ivanchuk, Khalifman, etc.
Down but not out
Many players are never the same after a big defeat. For example, Spassky faded away after losing to Fischer in the 1972 World Championship Match. But with Anand it has been different. When he lost to Garry Kasparov in the 1995 PCA World Championship Match at the World Trade Centre, New York, it was feared that he might not be able to shake off the despondency that it would bring. But even at the World Trade Center closing ceremony, he joked. "All these zeroes are nice!" he said pointing at the string of zeroes after the figures in his loser's cheque. And in the next few months he won the Dortmund Schachtage in Germany and beat Kasparov in the finals of the Credit Suisse Grandprix in Switzerland. He also proved his resilience by quickly recovering from his loss to Karpov in the 1998 World Championship Match Final at Lausanne.
Anand's spectacular performances have charmed and inspired countless Indians to try and follow in his footsteps. When he won the World Junior Championship in 1987 there was a big upsurge in chess interest in the country.
What happened during the 1972 Fischer-Spassky Match, happened again. Chess books were in demand. Chess sets were sold out. Chess players who did not find employment became chess coaches overnight and made a good enough living. Parents wanted their children to be turned into chess champions. And they were willing to spend money on coaching.
Thanks to the euphoria created by Anand, chess coaching is viewed as a good way of earning a livelihood. There are even instances where a person who did not even know the moves, learnt the moves, took coaching from a chess coach for a few weeks and launched his own chess coaching centre. There was a repeat of this when Anand won the 2000 World Championship in Tehran. This time, there was a new angle as computers had become cheaper. Apart from hiring coaches, parents also bought computers and software like ChessBase to accelerate their children's chess growth.
Care for disabled
Anand spends time with those who are disadvantaged. Since 2000 he has been associated with Vidya Sagar, which was previously known as the Spastics Society of India. From 2002, he is Vidya Sagar's global brand Ambassador. Vidya Sagar is an organisation for children with special multiple-disabilities.
Some blind chess players get to play chess with Anand during his visits to his home at Besant Nagar in Chennai. While the blind players use Braille chess boards, Anand plays without any board whatsoever.
Brilliant moves
P.R. Venketrama Raja, the boss of Ramco and the current President of Tamil Nadu State Chess Association, said this of Anand when he won the World Championship. "Frederick Friedl of Germany, who runs the famous Chess Base, visited Madras and met with Anand many years ago. Friedl took out his laptop, selected at random one of the two million games loaded into it and asked Anand to watch. Then Friedl put his finger on the forward button. The game played through rapidly on the computer screen. Then Friedl asked Anand to play back the moves. And Anand did, some 50 odd moves without an error. Friedl said: 'Only one other player in the world has done this before. Kasparov. Anand will be world champion one day.'"
Anand is a cheerful person, ready to share a joke or an amusing incident. His speeches are never dry. Invariably, he will mention about three humorous incidents during the course of one talk. When the Tamil Nadu Government organised a felicitation function for Anand on his winning the World Championship in 2000, one of the guest speakers was the famous cricketer Krishnamachari Srikkanth. Srikkanth said in his speech that he had once played a friendly game with Anand and was wiped off quickly. In his reply, Anand said that he would never make the mistake of playing cricket against Srikkanth.
Born in Madras on December 11, 1969, he lives with his wife Aruna in his own home at Madrid in Spain. Anand has won many awards. Chief among them are the Arjuna, Padma Shri and Rajiv Gandhi Khel Ratna Awards by the Government of India and the Chess Oscar in 1997, 1998 and 2003 by the International Chess Journalists. During his infrequent visits to Chennai, Anand is generally too busy to attend functions, but still finds time for the disadvantaged people.
After a gap of 12 years, Anand is playing for India in the Chess Olympiad at Mallorca in Spain. With him on top board, India can look forward to winning a medal.