Looking for a perfect lover? Mathematics could be the answer. Catherine Townsend meets a woman who believes in a link between numbers and love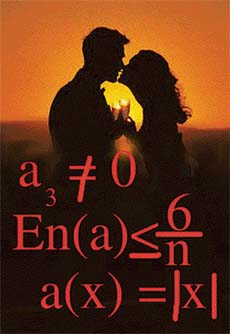 A mathematician, Clio Cresswell, PhD, believes the answers to some of the big questions lie in mind-bending equations. After years of research, she is explaining her theories on finding the perfect relationship in her new book, Mathematics and Sex.
"Mathematics is all about patterns, whether itís in the stock-market, society or in your bedroom," she says. Despite her day job as a lecturer at the University of South Wales, the 30-year-oldís quirky humour and unconventional life are more reminiscent of a Sex and the City character than a stuffy academic. She combines her research and teaching with writing an advice column in a womenís magazine and speaking engagements worldwide.
But Dr Cresswell got the idea to apply maths to romance by accident. "I came across these fascinating equations that used maths to figure out how much one should compromise in a marriage, and was blown away by how many people asked about them," she says. She explains that the psychologists John Gottman and Catherine Swanson watched newly-wed couples interact for 15 minutes, and observed their reaction to each other to determine the likelihood of their staying together. The results, she says, were surprising, and "have had a big impact on how psychologists view marital theory." They found that, while some people expressed negativity as soon as they felt it, others held their anger in and "empathised" for as long as possible with their mates.
She adds: "We have always heard in the past that empathy is the best method, but they found that people who hold in their anger and rationalise their partnerís behaviour by saying something like ĎOh, itís OK that he didnít put the cap back on the toothpaste, because he had a hard childhoodí are much more likely to get divorced than those who get their anger out there and then. People who get out the negativity straight away do better because they have higher standards, and see themselves as fighting for their marriages. When members of the couple keep giving in, then they are lowering their standards." Moving on, Cresswell explains how maths can help in hunting for apartner.
"Itís an interesting problem because divorce rates are getting higher and higher. If you bought a DVD player that someone told you had a 50 per cent chance of breaking down, you would ask your friends what they do and take advice," she explains. "But with love we donít want to be unromantic, so we say ĎNo, Iíll know when I find The One,í which is completely counter-intuitive." In fact, she questions the belief that there is "one" at all: "The maths suggests that there are multiple people you could be happy with, and the idea of a soulmate is disputed if you look at social Darwinistic theory," she says, laughing. "But itís tough to dispute, because, hey, weíve all watched Pretty Woman."
"So weíre not all acting irrationally, just using what evolution has taught us." While comparing relationships to the stock-market may seem like an alien concept, Cresswell insists that applying maths to love is a natural evolution. "The Eighties was the first time that mathematical models got applied to the stock-market, and now everyoneís doing it," she says. "Basically, you choose symbols based on particular characteristics and see how they develop, and how the relationship will grow or decline, like the rise and fall of the money market." According to Cresswell, relationships and romance are nothing more than a dynamic weave of different possibilities being played out, meaning that maths can be used to used to simulate conditions within a relationship - or an orgasm. "I saw a mathematical study that looked at how to compare orgasms between men and women," she says. "Basically, womenís orgasms have kind of been studied to death in terms of their emotional connection, and menís from the physical side only. In this case, researchers looked at a bunch of words that could describe an orgasm, then got people to evaluate each word for feeling - fun, exciting, pleasurable, and so on. They did a statistical analysis and found that men and women basically picked the same descriptions of what it felt like." She discusses how dating services work, and why men and women are happier if they actively proposition as many desirable partners as possible. She admits to using the equations as a tool for her own love life, especially in understanding the ups and downs. "Psychologists and sociologists are studying love, but no one really knows what it is, except that it can be an unpleasant feeling that is like an emotional washing machine," she says. ó The Independent
Same-sex relationships continue to be viewed with prejudice, observes Seema Sachdeva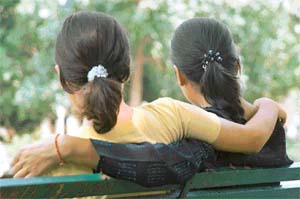 THE recent order of the Delhi High Court rejecting a public interest litigation filed by the Naaz Foundation, an NGO, challenging the Constitutional validity of Section 377 of the IPC underscores the fact that we have a long way to go before same-sex relationships as an adult choice become acceptable.
However much we keep denying such rights, the fact remains that there are gays and lesbians in our society who are increasingly coming out of the closet, refusing to be marginalised. The Gay Pride parade in Kolkata in June 2003 was a call for a right to dignity for homosexuals. The LGBT (Lesbian, Gay, Bisexual, Transgender) film festival, the first such to be held in Mumbai last October, was a major step in asserting their self-identity.
Homosexuality is more than mere sexual desire for people of the same sex; the relationship has many other dimensions and depths, including emotional bonding. Those in such relationships are subject to irrational prejudices by a society that refuses to accept their sexual preferences. Often they have to face ostracism, besides scorn and ridicule, when they come out of the closet. The humiliating experience apart, they are also subject to pressures to go in for straight marriages. They are seen as Ďdeviantsí and even as perverts who need to be cured.
While countries like Holland, Belgium and France have accorded legal sanction to same-sex marriages, India remains far behind, in a social time warp. Here homosexuality is considered a form of unnatural sex, and remains a criminal offence punishable with imprisonment up to 10 years. In the Indian context, the issue is considered too much of a taboo to be even discussed or debated upon. Instead, cultural extremists and vigilante groups have launched attacks on the phenomenon and practice. Hindutva hordes have targeted even films such as Deepa Mehtaís Fire and Karan Razdanís Girlfriends with a crusading zeal that betrays homophobia. It just goes to show how intolerant we are of choices and relationships that have been accepted by a number of developed countries.
However, since the issue will not go away merely because the morality brigades set themselves against the phenomenon, it is time to address the issue more seriously out of concern for the rights of fellow humans.
The argument that ours is a conservative country and such issues have no place in a society like ours, has no basis either in mythology, history or even in present times. Our civilisational heritage celebrates varied forms of sexual behaviour. India gave the world its first treatise on love, Kamasutra, and our arts, architecture and archaeology abounds in evidence of diverse sexual practices. Our literature too is rich with a variety of sexual imagery. More recently, especially in the last 20 years, homosexuals have rubbed shoulders with the high and the mighty and been awarded and feted. One would have assumed that with so many achievers and celebrities being publicly acclaimed regardless of their sexual orientation, society would move towards greater acceptance.
Unfortunately, that does not seem to be happening. In the age of individual rights, sex, like religion, ought to be an individualís private affair. It is a matter of personal liberty guaranteed by Article 21.
When an individual is considered mature enough to exercise his political choice at the age of 18, denying an adult right to choose a consenting partner of any kind does seem to be a violation of personal liberty.