Tuesday, October 19, 2004
Go for green-er pastures
Vishal Gulati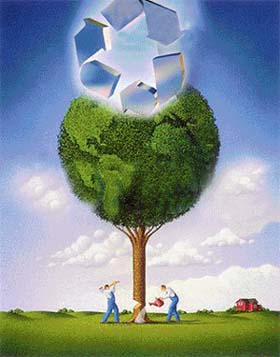 ARE you a science graduate concerned about your environment? Do you want to know about the causes of environmental degradation and find solutions to check it? If so, a postgraduate course in environment science can be your chosen field.
On the directions of the Supreme Court, various universities have started courses to create environmental awareness among the student community, while some like Himachal Pradesh University, Shimla, and CSK HP Agricultural University, Palampur, are in the process of launching these courses.
Eligibility
For gaining admission to M.Sc Environment Science (Panjab University), the candidate must be a graduate in science (medical/non-medical), computers or an engineering graduate from Panjab University or any other university recognised by it.
The admission is based on an entrance test and the academic record
Future scenario
Big industrial houses (or small units under a group) have started employing environment experts for proper monitoring of guidelines and guidance on the issue. The demand for these experts is much more than their availability.


The following institutes are offering courses in environmental science:
Panjab University, Chandigarh (M.Sc. Environmental Science)

Guru Nanak Dev University, Amritsar (M.Sc. Hons-Environmental Science)

Kurukshetra University, Kurukshetra (PG Diploma in Environmental Education through correspondence)

Guru Jambheshwar University, Hisar (M.Sc in Environmental Science and PG Diploma in Environment Management through correspondence)

National Law School, Bangalore (PG Diploma in Environmental Law through correspondence)

University of Delhi, New Delhi (M.Sc Environmental Biology )

Jawaharlal Nehru University, New Delhi (M.Sc Environmental Science)

Indian Institute of Forest Management, Bhopal (PG programme in Forest Management)
(The list is not exhaustive)
Says research scholar with the Punjab State Council for Science and Technology (PSCST) Puja Nangia: "One can start one's career as an environmental consultant. Since the Centre's clearance has become mandatory for projects worth over Rs 50 crore, construction work meant for 1,000 persons and for units discharging sewage of 50,000 litres daily, these consultants are needed to guide companies on environmental issues. Besides, gone can get jobs in government departments like the State Council for Science and Technology or the Pollution Control Board".
With the setting up of biodiversity boards in each state the job avenues in this sector are likely to further increase.
President of the Environment Society of India S.K. Sharma says: "Even by joining an NGO one can act as a facilitator for launching various environmental programmes of the Central and state governments."
One can also enter the print or electronic media to do special reportage of environmental issues. "It is a virgin territory and not much work has been done in this so far," says I.M. Soni, a former Chairman of the Department of Mass Communication, Panjab University.
Areas of work
For field work, there are a number of areas in which one can specialise. These include ecology, toxicology, environment engineering, phytoremediation, forestry, agroforestry, biosensor technology, resource management, weed and pest management, environment education, marine science etc.
Money matters
The initial remuneration of a junior research fellow in the PSCST is Rs 8,000 per month plus house rent allowance (HRA). For a senior research fellow, the salary is Rs 9,000 plus HRA.
In NGOs, the salary varies between Rs 5,000 and Rs 10,000 per month.


COURSE CHAT
"Environmental experts' demand exceeds supply"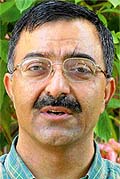 R.K. Kohli
The challenge of educating the masses about ecological concerns in a vast country like India is enormous, says R.K. Kohli, Coordinator, Centre for Environment Studies, Panjab University, Excerpts from an interview:
What does the environment course cover?
The course lays adequate stress on practical issues. The syllabus is as per the UGC-NET guidelines and covers subjects like the ecosystem, geographical classification, atmosphere, soil, water, regional and global environmental issues and environment laws.
What are the qualities required to make a mark in this field?
A love for one's environment is a pre-requisite. Those who are dedicated and focused, love to travel and interact with people, are keen observers, have a love for plants, animals and other forms of life and want to conserve resources for posterity can surely make a mark in environmental work.
What will be the scenario in the next five to 10 years?
Those who take up environment as the area of study and specialisation are likely to benefit a lot. At present, the demand for environmental experts is more than their supply. Ad this situation is likely to continue at least for a decade.
Is the government taking special measures to create more jobs in this sector?
Oh yes. After the judgement of the apex court, the Central and the state governments are encouraging the creation of jobs in the education sector, industry and development projects. The UGC has launched National Education Testing (NET) in environment. This in itself is indicative of the potential of the subject for teaching and research.
— Vishal Gulati