Badal meets PM, Kalam
Seeks probe into hawala scam
Tribune News Service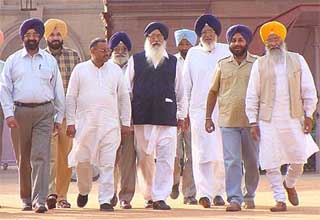 SAD chief Parkash Singh Badal along with senior Akali leaders coming out from Rashtrapati Bhavan after meeting the President in New Delhi on Monday. — Tribune photo by Mukesh Aggarwal
New Delhi, October 18
The Shiromani Akali Dal and the BJP today threatened to move the court if the Centre did not order a probe into the alleged hawala scam in which both the Punjab Chief Minister, Capt Amarinder Singh, and his son, Mr Raninder Singh, were allegedly involved.
Talking to newspersons at a press conference after meeting President A.P.J. Abdul Kalam and Prime Minister Manmohan Singh, SAD chief Parkash Singh Badal said they would move the court to seek a probe if the Union Government, which is also ruled by the Congress, failed to direct the Directorate of Revenue Intelligence to probe the alleged violations of the Foreign Exchange Management Act.
The statement of Capt Amarinder Singh's son's Dutch friend Leonard A Freeke that public money was transferred to a Swiss bank account is a serious charge. The judicial probe, ordered by the Punjab Government to "patch up" the case, should be disbanded and wound up, he demanded.
The SAD and the BJP leaders said the victory of the Congress in the byelections was not a stamp of approval of their misdeeds.
They said there were no free and fair elections in the two Assembly seats and the Election Commission, despite several complaints, did not act sternly to prevent electoral malpractices.
The leaders also demanded immediate sacking of Punjab Chief Minister following media expose "of his direct role" in the multi-crore hawala scam in which his son is alleged to have defrauded the state government of billions in foreign exchange.
"There are three scams in which the Chief Minister is involved - the money laundering scam, recruitment scam in which non-sportsmen were recruited in the sports quota and the liquor scam in which vends were given to one person. The Centre should immediately order an inquiry by the ED into it (hawala scam)," the memorandum submitted to the President and the Prime Minister said.
He said the Chief Minister had last year set up a commission to investigate the money-laundering scam, but contended that it was not a competent authority to do so.
His (CM's) governance is full of favouritism, nepotism and corruption. Under such circumstances, he has no right to be in office, Mr Badal said.
He said "the scam is just the tip of the iceberg. There is so much corruption happening in the state."
The memorandum said that "there have been huge malpractices in the auction of liquor vends in the state. Bidders were not allowed to enter the auction centres."
"Even in the matter of several appointments, particularly that of DSPs under the sports quota, procedures were violated. These cases should be referred to the CBI for investigation," he said.