Wooden object was rolled over Harpreet's stomach, says doctor
Tribune News Service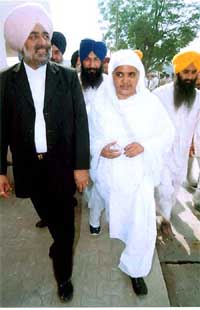 SGPC President Bibi Jagir Kaur outside the court of Additional District and Sessions Judge S.P. Bangar at District Courts in Patiala on Monday. — Photo by Rajesh Sachar
Patiala, October 18
The Shiromani Gurdwara Parbandhak Committee (SGPC) President, Bibi Jagir Kaur, suffered a major setback when Begowal-based doctor Balwinder Singh Sohal, who has turned approved in the Harpreet murder case, today claimed that Bibi's close confidant Dalwinder Kaur Dhesi had rolled a wooden object over the stomach of a pregnant Harpreet to cause bleeding which eventually led to an abortion.
The doctor recorded his statement in the court of Additional Session Judge S.P. Bangarh with the assistance of Public Prosecutors S.K. Saxena and R.K. Handa of the CBI. The statement remained incomplete and would be continued tomorrow.
According to the statement before the judge, the doctor claimed that on March 9,2000 he had gone to the residence of Bibi Jagir Kaur at Begowal at the instance of her confidant Paramjit Singh Raipur. He said Bibi was in a sombre mood and started crying in front of him. She told him "Harpreet has committed a mistake and has got pregnant". Dr Sohal claimed that Paramjit asked him to find a solution to this problem.
The doctor said on March 16 Paramjit Singh and Dalwinder Dhesi met him at Jalandhar and asked him to come with him to Chandigarh. He said both told him that Harpreet had to be brought from Chandigarh to get an abortion performed but Dr Sohal told both the persons that he would not get involved in any such activity. After this on January 17 Paramjit came to Dr Sohal's house and took him to Chandigarh, as Bibi wanted to meet him.
In Chandigarh he met Bibi the same day and she asked him to perform the abortion but he refused to commit such an act. The doctor said the next day on January 18, Dalwinder Dhesi took Harpreet to Sector 22 in Chandigarh on the pretext of shopping. He said he accompanied Paramjit to the Sector 22 market in another car where Paramjit mixed seven to eight Tryca tablets that he had purchased from Banga in fruit "chaat" which was consumed by Harpreet. Harpreet became unconscious after consuming the chaat".
Harpreet was then taken to Jasdil mansion in Phagwara where she was administered an injection of Fortwin mixed with Phenargan which ensured that she remained unconscious for a longer period. He said after this Dalwinder Dhesi took a wooden object and rolled it over Harpreet's stomach after which bleeding started from her internal organs. Dr Sohal said on January 19 Harpreet was taken to the house of staff nurse Dalbir Kaur who had been contacted by him for conducting the abortion.
The statement of the witness was adjourned at this stage for the day and will continue tomorrow in the same court.