THIS ABOVE ALL
Food fads and filmi gods
Khushwant Singh


EARLIER COLUMNS

Yesterday once more
October 16, 2004

Bose smart, Nehru smarter
October 9, 2004

Exploding myths
October 2, 2004

Candid confessions
September 19, 2004

Return to the hills for verse
September 18, 2004

The power of doubt
September 4, 2004

Trouble with the truth
August 28, 2004

What makes a perfect evening
August 21, 2004

Kasi yatra
August 14, 2004

Eat, drink and be merry
July 24, 2004
THERE is so much emphasis on what one should eat or drink in our religious traditions which has neither logic nor any bearing on health. For some beef is forbidden but pig meat is okay; in others beef is okay but pig meat is haraam (forbidden). Some insist that animals meant to be eaten must be beheaded at one stroke (jhatka); others insist it should be bled to death before it can be certified as edible (halaal). Vegetarians have kitchen fads of their own: some will not eat vegetables like onions, garlic, carrot or radishes because they are polluted by contact with the soil. But even they make an exception in the case of potatoes. How can anyone relish a vegetarian meal without spuds?
A couple of weeks ago I learnt of another eccentricity. The wife and daughter of a senior Bengali IAF officer told me that in Bengali homes no chicken or chicken eggs are eaten: they prefer to eat duck and duck eggs. I asked them why? Their answer was amusing. Because, they said, Muslims relish chicken, so Hindus decided that eating chickens was un-Hindu. By that logic Bengali Hindus should be consuming ham and bacon which Muslims abominate. I have never eaten any pig product in any Bengali home or restaurant.
Among Punjabis kitchen fads are equally mind-boggling. Though both Hindus and Sikhs strictly abstain from eating beef (the Namdhari sect of Sikhs gained popularity for murdering Muslim cow-butchers, and were later blown up by cannons to be acclaimed as martyrs), there is little enthusiasm for eating pig meat. At the most they take pickled pork (achaar), preferably made of wild boar meat. Ham and bacon, introduced to India by the English, can only be seen on tables of the westernised Punjabis. And far from not eating chicken because they were relished by Muslims, they are the non-vegetarian Punjabis favourite food. Chicken tandoori is Punjabisí national bird.
Does any of this make any sense?
Tamil film world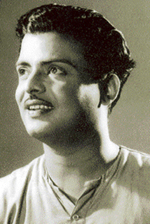 It is a world of its own, as different as Bollywood is from Hollywood. It could have been named Mollywood after Madras; it could as easily be called Chennaiwood. Nowhere in the world are film stars worshipped as gods on earth as they are in Tamil Nadu. They put up huge cut-outs of their living deities along public thoroughfares, offer aartis by waving salvers of oil lamps in front of their photographs, prostrate themselves (dandvat) if they happen to see them as they do in inner sanctums of temples. They form fan clubs with memberships running into the thousands and confer honorific titles on their adored ones. Thus M.G. Ramachandran was entitled Puratchi Thalaivar ( male revolutionary leader), his protege and successor Jayalalithaa Jayaram Puratchi Thailaivai (female revolutionary leader), Sivaji Ganesan Nadigar Thilagam (Tilak on the forehead) and Gemini Ganesan, Kadal Mannan (King of Romance). Equally successful Tamilian actresses like Vyjyanthimala Bali, Hema Malini and Rekha missed out in fan clubs and honorifics because they chose to act in Hindi instead of Tamil films.

I picked up this information from Gemini Ganesanís autobiography Vaazhkai Padagu (The Boat of Life) translated from Tamil into English by his daughter Narayani Ganesh of The Times of India and in a couple of sessions with her. Some facts were revelations to me. While Genesan, like all other Tamilian stars, adhered to their religious traditions like wearing the sacred thread (janeyu), getting tonsured at Tirupati and going on a pilgrimages, he thought nothing about having extra-marital affairs. Gemini Ganesan sired seven daughters and a son through two wives and a lady friend. Jayalalithaa, long time friend of married M.G. Ramachandran, had a brief matrimonial interlude before returning to M.G.R. Vyjyanthimala married an already-married Punjabi, Dr Bali. Hema Malini, MP, became the second wife of Dharmendra, M.P. while he had a wife and children of his own. Bigamy is not regarded as a crime in the film world: Hollywood, Bollywood or
Chennaiwood.

Gemini Ganesan was, as his photographs show, a stunningly handsome young man. He starred in well over 100 films mostly Tamil, a few in Telegu and Malayalam. According to his version, it was never he who made the first pass; it was always some pretty woman or the other who found him irresistible and took the initiative. Not to hurt their feelings, he never said no. He passed on his good looks to his daughters. Rekha exploited them to the hilt and rose to the top. Others, equally comely, went into different professions. The only one I have got to know is Narayani. Now in her forties, she still has a rich, golden brown complexion which glows, dimples and a winsome smile. She too has been married twice first time as arranged by her parents; the second with a Kashmiri Pandit of her own choice. One child from each husband. And now freed of marriage, a good catch for any man looking for a woman with talent and good looks. Gemini now 84, is in poor health and lives with his wife Bobji, 80, in even poorer shape, in Chennai because one of their daughters is a doctor and medical facilities are readily available.

The Bard for today

Shakespeare propounds in As you like It that our whole life is like a play, that we are mere actors in the theatre of life, and that man grows through seven st ages of development: First on an infant. Mewling and puking in the nurseís arms; second of whining school boy, reluctant to go school; third of a lover sighing like furnace, fourth of a soldier quick in quarrel; fifth of a justice full of wise saws and modern instances, sixth of an aging man, shrunk shank, his youthful pantaloon, well saves, too wide for his thin and lean body: and in the seventh going into oblivion sans teeth, sans eyes, sans taste, sans every thing."

However, these seven stages can better be explained in modern idioms as "spill, drill, thrill, kill, bill, ill, and will." A man as an infant spills (corporeal waste); subjects himself to drills (disciplines, excercise) in the school; experiences thrills (excitement, titillation) as a youthful lover, writing ballads to his mistressí beauty: tends to kill, like a soldier for the sake of honour and glory; resorts to quote bills (laws, legislation) as a mature wise person occupying the seat of justice (for instance, a Sarpanch) suffers ills as an infirm, invalid aged person, and finally writes will be bequeath his property to his progenies, and goes into oblivion.

(Courtesy: C.D. Verma, Faridabad)

Leaving to others

Father: Have you fixed the date of the wedding?

Young man: Iíll leave that to my fiancee.

Father: And, will you have civil ceremony or a private wedding?

Young man: Her mother will decide that, Sir.

Father: What will you have to live on, young man?

Young man: I will leave that entirely to you, sir.

(Contributed by R.N. Lakhotia, New Delhi)