Hi-fashion khadi
A favourite with both designers and wearers, discounts make khadi more attractive during the festive season. Gaurav Choudhury and Smriti Kak Ramachandran look at the old fabric that has become a new statement of style.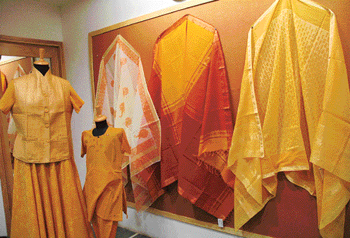 Khadi has always been a fabric with attitude. If in the past its claim to fame was its status as a symbol of resistance against British rule, it has now become a fashion statement. Its journey from its eventful birth as the fabric favoured by revolutionaries, to designer boutiques and elite consciousness has been an exciting one.
At one time coarse and dull, khadi's latest avatar is brightly coloured and gossamer fine. While designers sing hosannas to the versatility of the fabric, wearers swear by its practicality and comfort. It is not only the perfect answer to India's hot and humid summers but also provides adequate protection against winter chill. Leading designers like Rohit Bal, Jatin Kochchar, Malini Ramani, and Bhavna Thareja and upmarket clothes brands like Fabindia and Anokhi have given to the traditional handspun fabric a modern and contemporary look. With its stylish cuts and innovative colours, khadi has come to define the trendy ethnic look. Its easy adaptability to a range of designs makes it amenable to both formal and informal look, as well as Indian and western styles. Stores stack a range of dresses in khadi - jackets, skirts, kurtas, dupattas, sarees, cropped tops, capris, trousers, wrap-arounds, spaghetti tops, trousers, you name it. Little wonder that khadi is a hot favourite with not only the make-a-fashion-statement college crowd but also the with-it and cool not-so-young.
From the coarse, plain kapda that was eons ago a statement of patriotism and later a must- have for netas, khadi as a designerís raw material for runway apparels is a bellwether of its changing status. The government, having done its bit by roping in designers to give the plain old Khadi Gram Udhyog a makeover, has attracted the attention of even the elite.
While designers agree that khadi can lend itself to almost any look and cut, they rue the fact that it has been unable to find popular acceptance. "The biggest problem is that of mindset. For some inexplicable reason, people find it difficult to accept khadi as a formal outfit. This is actually not true. Almost all formal outfits can be made out of khadi - including western tops, shirts, pants sarees, lehengas and blouses", says Bhavana Thareja, a fashion designer involved in designing clothes for KVIC.
It is very unfortunate, Thareja says, that people, especially the youth, would prefer to buy a Levis or any other denim brand for Rs 700 to Rs 800 but would consider the same price as expensive if the outfit happened to be made out of khadi.
"The rigidity of the mindset has to change and something should be quickly done to bring about awareness, both domestically and internationally", she says.
Designers also lament that khadi is yet to evoke the kind of response in the domestic markets that is has generated abroad. "It is unfortunate that we are able to sell more khadi abroad than within the country. Here it is still considered an inexpensive, rough cloth, which the hoity toity is yet to accept," says designer Ashish Soni, who makes it a point to include a few khadi pieces in each of his collections.
Fashion designers are however, confident that khadi has a huge potential. "Internationally, people are fond of linen. And khadi is the purest form of linen", says Thareja. And with more khadi dresses going off the shelf in markets overseas, it has persuaded the domestic market to give the textile more than a second glance. "It is a slow process, khadi will have more takers in the domestic market and like in the West, it will be cherished for what it is. Buying khadi can easily become a habit," says designer Vijay Lakshmi Dogra.
She adds, "It can replace linen in the international markets. It is so versatile, you can get amazing colours and textures and weaves if you combine khadi with cotton, muslin or silk. Even plain khadi by itself is a great material to work with, both for the winter and summer collections."
For designer Anju Modi, known for her work using the fabric, which she claims has a "unique textured look", khadi is "weather friendly and its appeal can be enhanced by using more prints on it".
Modi says, "The fabric is perfect for printing, especially the vegetable dye block prints that we have in India. Printing is in fact much better than embroidering it as it is easier to maintain and with prints being in fashion in the international markets, it will become more chic."
According to Dogra, the popularity of khadi has increased in recent times, "The ever-increasing penchant for khadi has some reasons. There are two kinds of buyers. The first kind of people buy khadi for a reason. A look at the past reveals the way khadi was promoted by Gandhiji. This was to promote village economy, to stop the exodus from villages to cities. Khadi was promoted extensively to make them economically more self-sufficient. One reason why some people wear khadi is the feeling that by designing clothes in khadi and by wearing khadi they are supporting the 80 per cent of the population that lives in villages," says Dogra.
The second kind of people, according to her, wear it because of the inherent nature of khadi since "It is one of the best and comfortable fabrics for both winter and summer: cool in summer and warm in winter. Moreover the availability of variants of khadi like muslin khadi, matka khadi and hand-woven khadi provides the freedom of experimentation to the designers and makes it a really suitable buy for all kinds of occasions. Matka khadi is one of my favourite fabrics and one can see its widespread use in my collection," she says.
She says that the marketability of khadi will only increase "once people start wearing khadi because then they become addicted to it. From masses to the elite, khadi is making a place for itself in wardrobes. The cost that ranges from Rs 30 a metre to Rs. 1000 a metre makes it really accessible and one of the most comfortable, convenient as well as stylish fabrics," Dogra says.
Its appeal to fashion sensibilities apart, designers feel that khadiís role in helping impoverished farmers should also be highlighted, "It is important to underline how khadi helps in sustaining villages and the lives of poor farmers who grow cotton. Buyers, especially in foreign markets, would acknowledge such details. Like it happened when the market reacted strongly to the fact that the carpet industry was using child labour, it had such an adverse impact on business. In the case of khadi, it might actually augment the productís appeal," points out Dogra.
Apart from being the king of the wardrobe, khadi is also a lifestyle product. It is used to make durries, gaddas, upholstery, cushions, bags, mats, bed-sheets, and curtains. Its inherent toughness ensures that it doesn't wear down easily.