Fitness notes
Punjabi singers Harbhajan and Gursewak Mann stay in tune by exercising regularly, says Chitleen K. Sethi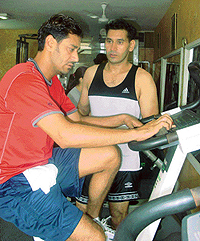 Addicted to the gym: Harbhajan and Gursewak. ó Photo by Pradeep Tewari
This is riyaaz of a different kind. Well-established singers and brothers Harbhajan Mann and Gursewak Mann do not just like to exercise their vocal chords but also their bodies. Major exercise freaks, the two manage to be in the gymnasium for at least 10 hours a week despite hectic shooting and recording schedules.
"And if we could get more time, we would both want to better our fitness levels," says Harbhajan, who works out for at least an hour each day. "We are both addicted to exercising. Sometimes when we are unable to do our daily singing practice, we accept it, but the day we are unable to come to the gym for exercise, we feel lethargic the whole day," he says.
Both Harbhajan and Gursewak have a rigorous exercising schedule laid out for them by their trainers at a gym in Mohali. "Both are into cardio and weight training routines. Gursewak is certainly putting in more time here. He joined over 10 months ago and has lost at least 10 kg. Moreover he has a better fitness level now. Harbhajan joined the gym about three months ago and has picked up very well. His stamina has built up quite a lot. Both brothers are disciplined and follow the regimen regularly," explains Jasbir Kaur, the gym owner.


Harbhajanís handy hints
* Exercise regularly
* Let a professional trainer decide what exercises you should do.
* Do not overdo.
* Motivate yourself.
* Eat healthy and drink lots of water
The fitness regime seems to be helping the duo. "Having a fit body is vital to look good on screen. Even for singing, stamina is essential. There are times when we are on stage for hours, singing and dancing. The crowd simply keeps asking for more. Giving a performance on stage for four hours needs more than just a good voice. You have to be in top shape too," points out Harbhajan.
"Gursewak does over 75 kg bench press and at least 40 kg for the shoulders. For the arms, he is working out with 40 to 50 kg weights. He also does at least five km on the treadmill," says trainer Gopal.
"I have been exercising since high school. But for the past three months, I have become serious about it. What I like best about being regular at the gym is that I donít have to think twice before digging into samosas and gulab jamuns," says Gursewak, who is eagerly awaiting the release of his first film Banana Brothers.
Harbhajan, in contrast, has a lighter exercise regime. "I am not into very painstaking exercises. I am lazy in the morning and love reading newspapers. I spend over an hour reading six newspapers. But after that I must exercise. I was earlier in Patiala, which had no decent gym. I have shifted to Mohali now. My trainer has laid down a schedule, concentrating on the general fitness and abs," he says.
Harbhajan, also an actor, takes immense care about his looks. "The camera puts 16 kg on you. One looks fatter on the screen than one actually is. That is why when you see all these actors and actresses, they seem so slight in real life. One has to be thin in order to look just right on the screen. The most important part that one has to focus on is the middle. Even if one has a slight paunch, it appears big on camera. One needs to have an absolutely flat stomach to look good. I am most concerned about that when I am performing before the camera.
"If an actor is uncomfortable about how he looks on screen, he cannot concentrate on acting. If I were to keep thinking of my girth all through the shot, I will not be able to act. Believe me, singing is far easier than keeping in shape," the actor-cum-singer says.