PUNJABI ANTENNA
Now, Ghuggi goes online
by Randeep Wadehra


Gurpreet Ghuggi had caught the imagination of Punjabis with a funny bone while anchoring Alpha Punjabi's Ghuggi Express, which closed down after a record run. The star humorist is back on the small screen, this time in producer Rajneesh Narula's Ghuggi Online every Sunday at 10.30 am on the MH1 channel. What's even better, his fans are able to interact with him online by posing questions that he answers in his inimitable style. Gauri provides a feminine touch to the laugh riot. Hilarity – no matter how wacky – offers respite.
Seriously speaking, the Punjab Assembly byelections failed to generate much enthusiasm in the electronic media. Although Parkash Singh Badal regained his voice and poise after getting a reprieve, albeit temporary, from the Supreme Court, the political debate could not pick up to any significant extent, save for the usual exchange of charges, and a low-level intrigue. One saw leaders of all hues going through the motions on the small screen. The proceedings were a big yawn.


EYE CATCHER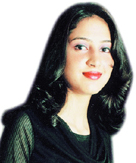 She has set her eyes on the Miss Universe title, but Amisha is no starry-eyed teenybopper. Although she's barely 18, she knows that the path to realising her ambition is tough and hazardous, and she is already grooming herself for it. Apart from taking dance lessons, she swims, reads and travels.
Amisha has done a number of ramp shows mainly for the NIFD, and for the noted choreographer Jeet Brar. But why's she doing B.Com? To manage the moolah that the Miss Universe title is gonna fetch for her, she chuckles.
Khabarsaar, however, did come up with two lively debates. One was on role of youth in our democratic set-up. Although the context was the PU students' elections, the entire gamut of their rights and duties vis-`E0-vis nation building was discussed. The second debate, on October 8, related to the way our judicial system is getting clogged due to various reasons.
The panel, as well as the audience, did not pull punches while talking of inefficiency and corruption that is insidiously creeping into the lower echelons of our judiciary.
Then there's also the problem of under-staffing. BJP leader and Chandigarh MP Satyapal Jain pointed out that while India currently needs an estimated 65,000 judges, it has only 13,000. Advocate Santokh Singh Saahi, who practises in the USA, rightly asserted that setting up more courts is not the solution. Justice Ajit Singh Bains felt that there was certainly a need for filling posts of judges that have been lying vacant for an unduly long time.