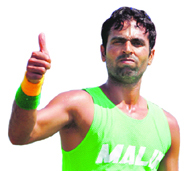 Hockey legend
Amardeep Bhattal
On October 8, 2004, Pakistan's Sohail Abbas stepped into the realm of fame. With his 268th goal in Amritsar Sohail set a new world record, overtaking Dutch star Paul Litjens. He had equalled Litjens' record of 267 goals in the fifth Test in New Delhi on October 4. The record came about six years after his first goal at the Rawalpindi Army Hockey Stadium.
Miller — great performer
Vikramdeep Johal
Some cricketers are flamboyant but inconsistent; some show consistency but lack flair. Keith Miller (1919-2004) was one of few who had both. He was a performer, in more ways than one.



Anil Kumble's winning ways
Abhijit Chatterjee
Called 'Jumbo' by team-mates because of the way his deliveries come to the batsmen, Anil Kumble became the second Indian bowler after the legendary Kapil Dev to capture 400 Test wickets. He achieved the landmark in front of his home crowd, including his mother, wife and child in Bangalore.
IN THE NEWS
Top turner
Rubinder Gill
Shane Warne spun his name to the top of the highest wicket-takers list against India, whose batsmen have shown little respect for his magical skills and given him the worst and most 'nightmares'.