Quizzers' delight
Seema Sachdeva
The Penguin-Landmark Quiz Book
by Gautam Padmanabhan and Navin Jayakumar. Penguin Books. Pages 202. Rs 199.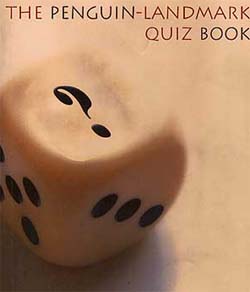 A refreshing change from monotonous books on general knowledge, the book is attempts to make quizzing lively. The book is a compilation of the best questions of 11 Landmark Quizzes. The Landmark Quiz is held every year on August 15 at the Music Academy in Chennai. The book is an information house for readers with questions that keep them on their toes. Aimed at attracting the non-quizzers, the questions in the book can be understood by a reasonably well-read person with interest in general knowledge.
The questions encompass a wide range of subjects. From Mahabharata to multi-cuisine, from Aryabhatta to medicine, from literary inspirations to cartoon characters, there is no topic that has been left untouched. Little-known facts from the literary world are bound to be of interest. For instance, did you know that Rudyard Kipling used the Swastika as his emblem in all his books?
Although many questions have their basis in magazine and newspaper articles, yet at times there are surprise twists to the questions that make the book interesting. The answers to questions are followed by interesting anecdotes and facts. For instance: In the Hindi film Anand, the character played by Rajesh Khanna and Amitabh Bachchan are based on which real-life personalities?
Hrishikesh Mukherjee (Amitabh) and Raj Kapoor (Rajesh Khanna). Raj Kapoor used to call Hrishikesh Mukherjee as 'Babu Moshai'.
There are also uncommon questions like: Which is the only pedestrian hill station in Asia where no cars or other vehicles are allowed?
Matheran.
From mythology to current events, the book has a little bit of everything. The chapter titles, too, make the book appealing. Chapter titles such as Around the World, Feathered Friends, Filmi Fare, Licensed to Quiz, Music Medley, Rogue's Gallery add flair and favour. Besides, there is freshness in the way the book deals with the different subjects. Another thing that sets this book apart is the freshness that it brings in with the subjects.
It is, however, not an exhaustive book and does not cover any subject in detail but it is only to brush up your general knowledge and have an idea of various facets on which questions can be asked. The book covers not merely textbook information but also questions that are not in common usage.