Punjabi review
Many twists in the tale
Nirupama Dutt
Pauna Aadmi
by B. S. Bir. Mehram Publications. Pages 184. Rs 30.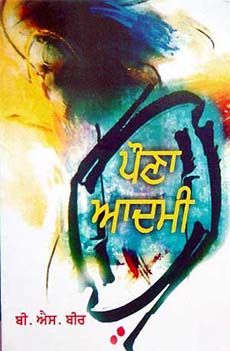 THE canvas of the stories of B.S. Bir encased in Pauna Adami is very contemporary as the author traverses through a world well known to him from Goraya to Chandigarh or Ludhiana to Paonta Sahib. Other times he moves to Bangalore or Mumbai and brings back everyday tales of everyday people. His narrative has to it a simplicity and spontaneity that makes the stories easily accessible. The art of short fiction is a hunt, they say, in which a writer sets out in the wilds with a bag in hand. At times, she/he returns with the bag empty and other times with a rabbit in it. Master storytellers always have the bag full and lesser mortals who have an equal right to tell tales return sometimes with the bag full and other times empty. Bir belongs to the latter category. The title story Pauna Adami rises to the occasion with the twist in the tale but there are others that remain simplistic or rather anticipated.
Art comes from life but artistry raises fact to the transcendental experience of fiction. This transcendence is often obscure in these tales. The journey from fact to fiction is often lacking. Scattered on the contemporary canvas that the writer fills with words are names of known national and multinational companies, well-known artists and so on. At times, the characters are thinly veiled copies of people famous in the Punjabi scenario, like actor Balraj Sahni or novelist Jaswant Singh Kamal. Thus, one gets a feeling that one is reading reportage rather than short fiction. However, many stories are made interesting by Birís native sense of humour and he is better when telling a tale with irony than with pathos.
Pradhan Mantri Dr Manmohan Singh: Ik Vilakhan Shaksiyat.
by B. S. Bir, Surinder Bir Singh Sethi, Ravinder Singh Sodhi. Arsee Publications, Delhi. Pages 188. Rs 225.
Biography is an area in which Punjabi literature is sadly lacking. There have been the odd sketches by Balwant Gargi of his contemporaries but not a full book, which could qualify as a biography of substance. So it is with this book on Prime Minister Manmohan Singh called Ik Vilakhan Shakhsiyat that Bir has put together along with Surinder Bir Singh Sethi and Ravinder Singh Sodhi. Like most attempts in Punjabi, this, too, falls in the category of the Abhinandan Granth that Sahit Sabhas publish from time to time in honour of known and unknown writers.
Well, the euphoria at having a Punjabi and more so a Sikh as Prime Minister has dictated the publication of this clip and paste book that is as unreadable as Birís stories are readable. When it is a creative writer attempting a biography, then it should not be a quickie like this one. The only worthy purpose this volume may have served or may serve is that it provides an opportunity to the publisher and the writers to have an audience with the Prime Minister. Otherwise, from the literary standpoint the poor PM deserves a little more endeavour and imagination.