Reel evil
Kuldip Dhiman
. . . Pran: A Biography
by Bunny Reuben. Foreword by Amitabh Bachchan. HarperCollins. Pages 446. Rs 500.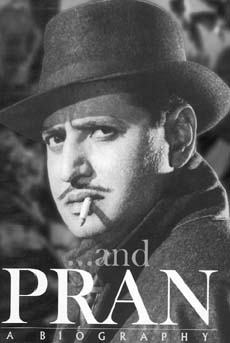 IN this story, Pran is the hero. The life story of Pran Krishen Sikand is just like the script of a Shakespearean play or a typical Hindi film where destiny plays a bigger role than the actors themselves. Villainy was thrust upon this quintessential gentleman who was actually much better looking than many of the successful heroes he took on.
Following his other acclaimed biographies on Mehboob Khan, Raj Kapoor and Dilip Kumar, Bunny Reuben now brings us . . . and Pran, a brilliant, well-researched and fast-paced biography of the actor who entertained, or shall we say terrorised, the audiences for the better part of a 50-year long career. The title of the book was suggested by Pranís daughter Pinky Bhalla. In film credits, Pranís name often appeared at the end of the star cast, for instance, Bimal Roy presents, Madhumati, starring Dilip Kumar, Vyjayanthimala, Johny Walker, Tiwari . . . and Pran.
Telling the story in a linear narrative, Reuben not only captures the multi-faceted personality of Pran, but also recreates the cultural milieu of the Lahore of 1930s and Bombay of the 1950s and after. The early chapters brilliantly bring before our eyes the naughty son of a rich contractor and the brash young photographer with a penchant for Urdu poetry and good clothes.
Things would change soon, not only for Pran, but also for the entire subcontinent in 1947. Forced to leave Lahore, we see a penniless Pran arriving in Bombay with his wife. All his successful Lahore experience seems to have no impact on Bombay producers. But then the wheel of fortune turns. Soon film offers start pouring in. With every film he grows from strength to strength, scaring the living daylights out of filmgoers with his masterly personification of evil on screen.
At a time when actors are typecast for life with no option but to perform the same sort of roles, we see Pran experimenting with various accents, hairstyles, facial getups, clothes and mannerisms to bring the characters to life. For instance, in Jis Desh Mein Ganga Behti Hai, Pran fashioned the role of dreaded dacoit Raaka after seeing a picture of a real dacoit in a newspaper. To this he added a subtle touch of running his hand around his neck, depicting the unconscious fear of getting hanged one day.
Pranís personal life has also been sensitively told. Many readers will, for the first time, not only hear her name but also see some pictures of the woman who is the life force of Pran: his wife, Shukla, and also the pictures of his three children.
At times Reuben does sound quite overawed by the Pran persona, which is not surprising for the thespian does have that kind of magnetism about him. In some of the highly acclaimed films like Aadmi, Do Badan, Don and later Manmohan Desai type pot-boilers, Pran was not quite in his element. The fault may not have been Pranís though. A closer look at the workings of Bollywood reveals its utterly haphazard and unprofessional work culture. Shooting often begins with only the faintest idea of a storyline.
But no one need tell Pran that, for he is his own severest critic. Some time back he told The Tribune, "Seeing my films, I used to often tell myself: I should have done this role better that way, I should have delivered the dialogue that way. My own criticism about my roles used to bother me so much that I stopped seeing my films altogether."
The book also has a useful 32-page filmography, a list of awards, and a detailed index. Credit is also due to the designers for the excellent layout, and Ilaksha.com for the impressive jacket. It is a must read for people interested in Indian films. It would also be liked by those who wish to read engaging anecdotes about stars like Ashok Kumar, Noorjehan, Dilip Kumar, Dev Anand, Helen . . . and Pran, of course.