Mammoth meal for thought
Ramesh Babu Kandula on the world's largest kitchen that provides mid-day meals to 75 lakh poor children in 70,000 schools of Hyderabad.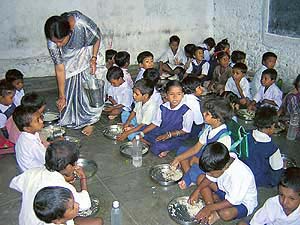 A mid-day meal being served at a school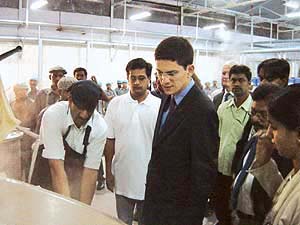 British minister visits the kitchen
Naandi Foundation, a not-for-profit organisation, may soon find an entry into the Guinness Book of World Records for setting up the world's largest kitchen. Spread over two acres with a built up area of 14,000 sq ft, this biggest central kitchen located at Uppal in Hyderabad caters mid-day meal to 880 schools in the twin cities of Hyderabad and Secunderabad, benefitting 1.5 lakh children on all school days.
When the Andhra Pradesh Government began a mid-day meal scheme to reach 75 lakh poor children in 70,000 schools across the state, it chose Naandi — a new beginning, which had implemented a pilot project successfully, for the twin cities and entrusted it with the gigantic task of preparing and distributing the food.
Naandi Foundation, formed in 1998, was conceived by the former Chief Minister N. Chandrababu Naidu and was set up as a public charitable trust by the heads of four leading business houses, Dr K. Anji Reddy of Dr Reddy's Labs, Ramesh Gelli, founder of Global Trust Bank, B. Ramalinga Raju, chairman of Satyam Computer Services, and K. S. Raju, chairman of the Nagarjuna group of companies.
When Naandi initially took up health check up for children in government schools with the help of Apollo Hospitals, it realised that children had all sorts of health problems, mostly because they were malnourished.
It was then that we realised that we needed to address the problem of availability of a good meal first, said Leena Joseph, programme officer for the mid-day meal scheme in Naandi.
More than 10 tonnes of food is prepared everyday using equipment based on steam cooking method, considered the most healthy, hygienic and efficient way to supply mid-day meal, containing the recommended 365 calories per meal. To ensure that every school gets its lunch delivered by 12.30 pm, a satellite GPS (global positioning system) mapped 16 mandals in which the 880 schools are located, and optimum road routes to reach schools in each mandal were worked out.
The objective of the scheme is to encourage children from the poor and the marginalised families to enroll into primary schools and ensure that they get one wholesome meal a day at the school. And it has certainly helped in increased attendance in the primary schools.
My parents want me to go to school everyday because they want me to eat my meal in the school, said Lakshman, who is studying in third standard at Film Nagar Government Primary School.
The kitchen has been custom-made with the help of consultants. Four thermax boilers, a water-softening plant for the boilers, a back up 100kv generator, besides a rice de-stoning machine that cleans four tonnes per hour, vegetable cutters, grinders for making in-house sambar masala, 25 steel vessels of 500 litres capacity to cook rice, six steel vessels of 1200 litres capacity for cooking sambar, and 3,289 distribution containers, costing Rs 2.25 crore, are being used for the centralised kitchen.
Around 125 persons are employed in the kitchen, while around 60 trucks carry 15 containers of food each to the schools. The state government is considering the revision of the current budget of Rs 1.60 per child to Rs 2 per child to include bananas and eggs on a weekly basis.
"It is a fantastic project", said David Miliband, British Minister for School Standards, during a visit to the kitchen earlier this month.
Buoyed by the success of the initiative, the new Chief Minister Y. S. Rajasekhara Reddy inaugurated in August the state's second largest mid-day meal kitchen in Visakhapatnam under the auspices of Naandi. The kitchen provides nutritious meals to 40,600 children studying in 113 government schools every working day.
Naandi's operations will expand to Madhya Pradesh following a MoU signed between the Madhya Pradesh Government and Naandi Foundation in August. Naandi's mid-day meal kitchen in Madhya Pradesh will roll out high nutrition meals to 75,000 children enrolled in the 309 government schools in Bhopal from November 1.
We will be in Delhi by the next academic year for which we will have a MoU soon in place, disclosed Joseph, who was honoured with the Manava Seva Dharma Samvardhani Award for excellence in social service in March this year at the Guru Nanak Bhavan in Bangalore.