TELEVISION
Changing fortunes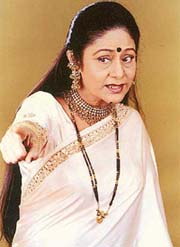 Aroona Irani is no more numero uno
TIME was when she was toted as destiny's child on the small screen. Whatever she touched turned to gold. Those were the days when Aroona Irani was riding high on the success of serials like Mehndi Tere Naam Ki and Desh Main Nikla Hoga Chaand.
Less than a year later, she seems to have been grounded. She is no longer producing Des Mein Nikla Hoga Chaand as Star Plus has given it to another production house. And now, Sahara has decided to wrap up her Zameen Se Aasman Tak after 150 episodes.
Sahara seems to be in a major revamp mode (once again). News is that many more serials like Malini Iyer, Karishma-The Miracles of Destiny and Zindagi Tere Meri Kahani are being taken off air.
So, Irani can take solace in the fact that she is not alone. Like her, others too are facing the axe. But that's hardly any consolation for someone who once rivalled Queen Bee Ektaa Kapoor.
Amrita's back in action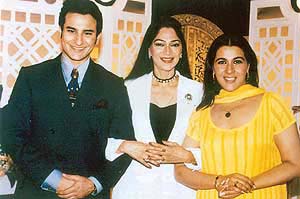 Saif and Amrita with Simi in happier times
AT one time she was the toast of the celebrity world. The fresh-faced Amrita Singh had an eventful filmi career behind her and Saif Ali Khan for a husband.
Alas, times change. Amrita is back in news ever since her marriage with Saif came apart. But the doughty lady is taking charge of her life and getting back to acting which she had left abruptly at a time when she was destined to be No. 1.
Twenty years after she clocked her first big hit, Betaab opposite Sunny Deol, Amrita will soon be seen on the screen — the small one for the moment. She has been offered a pivotal role in a new Ektaa Kapoor soap.
Though some feel that this might be her way of cocking a snook at Saif who strongly disapproved of her acting, others say Amrita is a gritty lady and is making a serious comeback bid with the support of none other than her mother-in-law, Sharmila Tagore.
No blushes for Farah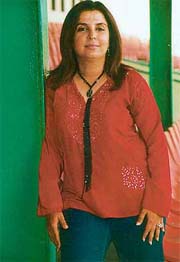 TILL a year ago, she was just another Bollywood choreographer but post-Main Hoon Na, she's a star in her own right and channels seem to have suddenly discovered Farha Khan's new celebrity status.
She seems to be fast emerging as the favourite guest across channels. Recently, she was seen on Vir Sanghvi's Faces & Names on Sab TV where she regaled viewers with her more than candid views on just about everything.
More recently, she was on Jeena Issi Ka Naam Hai and managed to put life in a show which has of late witnessed a dramatic decline in viewership.
Otherwise a good show, the only thing that jarred was Farha's ability to take lavish praise with a straight face.
When both Shah Rukh and Sushmita Sen gushed saying what a great person she was, there wasn't even a blush on her face. C'mon Farha, blatant praise has to be tempered with modesty. But then, modesty is a virtue that doesn't come easy.
Most wanted show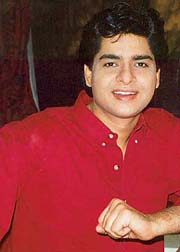 Suhaib Illyasi
EIGHT years ago, his path-breaking show India's Most Wanted cut short the careers of real-life crooks, kidnappers and murderers. But the downfall came when the crime fighter himself was arrested on charges of murdering his wife.
Now the show has re-surfaced re-christened as India TV's Most Wanted and sure enough it has seen its loyal viewership coming back. "It is more vigorous and fast-paced. We keep chasing criminals till they are nabbed," says Suhaib Illyasi.
The show has seen a steady rise in its popularity ever since it came on air and has already helped in trapping and arresting almost a dozen criminals.
But more than that, Illyasi is now turning into a crusader. Some time back his show helped a Karachi-based teenager find her long-lost relatives in India.
"Though the purpose of the show is to catch criminals and expose crime, locating these people has made many a heart soar," says Illyasi with a smile. And it's not just the hearts that are soaring. The TRPs too are headed up — on both sides of the border.
Fame in the name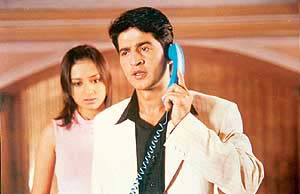 Hiten Tejwani (right) is Pratham once again
MOST people are in demand before marriage but Hiten Tejwani, the hunk of Kutumb and Kyunki Saas Bhi Kabhi Bahu Thi has seen an increase in popularity after he took his wedding vows.
No, we are not talking about his fans. Mentor Ektaa Kapoor has introduced him in Kahin To Hoga with the same name —Pratham — that took him to the heights of fame in Kutumb.
In Kahin To Hoga, Pratham is not a Hindu but a Christian. And that's not the only thing that is different.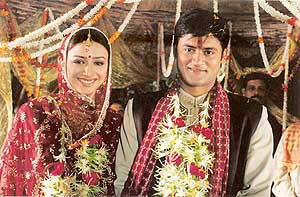 Watch Isse Kehte Hai Golmaal Ghar on Sahara One, starting Oct 30 at 8.30 p.m.
While Kutumb's Pratham had shades of egocentricism, in Kahin To Hoga, he sheds his negativity and brings Sujal and Kashish together.
Excited though he is with the role, Tejwani is bothered that having so much on his plate leaves him with almost no time to spend with his reel and real life wife, Gauri Pradhan.
What with shooting and spending all their free time shuttling from one estate agent to another in the hope of finding a new home in the suburbs, the couple hardly gets to spend quality time together.
— NF