Cinema's most famous mother
Devinder Bir Kaur


Nirupa Roy
MERE paas Ma hai. The famous tagline in Deewar has epitomised motherhood in all its colours and substance. It also immortalised the woman playing this mother, namely Nirupa Roy.
Nirupa Roy, who passed away recently, was born as Kokila Kishorechandra. She first played the role of a mother in the Dev Anand-starrer Munimji. However, teaming up with superstar Amitabh Bachchan made her the most remembered screen mother in Indian cinema.
She began her film career in a Gujarati film Ranak Devi in 1946. She had just accompanied her husband who had applied for a role in the film. He was rejected but Nirupa was told they would take her on as the heroine of the film. Her husband agreed. on the spot. Being from an orthodox family of Bulsar, Gujarat, she was ostracised for joining films but she decided to stick to her husband's wish.
Nirupa's first film Gunsundari was a hit. Her success changed the attitude of those who had isolated her. She forgave them as it was their opposition that had made her rebellious and of course famous. Har Har Mahadev was Nirupa's first Hindi film. It was a success and led her on to do 40 mythological films. Thus, in the 1950s, she played all the devis known. Snakes were her main co-stars in the mythologicals— the others being Mahipal and Trilok Kapoor.
When Nirupa acted in some stunt films like Sindbad the Sailor, Chaalbaaz and Baazigar, the public response was almost violent. They objected to a devi doing stunts. Their attitude to her was reverential.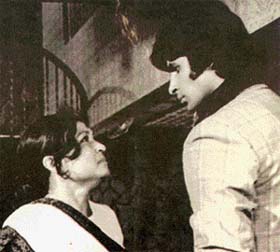 With Amitabh Bachchan in the memorable scene in Deewar
Do Bigha Zameen, released in 1953, was the most important of her social films. Nirupa had been so used to wearing a load of jewellery, heavy make-up and the finest costumes for her many mythological movies, that she felt lost on the first day of Do Bigha Zameen — they gave her a mere touch of make-up. She quietly applied an extra coat on her own to gain confidence in the new surroundings. But one look at her painted face and director Bimal Roy ordered her to wash off all that stuff. She and co-star Balraj Sahni wore tattered clothes. Bimal Roy deliberately got the clothes soiled.
Nirupa worked with Ashok Kumar and Balraj Sahni in 15 films each and shared a great rapport with them. Kaid Mein Hai Bulbul, Karigar, Grahasti, Gumrah to name a few with Ashok Kumar made them a hit pair.
Once for a shot for Heera Moti, Balraj had to hold her arm and push her out mouthing a lengthy dialogue. The scene began, he held her arm and the glass bangles she had on broke and cut a vein. When blood oozed out, Balraj was giving such a wonderful shot that she didn't utter a word. After the director said `cut' and the actor saw what he'd done, he was very upset and chided her for not stopping him. The scar she carried on her arm was a witness to her dedication to the profession.
In the 1960s, Nirupa did several historicals like Amarsingh Rathod, Rani Roopmati, Samrat Chandragupta, Maharana Pratap and Kavi Kalidas. Her co-star in these generally was Jairaj.
The switch over to character roles happened by a quirk of fate. Nirupa was signed to play the heroine in Munimji. But later the story was changed and a young heroine was taken on. As a result the portions in which Nirupa was young were eliminated. Some scenes came as a flashback and those where she was old remained. She won the Filmfare Award for the Best Supporting Actress for her role. After that nobody approached her to play the singing and dancing heroine. She was forced to play mature heroine roles.
For the climax in Deewar, Amitabh Bachchan's death scene, the director insisted on the sequence being done in one shot. Nirupa just had to hold him. One mistake on her part could have spoiled it all. Nirupa was crying and didn't stop till five minutes after the director had called `cut'. Somebody put a hand on her shoulder and said that the shot was over.
The Deewar role was a character role with a difference, yet several top heroines in retirement like Waheeda Rehman, Nanda, Asha Parekh and even Vyjayanthimala had refused to accept it. Nirupa was thus the last choice. She couldn't have been more grateful. The role won her immense appreciation.
Out of 450 films in her career spanning five decades, she won Filmfare awards for Best Supporting Actress three times— for Munimji (1955), Chhaya (1961) and Shehnai( 1964) . Earlier this year, she won Filmfare's Lifetime Achievement Award along with the other screen mother Sulochana. Nirupa's cup of joy couldn't have been fuller. For a lady who hadn't seen a film till she got married, it was indeed a beautiful finale.