Tuesday, October 26, 2004
Book a place in publishing
With a lot of publishing work being outsourced to India and many small players too taking a plunge into the field, this is just the right time to write out a role for yourself in the book business, writes Chetna Keer Banerjee
Publishing is a gentleman's business.
—Sir Allen Lane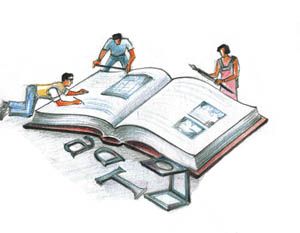 FOR those who want to make publishing their business, there couldn't be a better time to get hooked to the job of producing books. With a lot of publishing operations being outsourced to India, job opportunities in the industry are witnessing a spurt. The proliferation of small publishing enterprises too has widened the avenues for those interested in making a living out of bringing out books.
Says Sandhya Rao of Tulika Publishers, "There is now certainly a boom in publishing, even children's publishing. Recently, a couple set up their own publishing house in Bangalore, to encourage new writers. Individuals are getting bolder and are willing to take greater risks in an industry that doesn't otherwise see quick returns unless you're a big player like Penguin."
V.K. Karthika of Penguin India underscores the current trend thus, "With more international houses outsourcing to India, there are more opportunities for editors, proofreaders, typesetters, data operators, designers and, of course, printers. Certain companies are actually making more revenue from this work than from local publishing/distribution."
Specialised spots
The publishing industry has certain broad areas in which jobs fall. "Broadly, one can enter any one of these four areas--- editorial; design, production, and sales and marketing" says Brian Mendonca, Project Editor, Educational Division, Oxford University Press (OUP).
Rao too broadly classifies a publishing house's operations into marketing, editorial, production, and administration. "The editorial staff includes commissioning editors as well as assistant editors at different levels. Big publishing houses, naturally, have more spots, which includes proofreaders. Small publishing houses might use the services of freelancers more regularly. There is also scope for artists and designers, depending upon the size of the company," she adds.
Word-ly wise
The qualifications required to join a publishing house depend on the area that a person is interested to work in.
"For joining the editorial staff a decent MA in the subject is necessary. Teaching experience in the subject is desirable. To be part of the sales operations, what matters more are good communication and marketing skills," says Mendonca.
Apart from basic educational qualifications, which vary from publishing house to house, there are certain prerequisites to succeed in this field. Opines Rao, "For the editorial staff, it is important to have good command over the language, familiarity with standard practices of publishing, a keen eye, willingness and ability to work with other people such as authors and illustrators, sharp sense of logic, nose to smell a good idea or potential bestseller even in a morass of words, the sensibility to recognise originality and throw out plagiarists, an even temperament and ability to keep deadlines."
To make a mark in this field, a person must possess a basic knowledge of various publishing operations. Says Mendonca, "Editors need to have patience, commitment to work, an eye for detail, and a sense of professionalism. It also helps if one is acquainted with the processes of design, sales and production as a book is the outcome of a medley of activities in these areas."
In the highly competitive world of book publishing, the success of a company depends to a large extent on its marketing ploys. In this age of mega-budget publicity campaigns and glitzy book launches, great responsibility rests on the marketing team. As in other fields, marketing work for a publishing house too requires certain skills.
"Marketing calls for a belief in the product, willingness to knock on doors and push the books, liaison with bookstores and other outlets who are not often easy customers to deal with (because they smell only money and not all books might have the right perfume), organise readings and events and get people to attend (it's a lot of public relations too)," sums up Rao. "But whether it is editorial or marketing, it is important to read and be up to date with the latest in books and publishing trends," she adds.
The production wing of a publishing house handles the technicalities of the printing process as well as the pricing and marketing of the product. It is responsible for the purchase of the paper, coordinating the printing and binding of the books. A person who wishes to join the production team must possess technical knowledge of all these processes.
Path to progress
Though each department has its own hierarchy, an editorial member usually progress from being an assistant editor to editor, senior editor, managing editor, editorial manager and finally director, says Mendonca.
Says Rao, "In large set-ups that specialise in school markets, college markets, technical markets and so one, there will be teams for each of these areas. If the publishing house does science and engineering books, experts in these subjects will be employed. Illustrators are usually hired on a freelance basis."
Book boom
As the publishing industry grows slowly but steadily, it is bound to translate into more jobs, especially in certain areas. "Global typesetting and printing will bring in more work and revenue in the coming years. And with education still a top priority for most governments, textbook and academic publishing, especially in the English language will continue to grow," feels Karthika.
TRAINING TALK
National Book Trust, A-5, Green Park, New Delhi 110016
College of Vocational Studies, Sheikh Sarai, Phase II, New Delhi
Institute of Book Publishing, L-10, Green Park Extension, New Delhi
Shankar's Academy of Art and Book Publishing, 4, Bahadur Shah Zafar Marg, New Delhi
(The list is not exhaustive)
Money matters
The remuneration in this field depends basically on the size of the publishing house, the type of books produced and the area of operations.
Elaborates Rao, "At the entry level, an editorial person can expect between Rs 5000 and Rs 7500, but publishing editors can never hope to rake in the millions, even if they hit a jackpot, as with J.K.Rowling. JKR makes the millions, not her editor."
Says Mendonca, "In big companies, assistant editors can expect to start at Rs 8000, meander through to Rs 20,000 (executive scale) and move up to Rs 40,000 (management scale) per month."
Freelancing facts
The publishing industry offers a lot of job opportunities for freelancers."With companies unwilling to expand headcount, there will be more publishers looking to outsource editing, proofreading, designing and typesetting work," feels Karthika.
"Freelancers are paid about Rs 10-20 per page for educational books. Their work may entail proofreading, collating from manuscript, or checking for consistency with the house style," Mendonca adds.

CORPORATE CHAT
"Outsourcing means more editing, typesetting work"
WHEN Tejeshwar Singh set up Sage Publications (Delhi) in 1981, it was basically a one-man show. Today, riding the publishing boom that India is slowly, yet steadily, witnessing, its operations have expanded and so has the staff strength (107, including 33 editorial members). The man behind this success story discusses the challenges and opportunities that the Indian publishing industry offers.
A lot of publishing work is being outsourced to India now. What kind of job opportunities is it throwing up?
Publishing work is being outsourced mostly from the UK and to some extent the US. Broadly speaking, the spheres in which this is creating more work are — typesetting, editing and illustrations.
How has the industry evolved in the past decade?
Though the Indian publishing sector is growing, it still borders on being a cottage industry. There are definitely more options for writers with the proliferation of small enterprises but the distribution network is still underdeveloped and the talent pool is limited.
What are the upcoming areas of publishing?
A fast growing area is popular non-fiction that includes political biographies. Another area that is as yet underdeveloped but is bound to see a major boom is coffee-table books. Children's books remain an under-explored field that has huge potential.
How much room is there for freelancing?
There is huge scope for freelancing in publishing. And the money can be good too, depending on who is giving out the work. World bodies like Unicef offer fat money, which could be around $ 2 per page, while Indian publishing houses generally give Rs 15-20 per page.
What are the qualities needed to make a mark in this field?
The main skills required for people working on the desk are a good command of the language, power to concentrate and eye for detail. Commissioning editors especially must have the ability to smell a new field. For instance, gender studies were not a hot field in India about 15 years ago but we caught on to the global trend and took up books on such subjects.
What is the upside and downside of this profession?
It is a tough business to start, especially due to various distribution bottlenecks. But for those who have a scholastic bent of mind and a love for books, the rewards are many.
— Chetna Keer Banerjee