Cough tells a lot about your health
Dr S.K. Jindal


Never ignore chronic cough.
It may be a symptom of asthma.
It is an indicator of lung cancer.
Or the person concerned may be suffering from TB.
Although cough is generally considered a symptom of lung diseases, it is interesting to know that the two more common causes of chronic cough pertain to diseases outside the lungs. For example, the most common cause of cough is the postnasal drip syndrome, where there is a persistent production and discharge of secretion in the throat. There is a constant desire to clear the throat and spit. In addition, there is nasal congestion, discharge and a change or hoarseness in voice. Nasal allergy and sinusitis are two important diseases which are likely to manifest with postnasal dripping. Cough in these patients is more of a problem than a useful symptom. Frequently it requires to be suppressed with anti-allergic and anti-cough medicine.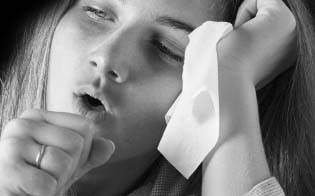 The second most common but often unrecognised cause of cough is the gastro-oesophageal reflux syndrome which implies the regurgitation of the acidic contents of stomach into the foodpipe and the throat causing irritation and cough. This happens especially on lying down after a full stomach and is obviously worse at night. This type of cough is best managed with measures to keep the stomach relatively empty and the use of drugs which suppress acid formation.
More significantly, cough may indicate the presence of a lung disease. Chronic cough may indicate the presence of diseases such as chronic bronchitis or chronic obstructive lung disease, bronchial asthma, bronchiectasis, tuberculosis or other similar illnesses. The character of cough would vary in different conditions. Similarly, the presence of sputum (expectoration) and/or blood in the sputum along with cough is helpful to identify the cause of cough.
Smokers' cough is a commonly used term for frequent bouts of cough with which a smoker is likely to come. Sometimes, the cough is present as a more continuous and persistent symptom. Generally, dismissed as a mere nuisance symptom, the cough in these cases may represent the presence of a more serious problem — chronic obstructive lung disease or even the onset of a lung malignancy.
It should always be remembered that cough may be the only initial symptom of lung cancer while the more frequently recognised symptoms such as the blood in sputum, weight loss and other serious complaints may occur later. A careful vigilance is, therefore, essential.
Tuberculosis of the lungs is another important disease which manifests with cough, with or without the presence of other symptoms like sputum production, fever, loss of appetite and weight or blood in the sputum. It is a standard recommendation in India that sputum of any patient who presents with cough and expectoration of more than three weeks' duration should be examined for the presence of tuberculous bacilli, at least three times. The Revised National Tuberculosis Control Programme of the Government of India is well oiled and geared in this fashion to look for tuberculosis among symptomatic patients with cough.
There are many more causes of cough which are important for a doctor than a common man to know. Drugs, for example, can cause chronic cough. Incidentally, cough becomes a habit with some individuals, especially those who are tense, nervous or otherwise shy.
Besides being indicative of an underlying disease, cough has problems of its own. It is a socially annoysome symptom for both the patient and others in the company. It also results in sleeplessness, exhaustion and muscle pains. The droplets of sputum coughed out of mouth may result in the spread of diseases such as the contagious and viral infections. In case of tuberculosis, a sputum-positive patient may prove as a source of infection especially for very young children and others who are not immunised or expose to tuberculosis in the past. Fortunately, some degree of immunity or resistance to tuberculosis develops in the adults who are repeatedly exposed to the tuberculous bacilli.
A violent cough can generate an airflow velocity of almost up to 500 miles per hour. This is like a big storm developing within the narrow air tubes of the lungs. The result can, therefore, be devastating, causing fractures of ribs, herniation through body orifices, bleeding from vessels, faiting and even cardiac arrythmias. It needs suppression at all costs. A weak cough, on the other hand, is equally problematic in the presence of a lung disease. Failure to cough effectively causes retention of secretions within the air tubes, thereby causing obstruction. A drowsy or an unconscious patient who cannot cough may, in fact, drown in his own secretions.
The writer is Professor and Head, Department of Pulmonary Medicine, PGI, Chandigarh.