PUNJAB
HARYANA
JAMMU & KASHMIR
HIMACHAL
REGIONAL BRIEFS
NATION
OPINIONS
MAILBAG
BUSINESS
SPORTS
WORLD
Sunday, October 31, 2004, Chandigarh, India
Updated at 3:00 am (IST)

Shinde is Andhra Governor
Barnala goes to Tamil Nadu
New Delhi, October 30
In a swift move after he was displaced as Chief Minister of Maharashtra, Sushil Kumar Shinde was accommodated as the Governor of Andhra Pradesh even as President A. P. J. Abdul Kalam accepted the resignation of Punjab Governor O P Verma.


Sushil Kumar Shinde and Surjit Singh Barnala
CAST YOUR VOTE
Should we drop senior players from the Indian cricket team?

FORUM
EDUCATION
JOBS & CAREERS
HEALTH & FITNESS
SCIENCE & TECHNOLOGY
SPORTS
WOMEN
TRIBUNE CLASSIFIEDS
BRIDES WANTED
GROOMS WANTED
OTHERS
HOW TO PLACE ADVTS
Deshmukh: quintessential Cong man
Mumbai, October 30


Known for his survival skills, it surprises none in the Congress that Mr Vilasrao Deshmukh is back as Maharashtra Chief Minister. Even as many of his rivals in the Congress wrote him off after he was asked to quit as Chief Minister two years ago, Mr Deshmukh was writing his comeback tale.
Charred bodies of General, two others found
New Delhi, October 30
The bodies of three Army officers, including that of General Officer Commanding of the Sixth Mountain Division, Major-General D.P. Singh, was found today near the Sino-Indian border, more than 24 hours after the Cheetah helicopters on which they were on a reccee mission went missing.
In Women today
THE TRIBUNE MAGAZINES
On Sundays

On Saturdays

Outsiders block truce in Kaithal village


Jakholi (Kaithal), October 30
The interference of outsiders and the lack of interest shown by the administration and the village panchayat concerned are getting in the way of a compromise between the people of two Jat sub-castes, Lohan and Kadiyan, who have been at loggerheads for the past one week following social boycott of the minority Lohans by the majority Kadiyans.
Serial killer leads cops to bodies of 2 victims


Jalandhar, October 30
Even as the local police today recovered the bodies of two children, Khursheed (4) and his cousin Roku (6), who were allegedly sexually assaulted and killed by "baby killer" Darbara Singh, from a pit on the roadside near Kadianwali village, the court of Ilaqa Magistrate K.K. Kareer remanded him in 10 days' police custody.
DMK accuses Jaya, Chief Secy of violating norms
Chennai, October 30
The Tamil Nadu Chief Minister, Ms J. Jayalalithaa, today received another setback as the Opposition charged her and the state Chief Secretary with breach of Constitutional norms and the oath of secrecy by taping her telephonic conversation with the Union Home Minister, Mr Shivraj Patil.
Government decision on oil prices today
New Delhi, October 30
The UPA government would take a final decision on the oil prices for next fortnight on Sunday, even as the prices of the crude oil in the international market hovered around 51 dollars a barrel.
Osama warns of repeat of terror
Tape authentic and recent, say US officials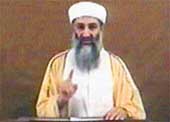 In a videotaped message addressed directly to the American people Osama bin Laden said their security depended not on whom they elected President but on USA's policy.
Osama bin Laden


Sri Guru Granth Sahib - Quadricentenary Celebrations
Athens 2004
Illegal Cremations: NHRC List
G. S. Tohra (1924—2004)
Patiala Heritage Week
Turbans
Chandigarh is 50
EARLIER FEATURES
Deshmukh to be CM
October 30, 2004


Maratha lobby averse to Shinde as CM
October 29, 2004


Cong to head govt in Maharashtra
October 28, 2004


Musharraf's new Kashmir formula
October 27, 2004


NCP defers decision on Congress proposal
October 26, 2004


Omar, Farooq survive bomb attack
October 25, 2004
Final decision likely today
October 24, 2004
Decide turban issue by Nov 5, French court tells school
October 23, 2004
Centre ready for talks with Bodos
October 22, 2004
FDI in civil aviation hiked to 49 per cent
October 21, 2004
Sharad Pawar wants Home at the Centre
October 20, 2004