Call of Mewat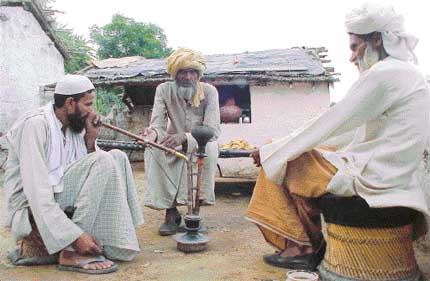 Hazy future: It is common to see Meo men idling away their time, smoking hukkah
Will Mewat becoming Satyamev Puram change the lives of people in this most backward region of Haryana? This is a bigger question than whether Mewat will formally come into its own as the 20th district or not. On the eve of Haryana Day, Ruchika Khanna travels through and reports from the land of Meos

The physical distance between the dazzling Millennium City Gurgaon and the Mewat region is merely 30 kilometres but there is a stark contrast in indices of development. If the magnificence of malls and the yuppies inhabiting them symbolise the New India in Gurgaon, the backwardness of the people residing in this southern-most end of Haryana brings to the fore economic disparity in its true sense. The success story of Gurgaon and industrialisation of Faridabad has eluded the peripheral areas of the two districts that form the Mewat region.
It's a world where agriculture offers subsistence as much as illegal mining of the Aravalli mountains does. Where women are brought from the states of Orissa, Bihar, Assam or West Bengal, and sold off to local men for a paltry sum of Rs 3000 to Rs 5000, less than what one would pay for a high-yielding variety of cattle. The civil administration and police seldom interfere with the rulings of the village, pal or khaap panchayats, so strong is community policing.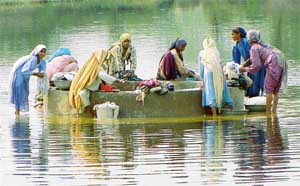 Women walk long distances to ponds for washing clothes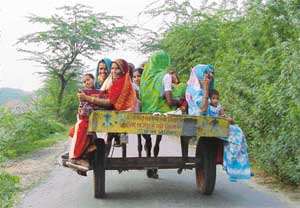 Bullock carts are the chief mode of transportation
Education does not mean going to schools and colleges but learning Urdu and Arabic in madrasas that dot the rugged topography. When one loses hope in the quacks that swarm the area, healthcare translates into dilapidated government-run health centres and dispensaries. Women in most villages of Mewat still have to walk long distances to fetch drinking water. The main modes of transportation are bullock-carts and overloaded private tempos. Firewood is used for cooking and children make a daily trip to the forest to fetch the wood. LPG is unheard of in most villages.
Locals have been enthusiastic ever since Haryana Chief Minister Om Prakash Chautala announced the fulfilment of the long-pending demand of the region for the creation of a separate district, Satyamev Puram. Says Khursheed Razaka, a resident of Nuh, "The creation of a separate district is our only hope for development. The demand that has been pending for long, but the administration in Gurgaon and Faridabad has always ignored the Mewat belt".
Tale of neglect
An important vote bank for all political parties in the state, residents of Mewat have so far been left to fend for themselves by successive governments. Each political party, be it the ruling Indian National Lok Dal, Congress or the Haryana Vikas Party, claims to have initiated steps for the development of this belt. However, the social indicators — literacy, female literacy, health etc — tell a tale of neglect. While Haryana likes to revel in its successful industrialisation and development of the National Capital Region, a tour of the Mewat region reveals development is restricted only to select urban pockets even after five decades of Independence.
Low literacy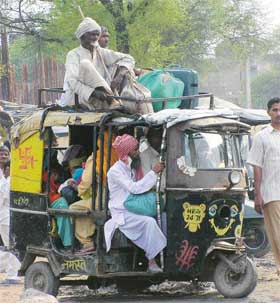 In the absence of regular buses, people travel in and on top of autorickshaws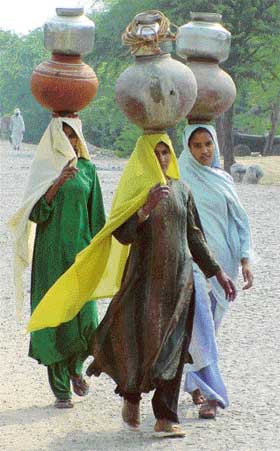 Potable water is not available in most villages. It is a daily ordeal for women to fetch drinking water
The literacy rate in Mewat is 44.9 per cent, as compared to 75.34 per cent in Gurgaon and 67.91 per cent of the state. The highest level to which a Meo has reached in a government job, is that of a Block Education Officer in the state government. This is an indicator of the socio-economic development of the area. The female literacy rate in Mewat is a mere 25.1 per cent, while Gurgaon district's female literacy rate is 62.85 per cent and Haryana's 55.73 per cent. There are 591 primary schools (535 government schools and 57 private recognised schools), 110 middle schools (70 government and 40 private recognised), 63 high schools (55 government, and 8 private recognised), and 31 senior secondary schools (28 government, and three private), but the Meo Muslims, the majority community, prefer to send their children to madrasas. Incidentally, these madrasas have grown in number only during the last 20 years and there are now 214 of these religious schools of learning. The area has just four colleges, with two of these being private colleges.
A majority of the girls are allowed to study only in madrasas. Their drop-out rate is very high after they finish primary school. Since high schools are not located in all villages, people prefer not to send their daughters to schools outside the village. Inadequate staff in these schools is another reason that puts off people from sending their children there. According to Rukhsar Khan, a Class IX student of Government Girls High School, Nagina, there are just three teachers in her school and one of them will retire soon. Her father, Zafar Hussain, a social activist, says that once a new district is carved out, at least the government staff in schools and hospitals will be more accountable. This will boost the confidence of the people in these schools and health centres.
Unhealthy scenario
Jan Mohammod, a social worker, says laments that healthcare is not easily accessible to residents because doctors seldom visit the dispensaries. "The rate of institutional delivery in Mewat is less than five per cent. In Punhana, there is no lady medical officer, though the population is over 30,000. There has been a spurt in population growth, and the average family size of Meos has gone up from six in 1947 to nine now, because of a low infant mortality rate and higher life expectancy. The health department seems to be doing little to ensure that family planning practices are adopted," he says. The private hospital in the region is too small to cater to the entire area.
Sale of women
Child marriage is another social malice that is prevalent in the region. In almost all villages, girls between 13 and 16 years of age are married off to grooms between 17 and 19 years. Dowry is not a common practice in Muslims but Meo Muslims, probably because they are surrounded by Hindu communities in the nearby areas of Mathura, Bharatpur and Alwar, accept and demand a huge dowry. Though a Khaap Panchayat here had earlier forbidden taking and giving of dowry, the ruling is no longer accepted. The justification offered is that since a Meo girl has no right to ancestral property, dowry is a share of the family property given to her.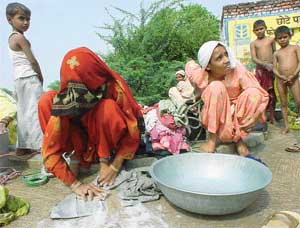 The drop-out rate of girls after primary school is very high in Mewat
In Hathin and Nuh blocks of Mewat, women from outside the state are brought and sold to prospective grooms. Due to their poor economic condition, many men are unable to find suitable brides. They "buy" a wife, mostly a minor girl, for anything between Rs 3,000 and Rs 5,000. For the past several decades, poor girls are brought from Assam, West Bengal, Orissa, Bihar and Jharkhand and them sold off here. Now girls from Jammu and Kashmir are also being brought here. They are fetching Rs 10,000 for their fair skin.
Mohammedi, a field coordinator with the Mewat Development Agency, and the first Meo woman to have done her postgraduation, says that women are rated as second-grade citizens here. She says, Women work in the fields, at home, fetch water and do all the chores, while men just sit around the chaupal, smoke and play cards."
The role of the community is strong, and decisions taken by the village, pal or Khaap Panchayat are binding on all people. The police or civil administration has rarely interfered. The police and the state government had decided to crack down on those indulging in trade of women but in the wake of stiff opposition from the community leaders, the police did not take punitive action against those who were involved in the buying and selling of minor girls.
Dependence on agriculture
When it comes into being, Satyamev Puram, the 20th district, will be the most backward district in the state. It will encompass five revenue blocks in Gurgaon and one in Faridabad district. The announcement by the Chief Minister came following a promise made to the people of Mewat, more than four years ago, that a separate district would be carved out for them.
The proposed district headquarters of Satyamev Puram would be Nuh, considered to be the political and social fulcrum of Mewat. While Nuh, Taoru, Nagina, Ferozepore Jhirka and Punhana are the revenue blocks falling in Gurgaon district, Hathin falls in Faridabad. In terms of assembly segments, Nuh, Taoru and Ferozepur Jhirka fall in Gurgaon, and Hathin segment falls in Faridabad. In spite of the opposition to the creation of the new district, Chautala has maintained that the district will be functional from November 1, Haryana Day.
The district, comprising 491 villages and covering 1874 sq km, is located along the Aravalli range. The total population of the Mewat region is 15 lakh. About 66 per cent of the population in the region are Meo Muslims, which is the largest concentration of Muslims in any district in North India. The people here are dependent on agriculture and have small land holdings. There is a single crop in a year because of hard ground water. Potable drinking water is still not available in a number of villages, though the Mewat Development Agency (MDA) claims to have spent around Rs 29 crore on making drinking water available to the villages and getting distributaries made for irrigation of the fields.
Even as politicking over the creation of a new district continues, especially in the wake of assembly elections round the corner, the Chief Minister has already laid the foundation stone in Nuh for a mini-secretariat. A water scheme, under the rubric "Rainy well", launched at Madiaki village will cost the state exchequer Rs 425 crore. It is expected to boost the water supply system for the entire Mewat region. Water from the Yamuna will be drawn near Hodal (Faridabad) from where it will be distributed through a network of pipelines.
Locals jubilant
Imran Khan, a resident of Rawasan village, says, "Since this will be converted into a district, land, our only economic asset, might be acquired by the government. There is jubilation because the creation of a new district means better hospitals, roads, transport, education and government jobs. Vacancies and absenteeism in government-run schools and health centres is over 70 per cent. If Mewat is made into a separate district, at least there will be doctors in hospitals, teachers in schools, and more funds for development work."
The locals may not even know the name of the district, but as one travels through the region, the excitement over a separate district is palpable. As Khursheeda of Bhadas village says, "Everybody in the village is talking about the new district. I do not know the name of the district, but I do know that a new district means more development in the area. Perhaps a lady doctor will be posted at the nearby dispensary and the school where my grandchildren study will have more staff. More industries might be set up and I hope my son gets a job."
Agrees P.R. Bishnoi, Chief Executive Officer, Mewat Development Agency, "Each district is allocated funds for development. So far, Mewat has been under the districts of Gurgaon and Faridabad. Only a part of the funds for these two districts were diverted to Mewat. The Mewat Development Agency was created by the state government in 1980 and Rs 146 crore has been spent by it for creating basic infrastructure. A lot, however, still needs to be done for the development of the area."
According to Bishnoi, development can take place only when canal water is available in all villages for irrigation and quality education is available at schools and colleges. Also, leaders from the community should create an awareness about importance of education and family planning.
— Photos by Mukesh Aggarwal