5 of family commit suicide
Varinder Walia and Pawan Kumar
Tribune News Service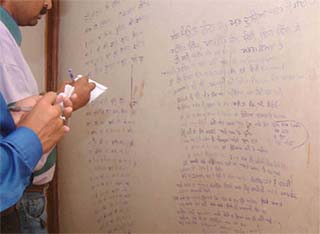 Writings on a wall that a family of five scribbled before committing suicide in Amritsar on Sunday.
— Photo by Rajiv Sharma
Amritsar, October 31
Five members of a family committed suicide in the busy Chowk Mohni, near the Golden Temple, here today. Before the act they scribbled on the walls of a room their grievances against certain "cruel persons", including police officials, because of whom they had been "forced" to take the extreme step.
What is written on the walls is likely to put the police in a spot. The writings seem to be of Hardip Singh, head of the family, Romi (his wife), their children Imu and Sonu, and Jaswant Kaur (mother of Hardip Singh).
The police believes that Hardip Singh, who had allegedly killed his father, Sunder Singh, two and half months ago and had absconded, returned to his house last night.
Mr Kultar Singh, district police chief, said Hardip Singh first gave a poisonous substance to his children and helped his wife and mother in hanging from the ceiling fan. Then he gulped down the poisonous substance himself.
A look at the writings on the walls suggests that Hardip Singh had a "guilty conscience" over the murder of his father and had bitterness against the police for allegedly harassing his family in his absence. He has written that Mohinder Singh, a cousin of his, one Sabrin Kaur and Jolly were blackmailing him as they were eyewitness to some "wrong he had committed".
He has, however, alleged that his father was a "rotten man", but the rest of the world was even worse. According to the allegations on the four walls, the three persons named extorted Rs 7.25 lakh by blackmailing the family and were demanding Rs 3 lakh more. When the family could not fulfil their demand, they informed the police.
The police also took Rs 5 lakh as bribe, according to the allegations. Reads one wall, "The police demanded more money, which we were unable to pay".
Hardip has desired that his entire money left should be donated to Pingalwara Ashram and certain gurdwaras. His last wish is that five akhand paths be performed in the room in which they committed suicide.
Romi, Hardip's wife, has written that her father-in-law was murdered. She has alleged that Mohinder Singh complained to the police even after taking Rs 7.25 lakh as the family could not pay another sum of Rs 3 lakh demanded by the "blackmailer".
The family has mentioned the names of those who "ruined" their lives.
The suicides came to light when a maidservant came in the morning and failed to get any response even after knocking repeatedly. Relatives of the family living in separate portions of the same house informed the police, which opened the door in the noon.
Mr P.K. Rai, SP (City), said a case had been registered but no arrest made so far. He said the bodies had been sent for post-mortem.