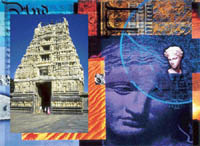 Past pursuit makes future sense
A knowledge of History not only helps to relate the past to the present but also facilitates future planning. Apart from the teaching option, those who've studied the past have a bright future in fields like museology, archaeology, numismatics, and designing of period costumes and jewellery, writes Inderdeep Thapar
HISTORY as a subject is often associated with a few limited career openings but this is not so. Its scope in terms of jobs has broadened over the years.



COURSE CHAT
"Research bodies, NGOs offer a lot of work"
PROF Indu Banga, an eminent historian of Panjab University, throws light on the future prospects of those who study the past. Excerpts from an interview:
How has History changed in the last few years?
History has expanded in scope and time. Whereas earlier it was confined only to past politics now it embraces all aspects of society.

Indu Banga

IN FOCUS
Creating the future green brigade
by Sunit Dhawan
THE Department of Environment Science and Engineering was started in 1995 at Guru Jambheshwar University, Hisar, which has been accredited with Grade A by the National Assessment and Accreditation Council. The university offers technical and management courses with a focus on environment studies. The department was started with the aim to of providing technically trained manpower for tackling multi-pronged environmental problems.
CAREERCATURE
Sandeep Joshi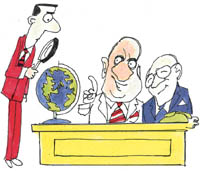 He says he has a foreign degree, but can't locate the country he got it from.

Take a plunge into oceanography
by Manish Kumar Singal
OCEANOGRAPHY is the scientific study of all aspects of life in oceans. It can be an interesting career option for those who love the sea and want to lead a life of exploration and adventure. Says Prof K. Kannan, a senior professor of Guru Govind Singh Indraprastha University, Delhi, "Keeping in view the importance of this field, the Government of India has set up a separate ministry to explore the possibility of living in the seas and oceans.

SMART SKILLS
Appraisal approach
by Usha Albuquerque
PERFORMANCE appraisals are a critical part of career management. It is a report card about your work and reputation in your organisation. It is the basis on which your promotions and career growth is assessed.


CAREER HOTLINE
Turn into dairy technologist
Q I am a student of Class XII. Could you please tell me about the job prospects after doing a B.Tech course in dairy technology?
Take to teaching History

Visual media

Telecom track

TALKING POINT
Should engineers be given licences?

TITLE TRACK
You Too Can Succeed
By Joginder Singh
New Dawn Press; pages 207; Rs 195