Gifting with style pays
Swarleen Kaur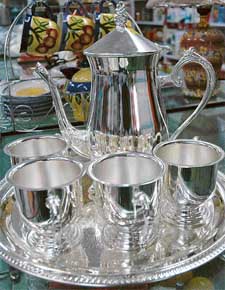 The season of gifts is here and from the lowly businessman to corporate honchos, the current mantra is— nothing succeeds like gifts. In fact, a new 'gift idea' which has value as well as aesthetic appeal is much in demand.
According to market sources, the total turnover of Divali gift industry is over Rs 10 crore in the city itself.
"Divali is a nice excuse to give something valuable to your client, boss or political and bureaucratic movers and shakers. It is no more our sweet will as to what to gift. It has become customary to load people with gifts and many of them take it out on business dealings if the gift is not appropriate enough for their rank and status," says corporate bigwig. "It is bribery in another form," he admits candidly.
"The days are gone when a token gift was acceptable. For the last few years, the expectations of people in position of authority, specially bureaucrats, have gone up dramatically," he adds. "Moreover, they not only want an expensive gift but also something which is out of the ordinary. Something that will catch their fancy and they will remember you for it," he laments.
Hence, mithai and good wishes on the festive occasion are out. Expensive champagnes, wines and single malt classic Scotch whiskies are in. Most bureaucrats, reveal a harassed gift giver, prefer to have rare liquor brands as Divali gifts. Santosh Sood, a businessman based in the Industrial Area, remembers that when he gave a very expensive five-litre bottle of single malt Scotch to a bureaucrat last Divali, his file started moving at a healthy pace. "Besides, he called me and complimented me on my choice of the brand. Now, I have ready access to this Punjab bureaucrat."
In a way, giving gifts on Divali makes good business sense and most businessmen use the opportunity to either break the ice or cement their ties with influential persons.
According to corporate buyers, weeks of brainstorming goes in selecting appropriate gifts for different echelons of power. Liquor works quicker and is therefore the most favoured. Next in line is the ethnic selection comprising expensive diyas, mithai, dry fruit, silver or gold statues of Ganesh and Laxmi, besides gold coins in the name of shubh mahurat.
Diyas, according to market reports, are now available in all material from the lowly china clay to porcelain to blue pottery and heavy silver. Exotic dry fruit, fruit and scented candles complement this 'thali.' Most businessmen buy these Rs 5,000 plus assortment to gift to people who are non-drinkers.
Crystal and glass Figurines are also in because of their opulent look. The range starts from Rs 1000. Beautiful glass vases, waterfalls, lamps and Chandeliers are also preferred Divali gifts.The range starts from Rs 8000.
Crockery is also a traditional gift item. A survey of he market reveals a variety of choices —- dinnerset, tea set in glass, steel and even in silver are in great demand.
But a small handy tip from a habitual corporate gift-giver. "What ever you give remember to pack your gift well. Gifting with style pays." he says wryly.