Petrol, diesel prices hiked by over Rs 2
LPG to cost Rs 20 more
Manoj Kumar
Tribune News Service
New Delhi, November 4
Ending speculation of over one month and consultations with allies, the government today hiked petrol prices by about Rs 2.20, diesel prices by about Rs 2.10 per litre linking them to import parity price and LPG by Rs 20 per cylinder while sparing kerosene prices.
The new prices will be effective from midnight tonight.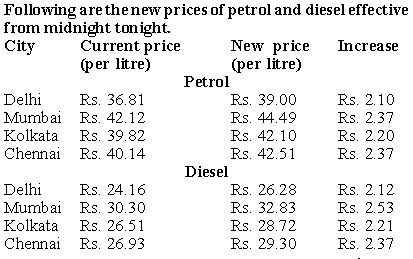 After attending a marathon meeting of Cabinet Committee on Economic Affairs (CCEA), Petroleum Minister Mani Shankar Aiyer told reporters "The government has decided to increase LPG prices by Rs 20 per cylinder that would be later increased by Rs 5 per cylinder per month, while fully linking the petrol prices with import parity price and partially linking diesel prices with import parity prices."
The hike in oil prices will imply that people will have to shell out about Rs 2.20 to Rs 2.50 per litre more on petrol and about Rs 2.10 to Rs 2.40 per litre on diesel in different states depending upon state taxes that include local taxes, octroi as well. Mr Aiyer said, "Oil marketing companies will be allowed to increase LPG prices by Rs 5 per cylinder every month to meet the deficit."
In Delhi, the petrol prices will increase from Rs 36.81 to Rs 39 per litre, diesel from Rs 24.16 to Rs 26.28 per litre and LPG will cost from Rs 261 to Rs 280 per cylinder.
Oil prices were last increased on June 15, when the Government increased petrol prices by Rs 2, diesel by Rs 1.50 per litre and LPG by Rs 20 per cylinder. Kerosene price was not changed.
Increase in diesel prices would severely hit farmers, especially in Punjab, Haryana, who were feeling cheated after a marginal increase of Rs 10 in the MSP of wheat. The transport sector would also be hit.
The government had delayed the announcement of the decision expecting that after US elections, oil prices in the international market might fall. But the sources said, with the victory of President Bush, oil prices might not substantially fall in the international market.
The government announced the decision after taking Left Parties and Railway Minister Laloo Prasad Yadav in confidence. They were opposing any price hike in petro prices.
Earlier, Mr Aiyer said, "The oil companies had suffered under recovery of about Rs 10,000 crore in the first six months due to hike in international crude oil prices. The under recovery losses would have been increased to over Rs 20,000 crore by the end of the year had the prices not been increased."
The sources in the Petroleum Ministry said, the kerosene prices had been spared on the insistence of Railway Minister Laloo Prasad Yadav, who had reportedly argued that he would have to face the voters in state Assembly elections soon.
Sources with the oil marketing companies said, petrol was currently being sold at Rs 2.20 per litre below the imported cost while diesel is priced at Rs 4.15 per litre below cost. LPG is underpriced by Rs 158 per cylinder and kerosene, prices of which have not been changed in the past 30 months, is being sold at Rs 11.76 per litre lower than the imported cost.
The Railway Minister said, " There is no other way but to raise the prices" as the Indian market is always affected by the changes in the world market.
He said the Indian Railways consumed 25 per cent of diesel of the country, so an increase in the prices would affect his ministry as well.