A journalist's unconventional solutions for an ailing country
Jaswant Singh
India: Issues and Ideas
by Arvind Bhandari. Inter-India Publications, New Delhi. Pages 330. Rs 450.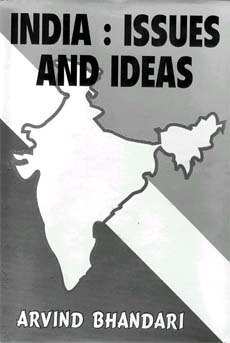 HERE is a collection of newspaper articles written over a period by a versatile journalist. No wonder it tackles a vast variety of topics and issues that tax the mind of an average Indian. But a thread that runs through the pages is the writer's belief that India, after Independence, has more failed than succeeded. He sees India as a rusty, corruption-ridden vehicle, crawling unwieldy. The country, he believes, urgently needs across-the-board reforms if it is to become a fast-moving and streamlined vehicle. The country's shortsighted political leadership, he proclaims, is incapable of bringing about this transformation.
The book contains articles written by Arvind Bhandari in different newspapers in recent years. There also are some unpublished pieces, including one on Jammu and Kashmir which, he asserts, no newspaper "had the courage to publish" because it recommends plebiscite as solution to the problem.
There are other pieces that examine the NDA Government's decision to dissolve the Lok Sabha prematurely and analyse whether India really shines in the glare of the slanging match between the NDA and the Congress in the run-up to the elections.
There is a long introduction running into 34 pages, which covers the entire gamut of our national life. It deals with practically every problem, big or small, that India faces. Among the problems are corruption, population explosion, administrative reforms, electoral reforms, judicial reforms, anti-poverty schemes, and so on.
He deals with these problems first in the long introduction somewhat collectively and then separately in the articles. It is perhaps for this reason that he recommends that these articles should be read in conjunction with the introduction.
Some of his observations on these issues are indeed worth quoting.
Population: In a few years, India will outstrip China to become the most populous nation of the world. But our leaders repose faith in the soft line of persuasion and propaganda. He recommends a well-organised line of incentives and disincentives.
Corruption: He believes that this malady percolates down from the top. Corruption must be tackled effectively at the highest level. He believes in a Lok Pal whose decisions should have near-mandatory force.
Communalism and Casteism: He believes that communal tensions can be reduced by introducing a common civil code. He suggests that politicised categories such as the scheduled castes and the scheduled tribes should be abolished. The criterion for help should be economic.
Education: The mad rush for college education should be curbed and entry to centres of higher education should be restricted to the deserving few.
Kashmir: Accept the Line of Control as the international border. If this is not acceptable to both the countries, let there be a plebiscite in the whole of Kashmir under UN supervision.
All these and other suggestions made in the book are capable of evoking animated debates, but there is no reason why views on particular issue should be set aside for fear of a debate or strong reaction.
The book also lists post-Independence developments in India under different Prime Ministers and in the process it describes some of the political personalities in graphic terms.