Food Talk
Blissful kheer
Referred to as parmanna or the ultimate food, the kheer has been prescribed as an essential meal for all ritual celebrations. Enjoy the delicacy in its various avatars this festive season, says Pushpesh Pant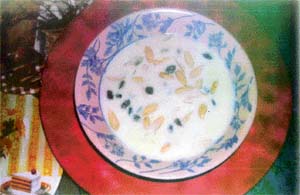 Festival special
Ingredients
Rice 1tbs soaked in rose water for half an hour
Milk 1 litre reduced on low fire to 350 ml
Sugar 1 tbs
Cardamom green 5 (crushed)
Method
Add rice to the milk after it has been reduced, cook for about 15 minutes on very low fire, add sugar, stir sprinkle cardamom powder and rose water or kewra if desired.
AT Divali time, it is not unusual for thoughts to turn to kheer. It is the naivedya — the offering put before the goddess of riches, Maha Lakshmi and the blessed prasad shared with family and friends — as much a part of the ritual celebrations as the garland of lamps and the pathaka and phooljhari.
Lord Vishnu, according to Hindu mythology, reposes on a bed provided by the celestial serpent Seshnag floating eternally on the waves of Ksheersagar, the ocean of Kheer. Which other dessert is so blessed?
Kheer is referred to in ancient Sanskrit texts as parmanna, the ultimate food. It is prescribed as essential for all ritual meals from annaprashan to shraddha. Rice cooked in milk, and sweetened, is the most often encountered version, but make no mistakes, kheer has as many avatars as the good Lord himself.
There is makahne ki kheer that provides the finale for the orthodox faster's repast and sevain routinely replace the rice both in the North and the South of India. The delicacy is called payasam, south of the Vindhyas, and recognised as payesh in the Sonar Bangal. Chennar payesh does away with rice too and substitutes the grain with what else chenna-bin chawal ki kheer tries something similar fashioning 'rice grains' with paneer.
In winters, when the sap of the date/palm gur is available, the sweetening agent is at times khejurer gur lending a unique tint and taste (akin to some exotic chocolate) to the familiar payesh.
Good friend Mohammed Faroukh, scion of arguably the most illustrious clan of chefs in Lucknow, insists that the true test of an accomplished rakabdar is to dish out a perfect lehsun ki kheer. This involves purifying garlic in many baths of alumn and rendering it entirely odourless making its slivers mimic slivers of almond.
Phalon aur sabziyon ki kheer are much easier to cook and provide interesting variations too. Mangoes, apples and carrots are quite popular. Some are happy with semolina others prefer mung dal.
Personally what we have found most intriguing is the ganne ki rasa ki kheer. Sugarcane juice crushed at the roadside normally puts us off but this emerald concoction has irresistible seductive power.
The beauty of kheer is that it can be enjoyed cold as well as hot. Many a dhaba on the highway are famous as much for their kukkad or dal fry as their kheer. Bhajan da dhaba in Gajraula has many loyal patrons addicted to its kheer.
Kheer can be cloyingly sweet or just have a hint of lactose or fructose. It can also be aromatised as per taste or fancy utilising the entire gamut of fragrances from rose fresh petals or ittar to kewra, ilayachi, darchini. If you want to sublimate even more head in the direction of phirnee that eschews the grains of rice in favour of miniscule quantities rice paste slow cooked in milk that aspires to the condition of rabri. Served cold in diya-like sakoras moulded in clay, it has an unmatched earthy flavour. There is an equally bewildering choice of garnishes — almond slivers, silver leaf, pistachios and resins and what have you.
The Hyderabadi 'formula' takes the kheer to unsurpassed pinnacles — gil e firdaus, literally translated as the clay of paradise, indeed does justice to its name. But, that as they say, is another story. For us mortals, the basic kheer is sheer bliss. Just avoid the temptation to take shortcuts like using condensed milk or corn flour.