GARDEN LIFE
Blaze of colour
Kiran Narain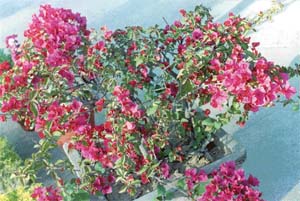 Bougainvilleas add colour and charm to the landscape
Bougainvillea (family-Nyctaginaceae) is a plant of great beauty of South American origin. It was discovered by French navigator, De Bougainville, in 1829 A.D. and is named after him.
It is a fast-growing climbing shrub that grows easily in any soil with little care and attention. The flowers are small and inconspicuous but they are enclosed in large showy brightly coloured bracts which last for quite some time.
Bougainvilleas produce a rich harvest of carmine, purple, mauve, pink, white and orange blossoms. While their great panicles of bracted flowers grab the limelight during the flowering season, the dense green foliage adds greenery to the landscape most of the time and the spiky branches provide an impregnable hedge and a wayside plant usually used on road, dividers where the cattle cannot graze it.
Covering walls, neatly placed in pots, edging a driveway or on the road dividers, they are so much at home in northern parts of India that one could mistake them for an indigenous plant. Ramanand Sagar used these profusely in his popular serial Ramayana.
Bougainvilleas enjoy full sunshine and are of rampant growth. They are useful for covering parking spaces, trellises, walls and porches and can be trained atop pillars. Allowed to climb trees, they add colour and charm to the landscape. They form good standards and pot plants and are becoming increasingly popular with bonsai growers.
One can divide bougainvilleas into two major groups viz. the soft hairy leafed ones and the glabrous leafed. The later is hardy, withstanding a certain amount of frost, and is more or less perpetually blooming. It is also preferred for pot culture. The former group is better grown outside to produce masses of colour in the proper season.
Bougainvillea glabra, maginfica, cypheri and a few hybrid varieties like Mrs Butt, Partha, Lois Wathen, Scarlet Queen, Gopal and the variegated varieties are very popular with garden-lovers in India.
The propagation of bougainvilleas is easy by raising the cuttings of half-ripe shoots in pure sand.
Bougainvilleas are best contained and maintained by drastic pruning. All weak shoots should be removed and previous years shoots be pruned to within a bud or two of the main stems as flowers are borne on the current year's wood.
To get one blaze of colour from your bougainvilleas, a good idea is to restrict watering to the minimum for about three months before the blooming period. It will cause starvation and leaves fall of the plants and once they are liberally watered, a new growth will appear soon providing a mass of colour in the proper season.
In November in North Indian plains when the glorious colours of winter annuals have yet to unfold their charm, the parks and gardens, terraces and trellises are alike aglow with the breathtakingly beautiful bougainvilleas.