Asi Punjabi Singapore de
Quite a number of students in Singapore are interested in learning Punjabi. Roopinder Singh reports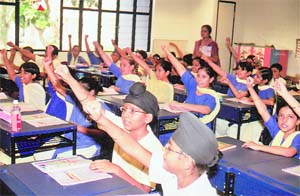 "We are Punjabi, we want to learn Punjabi".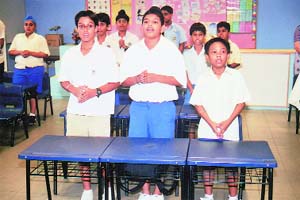 Chinese and Malay students also study Punjabi. — Photos by the writer
THE first post-9/11 flight that this writer took was in the backdrop of heightened security and the controversy regarding the wearing of headgear in schools in France, both of which triggered off a certain degree of apprehension.
The takeoff from Delhi was smooth, and the Singapore Airlines flight to the island republic more so. We reached Singapore on Saturday, a day when three or more schools in various parts of the city state took on a Punjabi hue. Over 2,000 students clad in blue turbans/patkas, girls in matching salwar-kameez dresses, were brought there by their parents to study Punjabi.
The three schools I visited that day were the Khalsa Centre, Bedok Centre and Clementi Centre, headed by Harjinder Kaur, Satwant Singh and Gurmeet Kaur, respectively. At the Clementi school, there were 25 different classes and over 500 students from KG to "A" Level.
This is the kind of multiculturalism that we in India are used to, not a narrow interpretation of the principle of separating religion from the state as for example, is being enforced by the French Government, banning various visible religious symbols (including turbans, headscarves and large crosses) in schools.
The British had divided Singapore into various quarters to house people of different races, but this was dismantled by the government after independence. Now the old China Town and Little India are more tourist attractions than separated racial quarters.
It is in the same vein that four languages, including Tamil, are recognised as national languages, and there is official support for multiculturalism. The Singapore Sikh Education Foundation (SSEF) has been working since 1990 to develop and get government approval for a 10-year curriculum, with comparative textbooks and guides for students, teachers, as well as parents. They also use overhead projectors and multimedia, in which prominent singers have recorded songs and nursery rhymes.
One of these singers is Malaysia-born Daya Singh, who now lives in Australia. In a messaged posted on the Net, he says he has recorded presentations for the Foundation over the past 10 years.
The foundation uses "simple learning methods to teach children Punjabi by getting them to sing about how wonderful mothers are; about teachers who teach you and are kind; about animals, vegetables, fruits, relatives-who a chacha is, differences between a taya and a chacha and that the feminine gender for phuphad is not phuphadi. All in song and even dance or movement choreography." Many such poems have been written and sung by popular singer-poet Kamaljit Neelon.
Prof Rajpal Singh, who has been working to promote Punjabi culture and folklore in various parts of the world, had visited Singapore two years ago. "I spoke to a young girl and commended her command over Punjabi. She had learnt it in Singapore and I think that they deserve credit for bringing the children back to Punjabi language. The teaching is systematic. I feel that the books and teaching in Singapore is even better than in the UK, where too I have been actively involved." The Patiala-based professor who has held workshops for children in Singapore says they are keen learners. About 5 per cent of the students are not of Punjabi origin.
The students say the time they spend from 2 pm to 6 pm every Saturday is "fun." This is where many "friendships are formed," where "you meet your own kind." Their textbooks are colourful with illustrations by Chandigarh-based artist R. M. Singh, who worked in both the cities.
Tharman Shanmugaratnam, Acting Minister for Education, commended the new Punjabi curriculum in the form of 81 books from pre-primary to pre-university levels and appreciated the attractiveness of the books during a function held to mark the SSEF's 14th anniversary celebrations last year. He also honoured 200 Punjabi students for excellence in education, especially in Punjabi.
"The Foundation has accomplished much`85 not least its central role in delivering Punjabi language education in Singapore." Now there are course books, workbooks and student guides to IT-based teaching and learning in the form of CD-ROMs, audio-CDs and computer-based learning. "What makes this achievement all the more commendable is that all the instructional materials have been developed and written by the Foundation's teachers," he added.
Dr Bachan Singh, who worked as Principal of various schools in Singapore, is widely recognised as the man behind the entire programme. He, however, gives the credit to teachers and "a team of educationists who have planned, developed and organised this programme over the last 15 years and raised funds for the survival of the programme." The government does not fund the programme, though school classrooms are made available. Some assistance comes from a few gurdwaras and other Sikh institutions. The 100-odd teachers include former students, though most of them are expatriates from India and full-time teachers.
There are also tape-recorded vocal tests which parents can review, games and a lot of singing, especially poems on relationships and moral values.
"I was asked to make sure that the illustrations reflected Punjabiat and we have laid a lot of stress on relationships like taya, chacha, etc. The dresses reflect Punjab, but not only traditional Punjab, thus you have a fusion. My pictures reflect Punjab, they are of common things, but I have made them cosmopolitan. We have used khamb (a feather) instead of a khu (a well), which these children may not be able to relate to. I have consciously shown people of various religions together, not just people from one community," says R. M. Singh, the artist.
"In the teaching of Punjabi overseas, the Singapore experiment has been outstanding. In terms of number of students learning Punjabi and the teachers available, Singapore stands by itself among the overseas Punjabi communities. Two factors were the key to success here. First, the recognition assigned to Punjabi by Singapore is not to be found in any other country.
"Second, Punjabi in Singapore found in Dr Bhajan Singh, a charismatic individual who was willing to dedicate his life for this cause. He created the SSEF and convinced the government to recognise Punjabi as part of the curriculum. He impressed upon the parents to encourage their children to learn Punjabi, inspired and trained teachers and simultaneously created the classroom materials,"says Gurinder Singh Mann, who is the Kundan Kaur Kapany Professor of Sikh Studies, University of California at Santa Barbara.
The Singapore Punjabi programme is now spreading to Thailand, Malaysia the Philippines and Indonesia. Bhajan Singh is now working towards "internationalisation of the Foundation's Punjabi model and books for all levels."
"Punjabi has also been part of the school curriculum in Singapore and some parts of England for more than a decade. The teaching of Punjabi as a foreign language is a recent phenomenon.
"Singapore is one of many states with Punjabi emigrants-nearly four million. Gurinder Singh Mann points out that beginning with the last quarter of the 19th century, Punjabis began to emigrate as part of the British workforce. Now there are large communities in Australia, New Zealand, Hong Kong, Singapore, Thailand, Kenya, England and North America,"says Mann.
Punjabi is regularly taught in a select number of North American universities. These include the University of British Columbia, Vancouver (from 1987); the University of Michigan, Ann Arbor (from 1989); and the University of California, Santa Barbara (from 1999). It has recently been introduced in areas where there are large Punjabi communities in North America such as Queens, New York; Yuba City, California; and Vancouver, Canada.