Hour of the heroine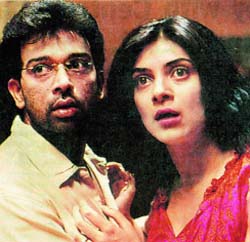 Vastu Shastra has Sushmita Sen in the pivotal role
IT'S that season again when leading ladies take centrestage in Bollywood while male superstars have to be content with being relegated to the sidelines.
Beginning with the recently releases Vastu Shastra, featuring Sushmita Sen in the pivotal role, and Kis Kis Ki Kismet, which has Mallika Sherawat in a murderous mood, a whole clutch of compelling female-oriented films are about to hit the theatres in the next couple of months.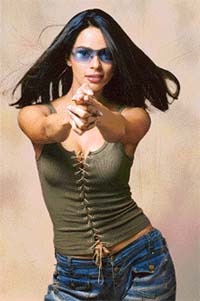 Kis Kis Ki Kismet sees Mallika Sherawat get violent
Next month in Padmashri Laloo Prasad Yadav, Mahesh Manjrekar's remake of A Fish Called Wanda, Masumi Makhija plays the central role of the femme fatale pursued by three men that made Jamie Lee Curtis a major star in the US.
More importantly last week brought the lyrical, lucid and luminous Morning Raga, which is as much an ode to Mahesh Dattani's writing and directorial skills as Shabana Azmi's ability to hold a film together.
Not only is she cast in the powerful role of a Carnatic singer grappling with her past and trying to come to terms with her present, she also has for company some really interesting actresses — Perizad Zorabian and Lilette Dubey — while male actors Mohan Agashe and the watchable debutant Prakash Rao make an impact from the sidelines.
Pankaj Parasher's Inteqaam has Isha Koppiker doing Sharon Stone's murderous act from Basic Instinct.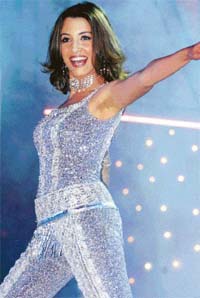 Perizad Zorabian has a powerful presence in Morning Raga
Also queuing up for release before this year is through are such long-delayed woman-oriented films as Tanuja Chandra's Film Star, about the life of a fading film actress played by Mahima Chowdhary, and Manish Jha's Matrabhoomi, which features Tulip Joshi as a victim of patriarchal domination in Bihar.


Priyanka Chopra stars in the much-awaited Aitraaz
It isn't as though only the avant-garde filmmakers are looking at positioning women at the centre. The Divali biggie Aitraaz has Priyanka Chopra and Kareena Kapoor fighting for the attentions of Akshay Kumar who grins and bears the brunt of the avalanche of female attention.
In Dharmesh Darshan's long-delayed Bewafa, now scheduled for a late-December release, Kareena Kapoor takes centrestage while her co-stars Anil Kapoor and Akshay Kumar battle it out for her hand.
And that maker of macho movies, Sanjay Gupta, is all set to release Musafir on November 26 where Sameera Reddy takes the lead while Anil Kapoor, Sanjay Dutt, Mahesh Manjrekar and Aditya Pancholi pant after her.
The immediate future of female-oriented cinema depends largely on the way Mahesh Dattani's Morning Raga and Abbas-Mustan's Aitraaz fare at the box office.
These are films which in their own peculiar way generate the same heat that once resulted in such hugely influential and popular women-oriented films as Mehboob Khan's Mother India, Mahesh Bhatt's Arth and Ramesh Sippy's Seeta Aur Geeta.
Of late women's films have become synonymous with sex and sleaze. The two successful women-oriented films this year, Murder and Julie, were sex-oriented romps.
It's a critical time for the other gender and a period when they could break out of the stereotyped roles where they have become trapped in spite of the brave attempts to rescue them as in Sudhir Mishra's Chameli and Sriram Raghavan's Ek Hasina Thi earlier in the year.
— IANS