A royal treat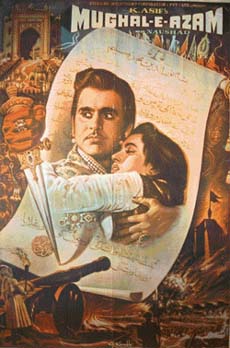 THE colour version of Indian cinema's biggest blockbuster of all time, K. Asif's Mughal-e-Azam, will hit the big screen on Divali, November 12. For the first time, a digitally refurbished version of the film's original soundtrack will be released after 44 years.
It is for the first time in the history of world cinema that a black-and-white film is being made in colour for a big screen release. Hollywood has been successful in colourising films only for TV/DVD release.

The original premiere of Mughal-e-Azam, the love story of Salim, Prince Shahjahan, (Dilip Kumar), and Anarkali (Madhubala), also starring Prithviraj Kapoor, was held on August 5, 1960, at the Maratha Mandir theatre in Mumbai.

The prints for the premiere of the film, which was released after almost nine years in the making, were brought on elephant back. The theatre was extravagantly decorated and resembled a Mughal arena. The invitations were designed in the shape of a shahi firman (royal order).

Produced at a cost of Rs 1.5 crore in those days filming took over 500 working days. It was easily the costliest Indian film till then. Tailors were brought from Delhi to stitch the costumes, Hyderabad goldsmiths made the jewellery, Kolhapur craftsmen the crowns, Rajasthani ironsmiths fabricated the shields, swords, spears, dagger and armour, specialists from Surat-Khambayat were employed for the exquisite zardosi embroidery on the costumes while the elaborate footwear was ordered from Agra. For one of the songs, Ae Mohabbat Zindabad, a chorus of 100 singers was used.

The queue for Rs 1.60 ticket stretched 2 km and an estimated 1,00,000 people gathered at Maratha Mandir to make advance bookings. Shankar Rao Chauhan, the then Chief Minister, went with his Cabinet to watch the film. Pakistan also relaxed visa rules to allow its citizens to watch the film.

The grand revived version (in coloured prints and Dolby Digital sound) is not taking place at Maratha Mandir as the theatre is booked for Abbas-Mustan's Aitraaz. The refurbished version will see two premieres in Mumbai city. One will be held in the town-side while the other in a suburb multiplex.

Producer-financier-distributor, Dinesh Gandhi acquired the Mumbai rights of the film at Rs 2.25 crore from original producer Sterling Investment. He will release the film through his long-time partner Rakesh Sippy of Raksha Film Distributors. Gandhi and Sippy have decided to release the film with 60-70 prints.

The Indian Academy of Arts and Animation (IAAA), Mumbai, which undertook the project, took nearly one-and-a-half years to develop the technology and another 10 months to complete the process.

The original music composer of the film, Naushad, has been involved in the digitisation of the track.

The film will not have a simultaneous overseas release. An all-time classic, the film had participated in seven international festivals last year.

— Compiled by Seema Sachdeva