TELEVISION
Panda for Pandey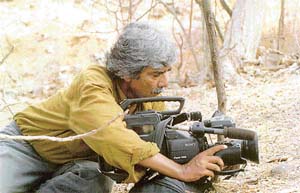 Mike Pandey: Capturing cruelty towards animals
TILL 2000, he was the only Asian to have twice won the prestigious Panda Award popularly known as the Green Oscar. This year Mike Pandey has made wildlife film history by winning the award for a record third time. Vying with global TV channels like BBC, Discovery and Granada, he won his third Panda when his documentary Vanishing Giants was adjudged winner at the Wildscreen 2004 Festival in England.
The disturbing documentary depicting the cruel and inhuman treatment meted out to an imprisoned elephant leading to his eventual death has earned Pandey the covetous award.
Pandey was the first Asian to have won the award in 1996 for his film The Last Migration — Wild Elephant Capture in Sarguja. He annexed it the second time in 2000 for the documentary Shores of Silence — Whale Sharks Of India.
But the filmmaker says his concerns are far more compelling than just an award. "I have developed an empathy for animals. That's why all my documentaries drive home a grim message — If you let wildlife perish, then be ready to perish yourself."
Small is beautiful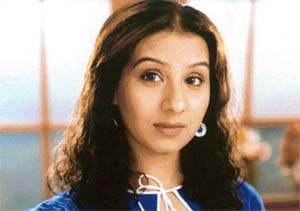 Diverse roles for Shilpa Shinde
THERE are people who nix TV offers and there are those like Shilpa Shinde who give up lead roles in Hindi, Tamil and Telgu films to act in serials. Shilpa who plays bad girl Manju in afternoon soap Bhabhi on Star Plus says, "I was terribly homesick when I was shooting down South for Deshari Narain Rao's Chhina and Suresh Verma's Shivani. I just wanted to be at home and near my parents."
Quite a homecoming for a girl who had a public spat with her father who wanted her to become a lawyer like him.
But Shilpa stood her ground and is now acting in popular serials on Star Plus and Doordarshan.
In fact, her roles in Bhabhi and Sanjeevani are receiving a lot of attention because of their completely opposite shades — the former possessed with negativity and the latter positively trying to reunite loved ones. Though she realises her career graph is opposite of others who first do TV and then move on to films, Shilpa is not bothered. What with so many roles on TV, she says she has no time for films. Whether such an attitude puts her on a fast forward mode on the small screen remains to be seen.
Mystery unravelled
Skeletons will — literally — tumble out of the cupboard when a programme on National Geographic seeks to unravel the mystery behind the mass grave near Roopukund Lake in Uttaranchal. In 1942, a forest ranger stumbled upon hundreds of human and equine skeletons near the lake, situated at 16,000 feet above sea level.
These remarkable well-preserved skeletons — some with the flesh still attached — become visible once a year when the snow melts.
For decades the presence of the remains mystified anthropologists and mountaineers alike. Several theories were put forward — were the skeletons of pilgrims or of soldiers, did an epidemic kill them or did they commit ritualistic suicide — but none came close to answering the riddle.
Then two years ago Niret Alva, founder-CEO of Miditech, found himself talking to a senior producer with National Geographic about a series that would examine mysterious happenings all over the world. Niret, a keen trekker, was aware of the Roopkund mystery and that was the genesis of Skeleton Lake, the documentary that will air on November 9, at 10 pm.
Return of soap queen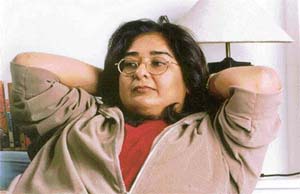 Vinta Nanda is back with a bang
FOR all those information-challenged who thought Vinta Nanda had turned tail with the coming of Ekta Kapoor, here's some news. The lady is back with a bang. Star Plus will soon be airing Mili by the pioneering czarina of Indian soap.
After Tara went off the air, many speculated she'd thrown in the towel. But all rumours have been laid to rest with Nanda making a dramatic comeback.
Incidentally Mili is not the only project she's occupied with. Nanda has also been busy with her big screen directorial debut with White Noise hitting the theatres soon. The film too revolves around a TV soap opera writer.
Nanda who's scripted both Mili and White Noise says over the years her writing has matured and she's able to have a far better control over her characters and settings.
If the success of the 1990s trendsetting Tara is anything to go by, then movie buffs and couch potatoes have a lot to look forward to.
Ever-hopeful Shahwar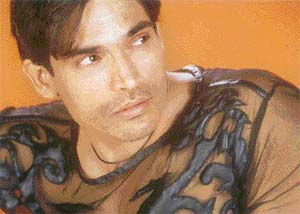 Shahwar Ali is emerging stronger from failure
HE made a bid to create a sensation at the box office with his debut film Hawas but all in vain. The reversal of fortune, says Shahwar Ali, hasn't crushed him.
The suave model who has been the face of brands like Raymonds, Monte Carlo and Kama Sutra has been getting many TV offers but he says he won't turn to the small screen till his career in Bollywood takes off.
"I have to give everything I have to my films and any digression will take away from my acting. If I can make it big in modelling, then I can make it big in Bollywood. Television is not even an issue with me," says Shahwar.
He has recently signed Mehul Kumar's Ishq Deewana with his Hawas co-star Meghna Naidu which he says is going to be one big hit. One wonders how many waves the two can create this time when they failed to even create a ripple with their last flick.