Spastics must get early treatment
Dr Harsharan Singh Oberoi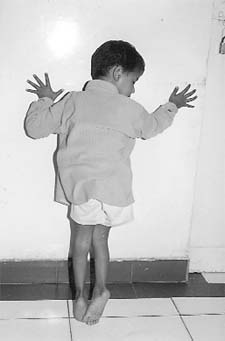 Thirty years ago, medical experts neither showed much interest nor had any serious concern towards children afflicted with cerebral palsy or by any other developmental abnormality. But for the past few years, they have become more enlightened. The statistics reveal that in India about 25 lakh children are affected by cerebral palsy.
The ever increasing number and the recent medical advances have made the doctors and physiotherapists the world over ponder seriously over the problem and start the therapies aimed at not only physical and mental development of the hapless victims, but also at instilling confidence among them so that they become self-reliant in carrying out their day-to-day activities.
Cerebral palsy is the name given to a group of conditions in which there are disorders of movement or posture caused by the damage to areas of the brain. It is a permanent condition and the most common cause for disability in children. It is probably caused due to the increased survival of very low birth-weight premature babies. The cause of cerebral palsy may be damage to the developing brain by exposure to certain infections during pregnancy or a brain injury during or shortly after birth. Other causes include bleeding in the brain, a lack of oxygen to the brain, low blood sugar levels and severe jaundice.
There are many types of cerebral palsy, but the most common type seen is spastic diplegia; it occurs on both sides of the body predominately affecting the legs. Each child with cerebral palsy may require life-long care and support.
Appropriate active management can make the children as normal as possible. This depends on the identification of an individual treatment plan with clearly defined practical goals. Active management includes physiotherapy, Botox therapy, play therapy, speech therapy, occupational therapy and surgery.
Encouraging children to walk and move normally as far as possible is one of the key aims. Recently, for management of spasticity in cerebral palsy, Botox (Botulinum Toxin Type A) was tried and found very useful in children. It has now become a standard method for management of spasticity in cerebral palsy. Botox injection is given at the motor-nerve junction of the spastic muscle. Botox acts by preventing the transmission of signals between a nerve and its target muscle.
Before Botox injection is Administered it is important that children are carefully examined for their suitability for this treatment.
It is important that parents of an affected child are aware of this problem and the treatment modalities available. The treatment should start at the earliest to get the best results.
The writer, an orthopaedic surgeon, is associated with the Basant Memorial Trust, Jalandhar.