PUNJAB
HARYANA
JAMMU & KASHMIR
HIMACHAL
REGIONAL BRIEFS
NATION
OPINIONS
MAILBAG
BUSINESS
SPORTS
WORLD
M A I N N E W S
Her "martyr" husband may be alive
Chitleen K. Sethi
Tribune News Service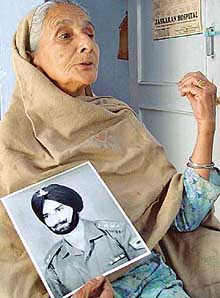 Surjit Kaur with a photograph of her husband Captain Bhajan Singh, missing since the 1971 war, in Mohali on Wednesday. — Tribune photo by Pankaj Sharma
Mohali, November 10
For 33 years, 65-year-old Surjit Kaur believed that her husband, Captain Bhajan Singh Katwal, had been killed in the 1971 Indo-Pak war. But today she has reasons to believe he might be alive. The news that some officers of the Army fighting the 1971 war are alive but in captivity at the Kotlakh Pat Jail in Pakistan has brought back hope into the life of Surjit Kaur — she might see her husband again.
Captain Bhajan Singh, a commissioned officer with the 82 Light Regiment in the Indian Army was declared 'martyr' in December, 1971. Other than a paling service book in which the word 'serving' had been replaced by 'dead', Surjit Kaur, then barely 30 years old, was given no proof that her husband was killed in action. ''He has been show" dead on December 17, 1971, the day of the ceasefire between the two countries. But the last letter that I received from him from the Rajasthan border was dated December 16. I received a whole bunch of letters from him in the last week of December. We were in fact waiting for him to come back as we knew that the war was over.'' she said, talking to the The Tribune at the Mohali residence of her only child and daughter, Amrita.
An akhand path had been organised by Captain Bhajan Singh's parents and brother at their house in Bhadal village, Anandpur Sahib, when they received news that the war had ended. ''But when there was no news from him, my husband's elder brother Teja Singh went to Army headquarters in Delhi. There no one seemed to have any idea about him. They noted down our address and in a few days we received a telegram saying that my husband had died in action.'' Surjit Kaur recalled. The Army did not hand her any of the things that he had on him during the war. ''His token, badge, bracelet, ring, nothing. We were only given the stuff that he had left in his barracks at the Rajasthan border before going to the front,'' she said.
Born in 1939, Captain Bhajan Singh had also served the Army during the 1965 Indo-Pakistan War. ''He was decorated with the Seva Medal posthumously,'' said Dr. Jaswinder Singh, Surjit Kaur's son in law who is a veterinary doctor.
For many years, Surjit Kaur continued to feel that her husband, would walk back into the house hale and hearty. But as time passed hope died and the wait seemed to have ended. ''On October 21, we read in the newspapers that Khushi Mohammad, a resident of Malerkotla, who had been released from Kot Lakhpat jail of Pakistan had informed media person that some Indian Army Captains who had been caught in 1971 by the Pakistan army were being held in captivity in the jail,'' she said. ''One of them could be him.''
Khushi Mohammad, released from jail in October, had also given the name of a BSF constable Surjit Singh who was in the same jail with him. His family was traced in Punjab and was offered legal aid by two Supreme Court advocates.