Dappled light on the Enlightened One
Rajnish Wattas
An End to Suffering: The Buddha in the World
by Pankaj Mishra. Picador. Pages 422. Rs 495.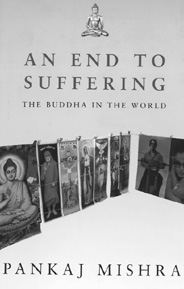 "I now saw him in my own world, amid its great violence and confusion, holding out the possibility of knowledge as well as redemption — the awareness, suddenly liberating, with which I finally began to write about the Buddha."

— Pankaj Mishra
The more things change the more they are the same and life comes a full circle.
In a world torn by strife, conflict and crisis of faith – materialistic paradise-seekers and soul-seekers are strange, but frequent bedfellows. The quest for 'paradise' where we can live happily ever after is timeless. And the mantras for this quest go in and out of fashion time and again. Buddhism, in its revivalist avatar, today boasts celebrity followers – from Richard Gere to Madonna – and therefore commands enormous media attention. The road to Dharamsala, home to the Dalai Lama, is a well-travelled one.
And Pankaj Mishra, the recluse of a Himalayan hamlet and gifted writer of Butter Chicken in Ludhiana, The Romatics and incisive articles -- in this book, takes you on a multi-dimensional journey. It is part personal diary, part re-telling of Buddha's life and preachings, and part an insightful take on world philosophers and their attempts to understand human existence and the world. The intellectual inquiry covers thoughts of Mahavira, Hieun Tsang, Hobbes, Nietzsche, Marx, Schopenhauer, Borges, Sayyid Qutb and Swami Vivekananda, to name a few. Even if at times it seems like over-loaded philosophical baggage; for many who have not been exposed to such an inquiry before, it is welcome. He also examines why so many 19th-century philosophers and writers found the Buddha so fascinating. But, disappointingly, he talks to very few Budddhists themselves, including the Dalai Lama.
Mishra's intellectual as well as physical wanderings on the Buddha trail are centred around his hill home in Mashobra, his writer's retreat. The arcadian landscape of the ambience of hill homes is exquisite: "The mountains became even taller and more self-possessed. Long shadows crept down their rocky slopes and then over the green rice fields besides the river. Lights shone uncertainly through the haze ahead. Then a long curve in the road brought them closer and revealed them as lanterns hanging from the elaborately carved and fringed balconies of double-storied wooden houses," writes Mishra. Certainly an inspiring place for lofty thoughts. But the writer's retreat is also his research centre, his intellectual laboratory; where he pores over tomes of rare treatises culled painstakingly from antique bookshops and libraries in Shimla. In fact, the very first spark for his quest for Buddhism was lit on a trip to Tabo in Kinnaur; during a breather that he took in the mid 90s to ease the tedium of rigorous scholarship in Mashobra.
The book is structured in a manner that covers a biography of the Buddha along with origins of Buddhism with chapters like The Invention of Buddhism. The place of Buddhism in the present times is also discussed in Committed to Becoming. And in-between there are discourses both on the chronological progression of Buddha's life and cerebral enquiries such as in the chapter A Science of the Mind or Empires and Nations. These are further interspersed with Mishra's personal memoirs and travelogues – and not essentially to places – connected to Buddhism, which were reflecting points for his own spiritual churnings.
The book does not belong to any particular genre. Although, lately 'historical fiction', as popularised by writers like William Dalrymple (author of White Mughals), has become an accepted genre, Mishra's narrative is purely non-fiction.
The book is, undoubtedly, enriching, but you never quite understand certain cryptic digressions and long-winded fillers such as descriptions of the politics of Bihar and the ambience of London. This weakens the focus of the book, which is otherwise a grand, daring, and elegant enterprise. Its disposable flab notwithstanding, Mishra has proved that he is not a thinker-writer to be taken lightly.