Three parents have gone to court against entrance exams for nursery and kindergarten classes. These admission tests subject children to mindless stress and pressure is their case. Gitanjali Sharma reports.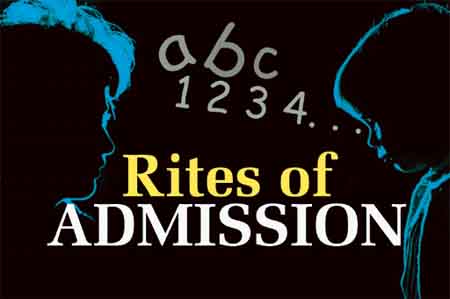 A 3-year-old bubbly girl appeared for an interview in a public school in Delhi. The interviewer gave her a picture to identify. When the girl chirpily answered in Pahari, her mother tongue, everybody in the room burst out laughing. The girl, stunned by the humiliation, refused to utter another word for the rest of the interview.
An otherwise loving father shocked himself and his adorable four-year-old daughter when he slapped her because she couldn't differentiate between red and yellow even after repeated lessons. The father says he had felt frustrated as the interview date for admission to a leading school in Chandigarh had drawn near.
The mother of a three-year-old gave up her job when her daughter was "rejected" by three so-called top schools of Chandigarh. She felt that her child was being neglected.
Some schools call them interviews or admission tests, others pointedly refer to them as friendly interactions. Whatever the name given to the mode of selection adopted by sought-after private schools, the fallout, according to parents, is more or less the same. Pressure with a capital P. The pressure comes in various forms and, in some cases, assumes demonic proportions when parents feel traumatised by the requirements of the schools or become obsessive about getting a child admitted to a particular school.
There is pressure to make the child meet both the reasonable and "medically unjustifiable" expectations of the school. There is pressure to teach the child more than what he can grasp at a particular age and peer pressure to get the child admitted to one of the "top schools". There is pressure to prove to oneself that one has fulfilled one's duty as a parent and pressure to put one's best foot forward before the school.
It may be debatable whether these pressures are self-inflicted or caused by the school but their force cannot be denied. Protesting against such pressures, three parents filed a petition in the Delhi High Court against a school in Ashok Vihar last month. The petition, which has now been converted into a public interest litigation, asserts that subjecting children of three plus and four plus age to test and interview by schools for nursery, LKG or UKG classes is "totally arbitrary, unconstitutional and unwarranted and against the human rights of the children." The petition has been supported by an affidavit on behalf of the Indian Academy of Paediatricians (Delhi branch). The doctors have warned that interviews and forced formal learning is counterproductive and can adversely affect the physical, mental and emotional health of children. The parents have demanded centralised selection through draw of lots and admission in neighbourhood schools.
Interview aim
Interviews conducted by private schools are more a process of elimination than selection, says P.I. Sabu, Regional Officer of the CBSE. With each leading school receiving about 800 applicants for about 150 seats, there are a large number of students who have to be turned away. Denouncing the entrance tests as "too cruel," Sabu advocates the system of draw of lots followed by St. Anne's Convent School in Chandigarh. "It gives everybody a fair chance and puts no pressure on the child."
Most schools, however, deny inflicting pressure of any kind through their friendly interactions with the child and the parents. While some say they just observe the child, others admit making "very general and simple queries" from the child. In some schools, however, the selection procedure demands taking the child to a separate room, away from the parents, to test their oral and written skills. It is the last type which is the most feared and criticised by parents and paediatricians.
Atul Khanna, Director of Strawberry Fields World School, says, "We merely have an interface with parents because it is impossible to test children at that tender age. Since the number of applications is many times more than the seats available, we meet the parent and find out whether their ideas are in sync with ours. For instance, we don't like to give homework." St Kabir Public School, which follows a partial draw system, too relies on a "friendly interaction" with parents and applicants. Its Principal J.P.Singh says this meeting helps them detect if the parents would have enough time to give to their wards.
Laying stress on a similar interface, PK Singh, Principal of Vivek High School, asserts, "We just observe the children playing around. There's simply no pressure on the child to perform."
It may be beneficial to have parents and children adopt the same line of thought to educate a child in harmony but how does a school guard itself against rehearsed answers of parents. Shailka Mahajan, a Chandigarh-based doctor and mother of a three-year-old girl, has been toying with all kinds of answers to the dreaded question: how does she intend looking after her daughter with such late working hours.
Meeting the applicants, said a principal, also helped them detect "disabilities." But, according to the Central Advisory Board of Education, the theory of learning disabilities and special needs is being contested in developed countries and such children are encouraged to learn together in inclusive settings in regular schools. By rejecting such children, the schools will not only deprive children of sound education but also stigmatise them at a very young age.
Too demanding
Agreed, many schools may not have prescribed syllabi for the applicants but there are a number of hidden requirements that parents are made aware of. These are passed down from parents whose wards have been selected the previous year or are orally communicated by school authorities.
A working mother of a four-year-old points out that if the schools deny the presence of any pressure, why don't they give parents an assurance in this regard. How many schools invite parents for a familiarisation trip of the school? Even the thought of entering the school gate is daunting for most parents leave aside actually meeting the principal and enquiring about the objectives of the school. Obviously, there's a communication gap.
So, schools may speak of a no-pressure interface and may exhibit surprise at the parents' sorry situation but most of them have certain unspoken expectations. They prefer "bright little things" who are toilet-trained, can easily leave their parents' side, easily mix with other children and quickly respond to demands like "go and take a swing", "would you like to play with this toy" and "come, recite a poem."
Komal, a popular trainer of three-and-four-year-olds, scoffs at the blown-out-of-proportion tension expressed by parents even as she ruefully admits that she went without food for two days when her children had applied for admission in the two convent schools in the city. Besides making the children memorise "general information like colours and names of parents," she teaches them the fine art of staging an entry into the room and greeting the interviewer.
But aren't introvert children going to get a raw deal in this process of selection? Dr R. S Bedi, a Chandigarh-based paediatrician, says introvert children are more intelligent than, if not as intelligent as, the extrovert ones. "They have the maturity to realise that they can't just jump into somebody's lap. And, rightfully and intelligently, they feel uncomfortable reciting poems or opening up with strangers. Moreover, what can the schools conclude by observation, too, for kids of that age are not social. They go to schools to learn social behaviour."
Flawed method
The petition, quoting Dr G.K. Sethi, Professor, Paediatrics, Maulana Azad Medical College, and a team of medical and child experts, has stated that children below five years cannot be expected to read or write. When exposed to formal learning like reading and writing, they learn by rote or photographic memory. By bombarding their brains with formal learning, they are being deprived of stimulated environmental learning experiences, which should be a major source of learning at this age.
Moreover, how can schools standardise tests to meet the target audience. For instance, a boys' school in Chandigarh expects both a four-and-a-half-year-old and a five-and-a-half-year-old, applying for UKG, to know counting up to 50. Since children make rapid strides in learning, it would be wrong to expect equal performance from two children with a gap of almost 12 months.
Added stress
A child under five already has his hands full and can do without the pressure resulting from interviews. The child is already under immense pressure of having somebody run his life. From morning to night, he has to make an effort to abide by the rules set by his parents. Even activities like brushing teeth, taking bath, eating food at a particular time or having a banana in between meals are "tasks" for him. "Besides the stress of regimentation, children of that age are suffering the pains of growing — physically, emotionally and mentally," says Dr Bedi. The child is still trying to discover himself and learning to adapt to his surroundings. His brain is not equipped to handle interviews.
Role of parents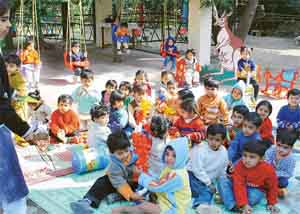 Unhealthy fallout
Undue pressure of learning can inhibit the overall growth of a child. Coerced learning may lead to many psychosomatic ailments. It may cause irritability, stammering, stuttering, nightmares, bed-wetting, fatigability, burnout, etc. The tension may lower the resistance of the child, resulting in infections; the brain growth can get affected and his skills can get lopsided.
Dr Veena Parmar, Professor and head of the Department of Paediatrics, Government Medical College Hospital, Chandigarh, asserts, "A child under four is not mature enough to know the importance of interviews or their consequences. If a child doesn't get selected, he gets labelled as a failure. This is not the right way to start life, as the 'rejection' can leave deep scars. He may develop an inferiority complex. A child is a fearless being, it is external stimulation that teaches him fear."
Ideally, all perceived and real interview-related pressures should be absorbed by parents. In reality, however, this doesn't happen. The parents, knowingly or unknowingly, transmit their anxiety to their wards and, in many cases, even magnify them.
The problem arises when parents treat admission as a do-or-die task. They also expose themselves to distress by placing such schools on a pedestal. For instance, take this case of parents who went to all possible lengths to have their daughter admitted to a "prestigious" girls' school in Chandigarh. Though the three-year-old was sent for coaching to prepare for interview and subjected to mock interviews by her parents' friends, she still couldn't get selected. The parents, however, refused to give up. They got the date of birth of the girl reduced by a year from a nearby Punjab town and the next year again applied for the same class to the same school. The girl again went through the grilling coaching. This time the trainer also advised the parents to try some sifarish. The child finally made it.
In another case, a well-to-do couple came with their child to see the list of "selected" applicants in a public school. Upon not finding his son's name, the father began to abuse the mother and angrily dragged the child to the car.
What brings pressure is the ambition of the parent, says the Vice-Principal of Sacred Heart High School, Sister Reena. "We tell the parent that the child will do better if she doesn't come prepared. We merely see if the child is capable of speaking and understanding."
But it is this preparation of "small and simple talk" about the family and surroundings that is driving children and parents over the bend. What appears simple to schools appears a mammoth task for parents as they set out to make children memorise names of colours and objects.


Since the situation is not going to change overnight, parents mustn't get paranoid about admissions, says Dr Bedi. They mustn't look for short-term goals but aim at building the personality of the child by giving the right stimulation at home. For, had it not been for the influence of home environment and individual traits, we wouldn't have had achievers emerging out of all schools — private, public, government and model schools.
Child's rights
The child ought to be given an environment that facilitates learning. Parents and teachers should be partners in this process of learning and must work in tandem and not at cross-purposes. Though at present there is no central body or Act that can monitor the process of admission or interviews conducted by private schools, says P.R.R. Nair, Registrar, National Institute of Educational Planning and Administration, the high court had asked NIEPA to give recommendations in the above mentioned case. And, NIEPA has given an assurance that it has the necessary expertise and is ready to conduct a research-cum-study project on the issue if the project is financed by the government.
The court is expected to give a decision on November 16. Whatever the court's order, it is hoped that the child will emerge the winner. And, he gets what he rightfully deserves — education and an atmosphere devoid of pressures.