Armyís royal ribbons
Sarabjit Singh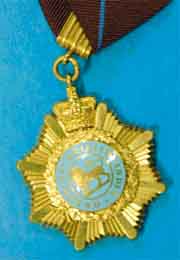 Order of British India: for long and faithful service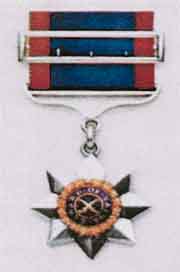 The Indian Order of Merit: highest award for gallantry
St. Paulís Cathedral London is one of the compulsory "to do" sights. The not-so-well informed know it as the huge dome seen from the upper deck of the hop-on, hop-off buses. The well informed know it as one of the indestructible symbols of British resilience in World War II.
The very well informed know it as a 300-year-old cathedral on a site that had a church dedicated to St. Paul for almost 1400 years and that the present building was designed by Sir Christopher Wren, begun in 1675, and took 35 years to build. They also know that it is the seat of the Bishop of London. But how many well-informed Indians are aware that St. Paulís houses a memorial to the Indian Army?
Just below and ahead of the Wellington monument is a tablet commemorating the honour and valour of the Indian Army. To the top left of the tablet is the Star of India, founded as an order by Queen Victoria in 1861, intended primarily for Indian princes. To the top right is the Order of the Indian Empire instituted in 1878 intended as an award in respect of meritorious services in India.
In the middle is the Victoria Cross, the highest award for valour in the British Empire. At the base from left to right are the Order of British India, the Indian Distinguished Service Medal, and the Indian Order of Merit. The Indian Order of Merit instituted in 1837 was the highest award for gallantry in India from 1837, the year it was instituted to 1912 the year Indians became eligible for the Victoria Cross.
The memorial itself says, "This tablet 1749-1947 commemorates 201 years of faithful service given by British, Indian and Gurkha soldiers who as comrades served in The Indian Army in the employ of the Honourable East India Company and under the Crown.
The Indian Army served in the former Indian Empire and overseas in peace and war since Ďitsí first overseas expedition in 1762. Its soldiers took part in 31 expeditions and fought 83 frontier campaigns.
During World War I, the Indian Army sent more than one million soldiers overseas. In World War II, 2million were on active service. During these conflicts the Indian Army served along side British and Allied forces in Europe, Africa and Asia. In the two centuries of service here commemorated this was a volunteer Army."
A tribute to a glorious past in St. Paulís as well as at India Gate in Delhi. May be Ďitsí time for another commemorative tribute for the last half century and this time in India, by Indians.