Melodies from the past come alive
M.L. Dhawan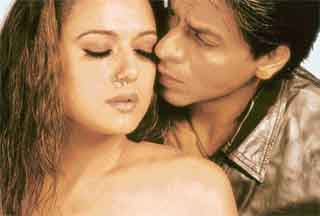 Preity Zinta with Shah Rukh Khan in Veer Zaara
Some years back, Music India released LPs/cassettes of songs recorded by the late composer Madan Mohan for films which have eventually been shelved. The popularity of the songs encouraged Madan Mohan's son Sanjeev Kohli to use thousands of tunes composed by his father on harmonium, hummed or sung by the composer on 'dummy' lyrics. He felt that the demise of his father had not dimmed his popularity. He thought of utilising the tunes created by his father which could not be recorded in his lifetime. He found that some of these were alternative tunes for some of his hit songs.
Kohli consulted Yash Chopra. Chopra heard many of the tunes, and selected over 200. The duo zeroed in on 30 pieces from which they recorded nine songs for Chopra's cross-border love story Veer-Zaara. The music of the film was released on September 18. Each of the nine songs is a carefully crafted gem. The tunes have an old-time charm, though the music is contemporary. The songs are different from the ones heard these days and touch the chords of our heart. Lata Mangeshkar has sung for the film. It is exhilarating to listen to Lata Mangeshkar singing Hum to bhai jaise hain waise hi rahen gey..... She has lent her voice to eight out of nine numbers.
Pain has always been an overwhelming emotion in the compositions of Madan Mohan. The duets, Tere liye jalte rahe yaadon ke diye.. sung by Lata and Roop Kumar Rathore and Do pal ruka yadon ka karvaan/phir chal diye tum kahan hum kahan.. sung by Lata and Sonu Nigam, bring out the agony of the protagonists, Veer Pratap Singh and Zaara, when they get separated. These songs bring a lump in the throat. The patriotic number O aisa desh hai mera.. sung by Lata and Gurdas Mann is a perfect blend of words and melody. The soul-stirring qawwali Aaya tere dar par diwana shows the genius of Madan Mohan in composing qawwalis.
The songs of the film leave one spellbound. Lata's voice has matured into a supple and rich one. Though Madan Mohan was not present at the time of the recording of these numbers, yet all these bear the stamp of his craftsmanship. Javed Akhtar's lyrics, too, add to the richness of the songs.
Though the tunes of Veer Zaara were composed by Madan Mohan 30 or 40 years back, these are fresh and contemporary. Yash Chopra has paid a worthy tribute to a bygone era.
Other filmmakers should follow in the footsteps of Chopra and try to use the unused tunes composed by stalwarts like Shankar-Jaikishan, Laxmikant-Pyarelal, Khemchand Prakash, Sajjad Hussain, Ghulam Mohammed, S.D. Burman, C. Ramchandra et al. This will bring back an era when melody ruled the roost in the film world.