TELEVISION
From the battlefield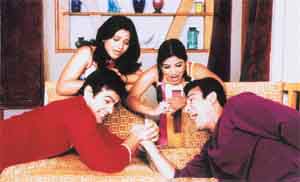 Saarrthi: Modern-day Mahabharata
Battlefields change, but the battles remain the same. That is the message of a new afternoon band on Star Plus Saarrthi, a modern day Mahabharata in the corporate boardroom. It is the story of two brothers in conflict — one righteous (dharma) and the other the wrongdoer (adharma) — with a joint property as their
Kurukshetra.
Though by no stretch of imagination an original theme, yet the message of Mahabharata has been well woven in the contemporary context. All characters are in modern settings except Lord Krishna who is in his divine avatar and whom only the viewers can see.
An absorbing serial about the eternal battle between good and evil. Saarrthi endeavours to translate the teachings of Mahabharata in the family and corporate perspective where the CEO is Lord Krishna.
Jane of all trades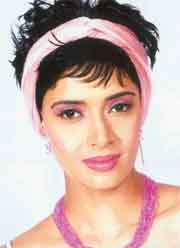 Ruby Bhatia in a new avatar
Every time she does a new show it must be a been-there-seen-all kind of a feeling for Ruby Bhatia. She's tried everything with varying degrees of success. Almost a decade ago she started out as a Channel V's first superstar VJ and her charm won her a million viewers.
But after Channel V it's been a downhill drive. A cameo in a music video, a couple of celeb shows. In between she even thought of taking a break from it all and going back to studying. But that plan has now been put on hold with Ruby hosting the Body & Soul show on Star One Sundays 10 a.m. The show about holistic living, says Ruby, is close to her heart and soul as she is a disciple of Paramhansa Yogananda, author of The Autobiography of a Yogi and she's planning to do a PhD in vedic philosophy.
Considering there is a virtual glut of similar shows on various channels, one sure hopes Ruby's holistic predilections can add that extra punch to body and soul show.
All for a smile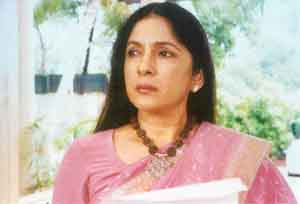 Comedy is serious work — Neena Gupta
After wrapping up her work in the Bollywood thriller Amawas, Neena Gupta is all set to storm the small screen. And no sob stuff this time. Believe it or not she is experimenting with a comedy, Mr. And Mrs. Mathur.
"Saans was a mega hit and Kyun Hota Hai Pyarrr was okay but I wanted to do something different. Mr. And Mrs. Mathur seemed like the perfect script," says the actor, producer and director who's not faced the camera for some time now.
She's tight lipped about the contents of the show, but says it's a situational comedy and will be a laugh riot. And though she's never directed a comedy before, she says it's real serious work.
"Most of our soaps are ten-hanky dramas. There's a desperate need for light stuff on television." A curious statement from someone who virtually had a sob serial assembly line running sometime back.
Second time lucky


Amrita Singh is back in action
Out of one family and into another? No, no. Unlike ex hubby Saif Ali Khan, Amrita Singh has no intentions of marrying again. She's just going into another Kul. Or rather, she's signed on the dotted line for Ekta Kapoor's latest family drama, Kul-The Dynasty in which Amrita plays the multi-faceted Nitya, mother of the male protagonist. The former Bollywood star is reportedly being paid a whopping Rs.10 lakhs for the serial. Unlike other small screen actors who get paid per shoot, she is rumoured to be taking home the full amount as salary whether she shoots for one day or 30 days.
What with gossip mills doing the rounds she's got an eye-popping Rs.10 crores from Saif as settlement, and now this mega contract, post-separation life sure seems to be getting into top gear for Amrita. — NF