Ensure a place in insurance
The entry of several private players in the insurance sector has generated more jobs as well as created a greater demand for specialised courses to train manpower in this field, write Manish Kumar Singal & Nalini Ranjan
WITH the liberalisation of the Indian economy, one field that has become wider and more challenging is insurance. Earlier, there was only one insurance company - the Life Insurance Company (LIC) offering life insurance and three general insurance companies providing miscellaneous insurance policies.


R.K. Sharma
CORPORATE CHAT
"Openings in insurance expanding fast"
INSURANCE is one of the fast expanding sectors in the country. With over a dozen multinational companies having launched their insurance products in India, the job opportunities in this field have grown. R.K. Sharma, a Development Officer with the LIC, shares his views on the prospects in the profession.

CAREERCATURE
by Sandeep Joshi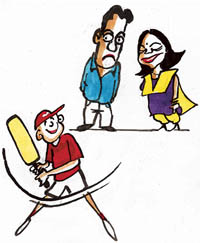 Let him play.This is the only career where you can earn without performing.

SMART SKILLS
Write right
Usha Albuquerque
MANY people who express themselves quite well through speech find it difficult to put their thoughts down on paper. They also find it hard to understand why their writing does not achieve the same positive response from their audience as their speaking might have. What is often forgotten or overlooked is the fact that it is not only the content of our communication that matters, but also the form.



IN FOCUS
Shaping health experts and aiding research
THE National Institute of Communicable Diseases (NICD) had its origin as the Central Malaria Bureau, which was established at Kasauli, Himachal Pradesh, in 1909. In 1938, it was renamed as the Malaria Institute of India. In 1963, it was again renamed as the NICD.


CAREER HOTLINE
Chef calling
Q Could you please tell me of some leading institutes in India where I could train to be chef? What is the hot cuisine to master these days?
Prospects in psychiatric nursing

Study abroad

Courses for contractors

Stability vs risk

Hospitality to B-school