Students seek new shores
As more and more students head towards Europe and Australia, the US appears to be losing its status as the most-favoured destination for education, write Vibha Sharma and Manoj Kumar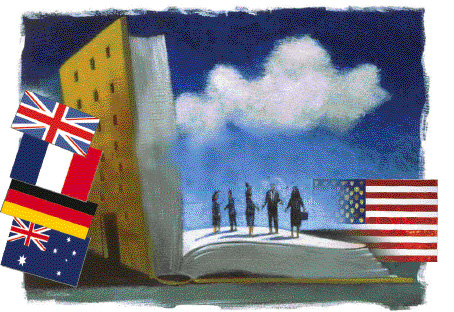 Two recent surveys have shown a major decline in foreign student applications for the US. In fact, countries like Australia, Canada, the UK, France, Germany, Australia and New Zealand are now emerging as new destinations for Indian students.
US vs the rest
A recent report published in The Economist points out that universities in the US are facing a substantial fall in the number of applicants from abroad due to problems in getting student visas. The total number of F-1 student visas issued by the US Embassy to Indians between October 2003 and February 2004 has decreased from 3,898 to 3,801 during the same period in the previous year.
Countries like Australia, Canada, the UK, France and Germany have upgraded their educational facilities for foreign students and are now offering better courses at lower rates.
Says Rohit Kumar, visa consultant with M.K. International, "The imposition of stringent security steps and rise in the cost of education in the US have encouraged hundreds of Indian students to join educational institutions in the UK, Canada, Australia and even New Zealand. Universities in these countries are also offering good courses in humanities and science subjects at fees that are lower than what these are in the US".
Naveen Chopra of N&N Chopra Consultants, agreeing with the viewpoint, says the atmosphere in the US is increasingly becoming more threatening for outsiders. Foreigners there are being treated with suspicion.
He says more and more students are now realising that other destinations too could provide equally good education at a more reasonable cost. Besides, the US education varies tremendously in standard and content. Once you look past the top 100 or so universities, the situation is quite dismal.
In other countries, the job market is also relatively more attractive for students. While the US allows only one year of optional practical training after studies, work permits for limited or even unlimited periods are allowed in most other countries.
Other ports
The Australian Government's decision last year to relax conditions for students has encouraged Indian students, especially from Punjab, Haryana and Delhi, to seek admissions in that country. These changes, which came into effect on December 1, 2003, include the cost of an undergraduate student visa application reducing by at least 33 per cent. Bank loans were also recognised for the first time as a valid means of financing vocational education studies in Australia.
The British, Australian and New Zealand High Commissions hold regular education fairs in different cities to attract students and also offer online admission guidance. Banks like the State Bank of India, the Bank of Baroda, ICICI and Citi Bank offer educational loans up to Rs 15 lakh to study abroad.
Currently, over 90 per cent of the 12,000 Indian students studying in Australia are doing postgraduation in information technology, engineering, management, accounting, applied sciences and hospitality. However, new fields of study such as biotechnology, communication studies, and art and design are also becoming popular.
Australia issued 7,700 student visas in 2003, up from 3500 in 2002; Canada issued 2600 in 2003, 500 up from 2002; and the UK registered a 20 per cent increase from 11,707 in 2002 to 13,770 in 2003.
Over 4,000 Indian students have gone to New Zealand during the past four years. Students and visa consultants claim that New Zealand degree courses have a reputation around the world for being practical, modern and innovative with a significant research component both at the undergraduate and postgraduate levels. Apart from reputed courses in business management, information technology, computing, hospitality and hotel management, New Zealand universities offer degrees in areas such as bio-technology, food technology, forensic science, architecture, and marine engineering.
On successful completion of courses, students are permitted to stay and work for a minimum of two years. The additional points they earn thus facilitate permanent residency. With only 3.2 per cent unemployment, employment prospects are bright in the country. While only 534 visas were issued to Indian students by the New Zealand High Commission in 2001, they more than doubled to 1411 in 2002.
Ireland, which has top universities with reputed science research facilities, is also trying to attract Indian students. France, too, is emerging as another preferred destination for education. The number of Indian students seeking student visas to France has gone up from 157 in 1998 to over 1000 last year.
France offers over 400 specialised degrees in auditing, financial management, accountancy, human resource management, finance, sales and marketing. Universities there offer a choice of professional, generalised and specialised courses and high-level research projects in management sciences. Business schools are linked to the industry and students get an opportunity to work with companies not just in France but in other countries of the European Union as well. Poland, with its favourable geographical position, is also becoming popular. It shares its borders with other European countries, making them accessible to students studying there.
Countries like Canada are emerging as popular choices as they are cheaper and also provide job opportunities. Biotechnology and computer science are most favoured disciplines apart from IT, business studies, and courses in media and communications.
Increasingly, now, students explore various parameters while selecting the country to study in, says Medhavani Misra, a consultant for universities in the UK.
British bait
Says British High Commissioner in India Michael Arthur, "Five years ago there were only 5,000 Indian students in the UK. This year, 15,000 students from India have gone to the UK. With several thousand Indian students currently studying in Britain, I can say that we are definitely encouraging foreign students."
"In fact," he declares, "we are trying to make it easier for them with our people-friendly visa policies. Our universities do regular roadshows to showcase what we can offer. We allow students to work up to 20 hours a week to help them finance their studies.
After they finish their studies, we give them a visa to stay on. The British Council has many online facilities."
Preeti Singh, a researcher from the Institute for Defence Studies and Analysis who had gone to the UK on a scholarship last year, says she decided to opt for the course not only as it related to her field but also because the atmosphere there is much more cosmopolitan. Post 9/11, the US has not been what it was, she feels.
Matter of money
The expenditure towards admission tests works out lower outside the US since most countries require only IELTS for admissions while the US institutions need scores of tests such as TOEFL, SAT 1, SAT II, GRE/GMAT, AGRE and TSE. The average expenditure towards these tests comes to about $ 300 to $ 400 per applicant.
The tuition fee also works out lower in countries like France and Germany, where universities are largely funded by the state.
Those who are good in studies may, perhaps, not look beyond the USA, the UK and to some extent Australia but students who do not have very high grades and still aspire to study abroad find good options in other countries.
However, scores or the fee structure or facilities offered on the campus are not the only deciding factors. The decision to choose a particular country also depends on the specialised courses it offers.
For example, studying in Switzerland can be as expensive as studying in the US but those wanting to go in for hotel management or related careers opt for Switzerland. For fashion-related courses, students go to Paris and for automobile engineering to Italy, says Anshu Kad, director, Strivex Consultancy.
Closer home, state universities in Singapore are offering interesting cost-effective courses. But to get admission there, the school and college grades have to be really good.