Haute line
Cool couture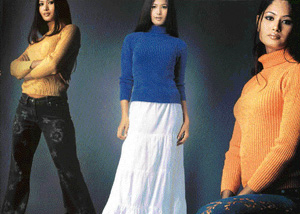 It is that time of the year when warm woolies and silk fabrics wait in the wings to come out in their full glory. This is also the time to party hard and dress up for weddings. And this is also when the top fashion designers go full steam to offer clothes to go with the winter mood.
Though the top designers abroad showed a definite indulgence for bright colours in their fall-winter collection, back home designers are betting on a simple, monochromatic colour palette with latest accessories for a tech-savvy look this season. "We believe it will be a sharp trend towards the fusion of technology with fashion. A lot of emphasis this winter will be on accessories, like mobiles, laptops, watches, along with clothes,'' predicts Raghavendra Rathore, the designer from a royal house in Jodhpur. Smoothness of the fabric will be highlighted, giving embroidery and stonework a break. There will be more of prints with emphasis on easy and non-fussy, elegant clothes. For college goers, denim will be a big hit, he says.
As for the colours, young designer Nandita Basu says deeper shades like chocolate brown, red, orange, lime green, navy blue and black will rule the roost. She says wools, silk, mix of fabrics like a warmer skirt with a georgette top will be in, with emphasis on semi-structured look. "We will have interesting cuts like fuller, bigger skirts, or totally streamlined ones. A lot of layering will be in, especially with the young crowd, like a long-sleeved T-shirt with a short-sleeved sweater. And of course, jeans will add that sporty element to the look,'' says Nandita.
Designer diva Ritu Kumar, has created a couture collection in a splash of bright colours inspired by the desert-dwellers of Kutch and Rajasthan. Most of her silhouette for Winter 2004 is skirts and skimpy, fun tops. Ritu has worked with natural fabrics like cotton and silks as they are simple, can breathe and stretch. That is exactly what one needs in today's hectic lifestyle, she says.
Designer Leena Singh, who along with Ashima Singh creates an original, traditional appeal in their collections, says colours this season will be dark but not bright. Aqua marine, greens, blues and other understated, muted shades will be in. "Among fabrics, chiffon, lined with crepe, has come out as a surprise trend-setter. Long length dresses, cigarette narrow pants, are hot and it's time to say goodbye to short kurtas and tunics.''
That overly embellished stuff and heavy, stoned look with lots of embroidery is out as of now and it's cool to be elegant and sophisticated. At the same time, heavy silk stoles, which can be teamed with churidars as well as jeans, are in. "For this winter, straight is great,'' she says.
Just like the clothes, make-up is also elegant and natural. A bit of gloss, natural eye shadow, light lipstick and light eyes will go well with that simple look.
And for those who are not yet tired of colouring their hair golden and auburn, here's an important advice from those who dictate fashion to the world. "Colour is out and a strict no-no.'' Just as the trend is towards the simple look, your hair are also best left the simple, natural way. "There are so many products that people don't know what to use. It's interesting to be simple,'' says Rathore.
For the wedding season, here's another tip on haute-couture. ''The Mughal look is in for marriages and parties. Jamawar embroidery and brocade work on ethnic kurtas and lehengas are a hit,'' says Leena.
Costs don't seem to matter to those who want to stand apart from the crowd. Ashima and Leena have designed a lehenga collection for this wedding season, priced at Rs 7,500 upwards and silk jamawar shawls for bridal wear that cost more than Rs 1 lakh. Long-coats, another winter favourite, cost Rs 16,500 onwards, along with straight pants, shawl and stoles.
— TWF